Bob Dylan has fallen in love with the American songbook and as he has shown us these past three years, he cannot seem to have enough of those classics. In a move that surprised everybody, he recorded Shadows In The Night, which is made up of 10 songs popularized by Frank Sinatra. Market response was incredible and the album was a huge hit. A year later, Dylan was back with more of the same in Fallen Angels, which even gave him a Grammy nomination for Best Traditional Pop Vocal Album.
Then a few months ago, Dylan released Triplicate, where he took on 30, you read that right, 30 more of those songs. A third album was clearly not enough. He had to record his version of 30 of those familiar goodies. Triplicate is a three-disc set and each one comes with its own title. Till The Sun Goes Down, Devil Dolls and Comin' Home Late. And included in these are the following (brace yourselves for this list):
Guess I'll Have To Change My Plans, September Of My Years, I Could Have Told You, Once Upon A Time, Stormy Weather, This Nearly Was Mine, That Old Feeling, It Gets Lonely Early, My One And Only Love, Trade Winds, Braggin', As Time Goes By, Imagination, How Deep Is The Ocean, P.S. I Love You, The Best Is Yet To Come, But Beautiful, Here's That Rainy Day, Where Is The One, There's A Flaw In My Flue, Day In Day Out, I Couldn't Sleep A Wink Last Night, Sentimental Journey, Somewhere Along The Way, When The World Was Young, These Foolish Things, You Go To My Head, Stardust, It's Funny To Everyone But Me and Why Was I Born.
As before, Dylan eschews the commonly-held belief that these songs deserve soaring arrangements, background singers and elegant vocals to work. With his band solid behind him, Dylan sings like a soul who has seen too many cigarette-tasting dawns and turns the old songs on their heads. And I wonder, would anybody want to record these songs again after what Dylan had done?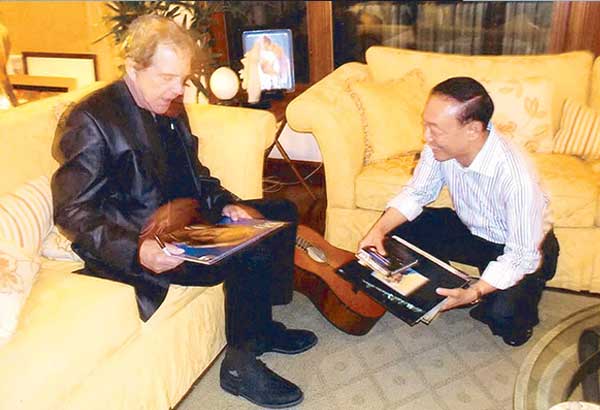 Jose Mari Chan (right) produced the first-ever Manila concert of the late American singer-songwriter Michael Johnson
Admittedly, these songs come off interesting at first because of the novelty of the idea that Dylan in all of his gruffness has attempted to do something so unlikely, like sing Sinatra, and succeeded in it. But Dylan made every song his own and as a result, Triplicate features a vocalist at the peak of his powers, able to evoke new moods out of old, overwhelming regret. His vocals are all about emotions. Only Dylan brings on all the "ouch!" in these songs.
Entertainment ( Article MRec ), pagematch: 1, sectionmatch: 1
There are so many other singers who can seem to do a better job. But they will not have the Dylan memories of the past 50 years and as we have found out with his new takes, are not really as superb as interpreters. Besides, there is no one among them who can call himself a Nobel Poet Laureate. I can honestly say here, "Whoever imagined!" So, if you also love the great American songbook and are thinking of treating yourself to some very special sounds these coming weeks, Triplicate should be on your list.
Postscript to the recent demise of singer, songwriter and guitarist Michael Johnson from singer and songwriter Jose Mari Chan: "It was in 1979 when Michael Johnson, age 34, released his album containing the song Doors. The carrier single I'll Always Love You became a huge hit in the Philippines.
"I was working and living in New York at the time when I read that he was performing in a small club in Manhattan. I went to watch him and told him that his song was No.1 in the Philippines. Right there and then, I offered to produce his first-ever concert in Manila. It was held at the Folk Arts Theater. The Ateneo College Glee Club was his front act and my good friend, Ronnie Henares, was my executive producer.
"Unfortunately, because of my work load in New York, I could not fly to Manila to supervise the concert. But it was a big success and Michael and I became friends after that. He and his wife even visited us in our New York home. The last time that he and I saw each other was during his last concert here in Manila. He came to the house for dinner and autographed all my vinyl records of his.
"Looking back, I wish I had known about his illness. I would have flown to Minneapolis and paid him a visit. My wife and I were fond of him. The only thing we can do for him now is to pray for him. In Heaven, I'm sure Michael Johnson knows how special his songs are to the Filipino music lover."