SINGAPORE — Inspired by the unparalleled success of its Hollywood counterpart in producing global phenomenal hits, HBO Asia has unveiled a lineup of original shows that have been and will be filmed in various countries in Asia tapping the rich heritage and award-winning talents of each country in the region.
The announcement was made in line with the silver anniversary of HBO Asia held at Singapore's famous heritage landmark, The Fullerton Hotel, featuring some of the biggest names in Asian television and cinema who talked to the media about their projects under HBO Asia Originals.
"As we celebrate our 25th anniversary, we constantly remind ourselves that HBO has come a long way in creating a brand that represents quality entertainment, quality programming, and great shows like Game of Thrones and Westworld, that is something we aspire to," said Jessica Kam, senior vice president of HBO Original Productions.
Among the upcoming HBO Asia Originals are Folklore, a six-episode hour-long horror anthology series with each episode to be based on every country's deeply-rooted superstitions and myths. Filming starts in 2018 to be helmed by six multi-awarded Asian directors from countries known for telling horror stories: Eric Khoo (Singapore), Joko Anwar (Indonesia), Ho Yuhang (Malaysia), Lee Sang-Woo (South Korea), Pen-Ek Ratanaruang (Thailand) and TakumSaitoh (Japan).
Khoo conceptualized the series and called the other directors, who are all his friends, to come aboard. Each director has a spooky story to tell such as Yuhang, who revealed that he grew up in a haunted house in Malaysia where the whole family, except for him, could see dead people on a daily basis.
"HBO has been very very supportive in giving each director creative freedom," noted Khoo, adding that another batch of Asian directors, the Philippines included, will be invited if the anthology gets a second season.
Entertainment ( Article MRec ), pagematch: 1, sectionmatch: 1
South Korea's controversial director, Sang-Woo — who, for two years, lived in Tandang Sora, Quezon City, Philippines, where he shot his directorial debut Tropical Manila in 2006 — said as an indie filmmaker with only a handful of followers in his native country, he is only too happy to be a part of the roster of Asia's best directors invited for the HBO undertaking. He added that he has given up doing other projects to concentrate on Folklore.
Another series HBO Asia is proud to air starting April 2018 is Miss Sherlock, an eight-part, hour-long drama series produced in collaboration with Hulu in Japan. Set in modern-day Tokyo with two Japanese women as lead stars, it pays homage to the classic detective tales of Sir Arthur Conan Doyle's Sherlock Holmes. It is topbilled by Yuko Takeuchi as Sara Futaba (Sherlock) and Shihori Kanjiya as Dr. Wato Tachibana (Dr. John Watson). Throughout the series, the duo solves mystery after mystery with Miss Sherlock's extraordinary observation and reasoning skills.
"There's a lot of Japanese stories that are unique and exciting that need to be told," said Kanjiya. "It's an honor to be part of this collaboration…to have this (Miss Sherlock) told that is so uniquely Japanese and which the rest of the world will enjoy."
Miss Sherlock may be based on a world-renowned classic, but HBO Asia and Hulu have turned it "uniquely Japanese," according to Takeuchi.
"Since it is set in Tokyo, we show that if a certain kind of situation happens in Japan, then it will be dealt the Japanese way…so it's a different kind of approach audiences will appreciate," Takeuchi pointed out.
Other new shows unveiled for 2018 were Grisse, an eight-part period drama set in the mid-1800s within the colonial period of the Dutch East Indies and chronicles the story of an unlikely group who lead a rebellion against a brutal governor of a Dutch garrison town called Grisse (directed by Mike Wiluan of Indonesia); the second season of critically-acclaimed and commercially-recognized The Teenage Psychic with Kuo ShuYau as XieYa Zhen, a 16-year-old born with the ability to see spirits and uses it to help others (megged by rising Taiwanese writer-director Chen Ho-Yu); and the martial arts series — Master of the Nine Dragon Fist: Wong Ching-Ho (directed by Si Xiao-dong); and Master of the White Crane Fist: Wong Yan-Lam (directed by GuoJian-yong).
HBO Asia CEO Jonathan Spink said the formidable cable network is harnessing the full potential of talent and production infrastructure the region has to offer in order to live up to the highest standards of HBO.
"With its richness in culture and histories, Asia is a great source of stories which make for appealing content locally as well as globally," Spink said.
All HBO Asia Originals are and will be available exclusively on HBO Asia's network of channels including HBO online streaming platform, HBO GO.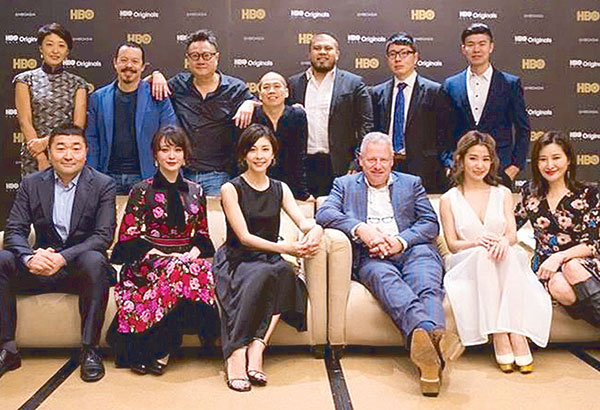 The stars, director and showrunners of HBO Asia's upcoming shows for 2018 with HBO Asia CEO Jonathan Spink (seated, third from right) and Jessica Kam (seated, rightmost), senior vice president of HBO Original Productions