Curtain-raisers: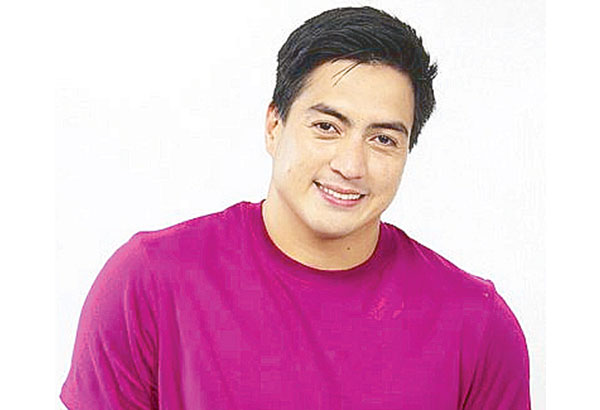 As you probably know, Pancho Magno and Max Collins are getting married in a Christian ceremony at a five-star hotel on Sunday, Dec. 11, and Ai-Ai delas Alas and Gerald Sibayan in Catholic rites officiated by seven bishops (Most Rev. Honesto Ongtioco, DD, of Cubao, Main Celebrant; Most Rev. Antonio Tobias DD, Minister of the Sacrament of Matrimony; and Most Rev. Jose Mercado DD, Most Rev. Jose Roxas DD, Most Rev. Elmer Mangalinao DD, Most Rev. Arturo Bastes , SVD/DD, and Most Rev. Teodoro Bacani DD, Concelebrating Bishops) and several priests including Rev. Fr. Allan Samonte, Diocese of Novaliches, as Homilist at the Christ the King Church (Libis, Quezon City) on Tuesday, Dec. 12. Another low-key couple is tying the knot on Saturday, Dec. 9, at a church in Parañaque City — Wendell Ramos (photo) and his non-showbiz girlfriend on. Wendell's marriage to his first (non-showbiz) wife was annulled. He has an artistahin son (18, 5'7") with his first wife and a 13-year-old pretty daughter with his soon-to-be wife.
Since it's the season of weddings, a Funfare source recalled how, without revealing the "when" and the "where", an actress had turned amnesiac when she married a celebrity from another field. She wasn't even courteous enough to tell her discoverer nor to give her an invitation (not that the discoverer was eager to attend). At 12, the actress was discovered by the lady at a mall, let her stay at her house, fed her and bought clothes ("Pati underwear," she rued) for her. When she became popular, she forgot all about her discoverer. Friends console her that she's not alone. Several other discoverers/talent scouts suffer the same sad fate. "But some stars know the meaning of gratitude (utang na loob)," claimed the Funfare source. "Three of them are Alden Richards, John Lloyd Cruz and Gerald Anderson who haven't turned their backs on their discoverers."
Like some love teams, there is one that is an expert in "deceiving" the public. On camera, they pretend to be sugary-sweet but away from the limelight, they act like strangers. Same thing happens during a shoot for commercials. As soon as the director shouts "Cut!," they retreat to their respective (always separate) dressing rooms. The guy's requirement is never, never to put him in the same room with the girl.
* * *
My friends and I are recommending everybody to watch Maestra, the second movie to be produced by Carl Balita of his eponymous Review Center which has tutored thousands of graduates into passing the boards exams, the latest being Abdul Aziz, a 21-year-old vision-challenged Muslim who studied at the West Mindanao State University (WMSU) and who topped the recent board exams for teachers.
"I'm very proud of him as I am of the other reviewers who have topped and passed the board exams," Carl told the movie press at Wilson Lee Flores' Kamuning Bakery where he fielded questions together with Maestra scriptwriter Archie Del Mundo, director Lemuel Lorca, and star Angeli Bayani. The two other lead actresses were not able to make it, Gloria Sevilla (who is still recovering from surgery sustained from a bad fall) and Anna Luna (who won Best Supporting Actress from Cinema One Originals).
Maestra (following Nars, Carl's first project), which recently won Best Screenplay (Special Mention) and Best Actress in the Five Continents International Film Festival (FCIFF, in which more than one thousand competed from around the world), is not just for teachers and would-be teachers but also for students, parents…in fact, for everybody…who can learn a lesson or two from the teachers who very gladly told their success stories.
Entertainment ( Article MRec ), pagematch: 1, sectionmatch: 1
Lorca's seventh film, Maestra pays tribute to educators whose life-long struggle is highlighted by their unwavering commitment to their profession. Primarily based on a viral post on Facebook about Iah Seraspi (played by Anna), a fisherman's daughter from Romblon who topped the board exams for teachers, the film features inspiring real-life stories of Gennie Panguelo (played by Angeli whose mom is a teacher), an Aeta-Ilocana who had taught in a school situated on top of Pinatubo Valley for more than 25 years before finally passing the board after more than 20 retakes; and Espie Bautista (played by Gloria), a former high school principal, a college dean, and an inspirational speaker who is now more than 80-years-old and even past beyond her years, still refuses to retire from teaching. Lorca said this is his most important film to date.
The film also stars Lou Veloso, Cinema One Best Actor Awardee Bong Cabrera, Lui Manansala, William Martinez, Yayo Aguila, Star Orjaliza, and Karl Medina. Paul Salas plays Anna's love interest.
"More than being a noble profession, teaching is a lifelong vocation," added Carl. "However noble their objectives are, however significant imparting education is, there are major hurdles they need to overcome if they are to stay true to their calling. They are not just teachers, but also agents of social change. Like them, I am also a dreamer. I never stopped dreaming until I reached my goals."
The lives of the three teachers intersect each time they meet at the Carl E. Balita Review Center.
"Each of them tells her story, and they affect one another into becoming more motivated to achieve their goals," said Del Mundo. "They have proven that no matter how modest the society treats teachers, they are an integral part of nation-building."
(As part of CineLokal, Maestra is opening tomorrow, Dec. 8, at SM Megamall,. SM Manila, SM Sta. Mesa, SM Mall of Asia, SM North EDSA, SM Fairview, SM Southmall and SM Bacoor. GO AND WATCH IT. There, an invitation in all caps for emphasis.)
(E-mail reactions at entphilstar@yahoo.com. For more updates, photos and videos, visit www.philstar.com/funfareor follow me on Instagram @therealrickylo.)