Last March 4, Dr. Joven Cuanang invited friends to his Pinto Art Museum in Antipolo City to watch INABEL 2018, a fashion show for the benefit of cotton farmers and weavers of Ilocos Norte. Inabel means handwoven in Ilocano. What a show it was where fashion, culture and heritage came together. The show featured three designers, Niña Corpuz for children's wear, Otto Sacramento for street wear and Edgar Madamba for formal wear.
Niña's children's collection was showcased first. Compared to last year's bright summer theme, this year's collection is darker. Niña, a mother of three, called it "Little Miss Sophisticated."
"My kids are growing up," Niña told Funfare, "and they are starting to play dress-up for imagined parties or balls. So these clothes are dressier, though they are still versatile enough for all-day wear."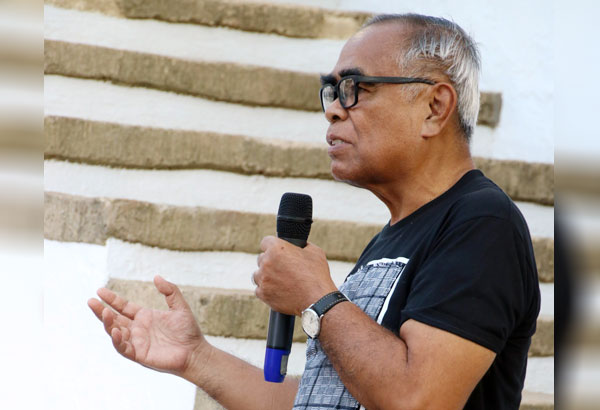 Dr. Joven Cuanang
There is an obvious European or British influence, but there are also Japanese-inspired details, such as the geometric loose cuts, and big utilitarian pockets. Niña designed a very classic and timeless look, such that while they are children's clothes, the designs could easily be worn by grown-ups.
Aside from the party dresses, Niña designed some casual pieces mixing inabel with denim.
"It is meant to give confidence to the wearer that the clothes are sturdy, wearable and versatile," explained Niña who dreams that someday, these fabrics which showcase our heritage, will be as accessible to people as the ubiquitous maong. "If our kids grow up getting used to wearing these fabrics, it will become a part of their lives. And hopefully, when they are older, they will be proud to wear inabel, not because it is a costume, but because it is homegrown, uniquely Filipino but also fashionable."
Niña's background as a reporter gave her the chance to visit the farmers and weavers and interview them. She experienced and followed the lives of the people who planted and harvested the cotton, the old ladies who wove the fabric and turned them into inabel. So, for Niña, inabel is not just a fabric but the story of people's lives.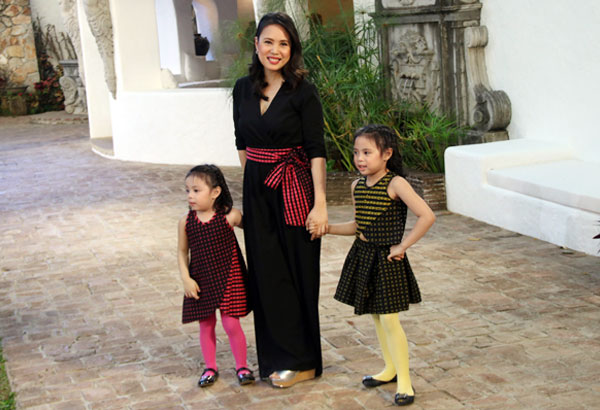 Radio/TV host Niña Corpuz and daughters Stella and Emily
For Otto's collection, his label OTTOMONDI stitched a story of the world in inabel. Despite being raised in Italy, Otto answered the calling of his Filipino roots by showcasing the story-laden cloth from the wooden looms of Ilocano artisan weavers.
"OTTOMONDI's quirky elegance blends concepts of uniform and utility, Filipino fabric and European influence," Niña explained to Funfare. "The use of constructivist color-blocking and unconventional forms shows the designer's creative ongoing dialogue with the art world. He also veered away from the traditional display of paired male and female garments, producing an inclusive, genderless line of clothes that may be worn by people from all walks of life, advocating inclusivity and local love."
For the finale, Edgar's theme was Simply 50s, the glamorous era "casualized." His collection was still formal, but more wearable and accessible. The cut of the clothes was still complex, but the final product looked uncomplicated.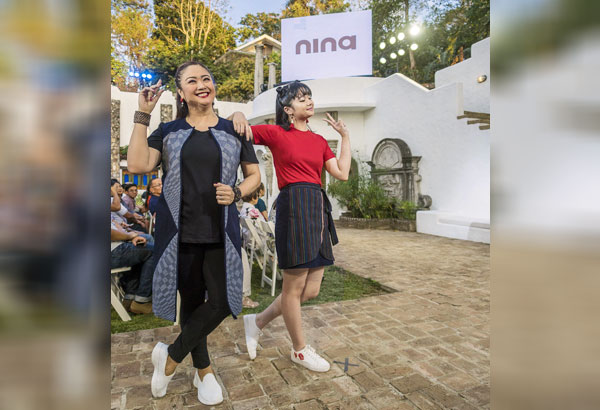 Tintin Bersola-Babao and daughter Anya
"Inabel is usually used for bed sheets, curtains and other home décor," added Niña. "However, I treat it as any other cloth, so I want it to be worn and not displayed. With this collection, there's no attempt to be profound, what you see is what you get."
According to Dr. Joven, the event's organizer, "INABEL 2018 aims to realize the vision: From Farm to Fabric to Fashion. "It's an effort of a lot of people ­— the artists, the weavers, the cotton farmers — helping one another. It's a thinking globally, acting locally project."
The three collections have one goal: Making inabel more accessible and acceptable as everyday wear. And with its use, hopefully the farmers and the weavers of Inabel will begin to flourish, and allow the art of inabel to be seen by generations to come.