MANILA, Philippines — A few hours before her Manila concert, American pop star Katy Perry answered questions about "American Idol" from her hotel room in Manila on Monday afternoon.
"It's getting to the wire right now. Lots of amazing talent," she said of the singing contest's Season 16, where she seats in the judges' panel together with Lionel Richie and Luke Bryan.
With no makeup and wearing only pajamas, bunny ears and shades, Katy answered mostly "Idol" questions from her fans, including her recent kiss with a contestant.
She clarified that she does not flirt with the contestants. "It's just sing for your life and that's where we get the criticism," she said in her Instagram live video.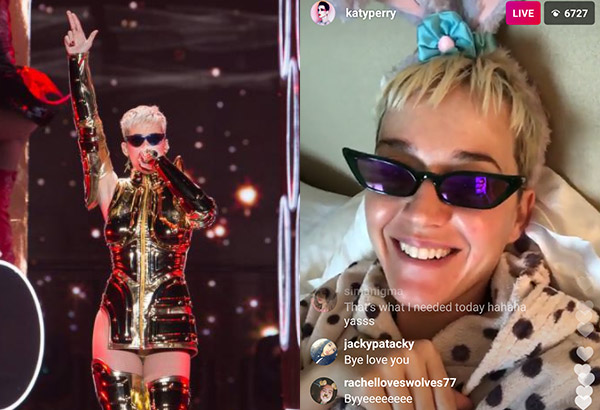 Katy Perry in concert in Tokyo on March 27 (left). The pop icon wears the same eyewear during her live Instagram conference in Manila (right).
Besides an occasional kiss, Katy admitted she gets a lot from those who audition in "Idol." "I learned a lot of patience, a lot of grace, empathy, compassion," she enumerated.
In turn, she said the best part of being an "Idol" judge is "I get to give away all the information I have collected for 10-plus years to these beautiful contestants."
"You can do anything you set your mind to," she advised all "Idol" aspirants.
Of all the past "Idol" winners, among her favorites are Kelly Clarkson and Jennifer Hudson, who have ironically become coaches of the rival singing contest, "The Voice."
"Tonight is show number 62 in Manila, I'm so grateful to be in this job!" Katy declared.
"American Idol" Season 16 premiered on March 12 and airs every Monday and Tuesday at 6 p.m. with same night encore at 9:45 p.m. on Sony Channel, available on Cablelink Channel 39, Cignal Channel 120, Destiny Cable Channel 35, G Sat Channel 48, and SkyCable Channel 35.
RELATED: Katy Perry spends Easter with Filipinos in Hong Kong