MANILA, Philippines — Before flying to Manila on Sunday night, American pop star Katy Perry received communion and attended mass with the Filipino and international community of St. John's Cathedral in Hong Kong.
"Proudly received my first catholic communion this morning on Easter," Perry wrote in an Instagram story post, with a video showing a part of the mass and a group of young parishioners that seem to belong to the church's Filipino community.
Thousands of Filipinos work in Hong Kong, and many are active parishioners of St. John's Cathedral, which is why the church offers a Filipino fellowship service from 2 p.m. to 5 p.m. every Sunday.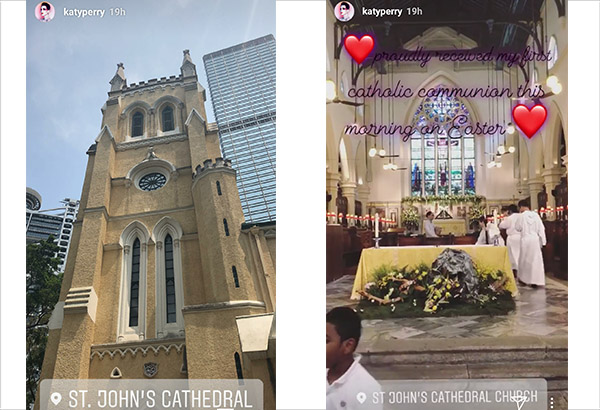 Screenshots of Perry's Instagram story posted on April 1.
Perry also shared photos of the cathedral and a snapshot of her tattoo, "Jesus," written on her wrist.
"My brokenness + God's Divinity = my wholeness," she wrote in the photo's caption.
Early this March, a nun involved in a lawsuit with Perry over the sale of a convent in Los Angeles died after collapsing during a court appearance.
Archbishop Jose Gomez said Sister Catherine Rose Holzman died on March 9. She was 89. Hours before her death, Holzman spoke to KTTV, speaking out against a judge's ruling that cleared the way for the Archdiocese of Los Angeles to sell a convent in the Los Feliz neighborhood to Perry.
RELATED: Nun involved in lawsuit with Katy Perry over convent dies
On Monday afternoon, a few hours before her Manila concert, Katy answered questions about "American Idol" from her hotel room in Manila.
In the Instagram live video, she admitted that last year was tough for her. "Like a palm tree, I break, I bend, and I rose," she said.
But she was able to get it through because of her faith.
"I got my smile back. God gave me my smile back. Now I'm honored," she enthused before signing off to do yoga and meditate. "I have to check in with my higher power," she said.
"Tonight is show number 62 in Manila. I'm so grateful to be in this job!"
RELATED: Katy Perry arrives in Manila for 'Witness' world tour