An evacuation order for the Hamlet of Crutwell was reinstated Tuesday afternoon after being lifted Monday evening.
Crutwell, which has about 40 residents, is about 24 kilometres west of Prince Albert. The order also applies to homes north of the village, up to Highway 3. Residents have been asked to leave immediately.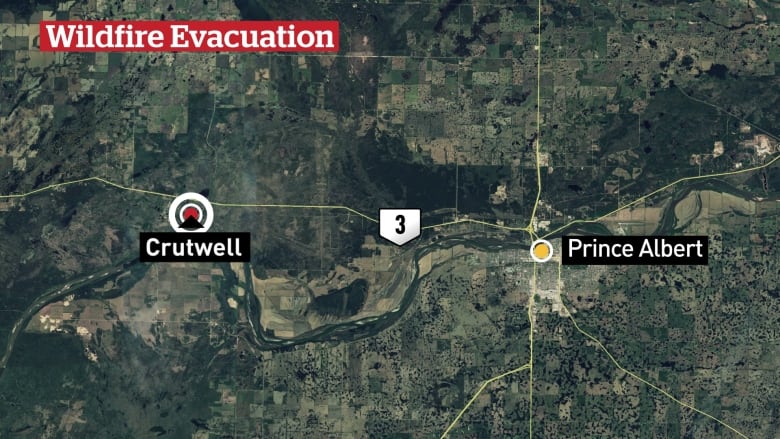 Residents of Crutwell were ordered out of their homes on Tuesday afternoon. (CBC)
The Rally fire, first reported on Saturday afternoon, is once again threatening homes in the area. The fire is about 1,500 hectares in size.
Smoke from the wildfire can be seen on Highway 3 near Crutwell. (Alicia Bridges/CBC)
Haze from the wildfire can be seen from Highway 3. RCMP has blocked off the road into Crutwell.(Alicia Bridges/CBC)
The fire is not contained. According to the Ministry of the Environment, the fire was human-caused.
Those who leave the community on their own are asked to go to the Shellbrook Senior Hall on the corner of Railway Avenue and Main Street in Shellbrook to register.
Those who need help can call 306-747-2178.
Residents in Holbein and those south of Highway 3 have been asked remain on standby and to prepare for an evacuation in case one is issued due to wildfires burning in the RM of Shellbrook.
A 1,500-hectare fire is burning near the village of Holbein, Sask.(Ian Oostinde/Twitter)
There are currently 14 active wildfires in the province, with eight contained, the ministry said.