Many small, private and recreational aircraft are using outdated equipment
Smaller recreational planes are more likely to carry an old ELT that doesn't transmit a signal monitored by search and rescue satellites. (Jean-Pierre Bonin/flickr.com/djipibi)
Steven Lett is head of the Cospas-Sarsat Secretariat, the international organization that runs a satellite-based search and rescue system. (Submitted by Steven Lett)
"There's no way to tell where it's coming from, no way to tell the identity of the source," said Steve Lett, head of the Cospas-Sarsat Secretariat, the international organization that runs the satellite-based search and rescue system.
"It relies on the luck of having another aircraft possibly flying nearby and that aircraft having its receiver tuned to 121.5 MHz, and also that aircraft not assuming that it's some sort of a test."
Search and rescue satellites no longer pick up the 121.5 MHz distress signal, which isn't a problem for large commercial airplanes most Canadians use to travel because they use up-to-date ELTs.
Those systems are designed to go off when a plane crashes, sending a signal to orbiting satellites that is relayed to a mission control centre. Local search and rescue crews are then advised where they can find the crash site.
"Private aircraft, general aviation aircraft, they are not as closely supervised. They tend to crash much more frequently and yet governments … the Canadian and U.S. governments included, continue to allow them to fly with only a 121.5 MHz ELT," said Lett, whose organization stopped monitoring the 121.5 MHz frequency in 2009.
Search and rescue technicians rely on ELTs to find aircraft that have crashed. (JTFA/Twitter)
The older distress signals weren't accurate, so Cospas-Sarsat began monitoring ELTs that emit a 406 MHz radio signal instead. Those signals are digital and capable of providing more accurate location information and even the identity of the aircraft.
But in Canada, it is not mandatory for planes to have a 406 MHz ELT.
The Transportation Safety Board of Canada determined in 2016 there were approximately 27,000 aircraft registered in Canada that required an ELT, but only 10,086 equipped with a 406 MHz ELT.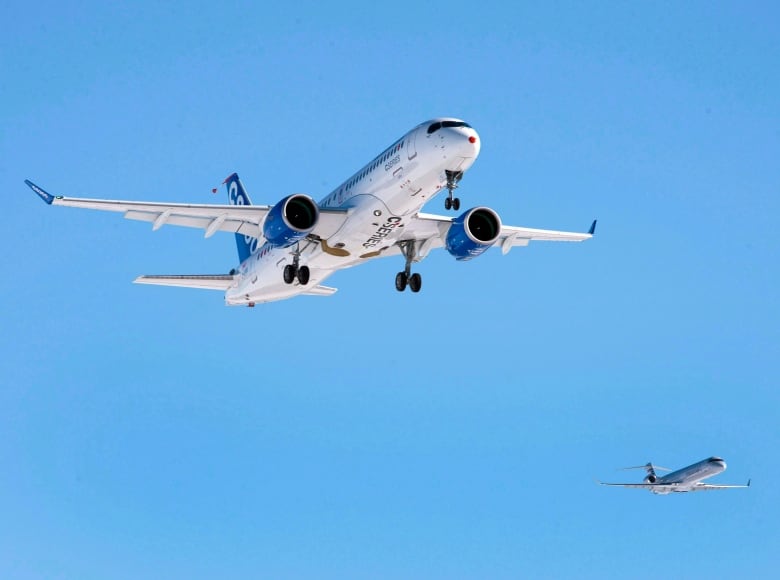 Larger commercial planes already have 406 MHz ELTs installed. (Ryan Remiorz/Canadian Press)
That year, the board recommended that Transport Canada make 406 MHz ELTs mandatory.
Transport Canada accepted the recommendations, but so far, no regulations have changed, said Daryl Collins, a senior investigator with the board.
Transport Canada declined to be interviewed, but said it continually explores ways of updating safety requirements.
This diagram outlines how what happens after an emergency signal is transmitted. (Cospas-Sarsat)
Since the new ELTs aren't mandatory, pilots are less willing to adopt them and many don't trust the transmitters will work in an emergency, said Bernard Gervais, president and CEO of the Canadian Owners and Pilots Association.
The association has 16,000 members across the country who fly everything from recreational and personal aircraft to private and business planes.
Bernard Gervais of the Canadian Owners and Pilots Association says pilots don't care about the cost of installing a new ELT, which can run between $650 and $750, plus installation. It's the reliability of the devices that most pilots question, he says.(Jean-Pierre/flickr.com/djipibi)
Gervais said ELTs, new or old, have a spotty track record of activating when they're supposed to.
"Right now it's just an iffy thing. Like I'd be down there, stuck in the airplane with broken legs, and I would think I've got a 60 per cent chance that this thing went off and that would be it. It's not reassuring to know that."
Bernard Gervais, president and CEO of the Canadian Owners and Pilots Association, Gervais says ELTs, new or old, have a spotty track record of activating when they're supposed to. (Submitted by Bernard Gervais)
A number of things can cause an ELT to fail. A broken antenna, a fire, being submerged in water, and even mountains or thick forests can interfere with its radio signal.
Also, if a plane strikes the ground so hard that it breaks up into pieces, it's unlikely the ELT would be intact enough to produce a signal.
The TSB said its research shows ELT signals aren't picked up in 30 to 40 per cent of crashes, often because the equipment was damaged in some way. That's why the board also recommended to Transport Canada that work be done to change the design of ELTs to improve their functionality after a crash.
In Canada last year, there were 58 reported activations of 406 MHz ELTs during accidents. In 17 of those, the ELT was the only way search and rescue crews knew that an aircraft had gone down.
Lt.-Col. Jonathan Nelles, senior staff officer with search and rescue at 1 Canadian Air Division with the Armed Forces, said their analysis shows ELTs are 85 to 90 per cent effective in alerting search and rescue workers to an aircraft in distress.
The antenna of this ELT broke when an air ambulance flight crashed in Ontario in May 2013. The broken antenna was enough to prevent its signal from reaching search and rescue crews. (Transportation Safety Board )
In this section of the air ambulance that crashed in 2013, only the base of the ELT's antenna remains. The rest of the ELT was working, but it couldn't transmit its message because of the damage.(Transportation Safety Board)
Without an ELT, rescue crews searching for the wreckage of an aircraft have a hard road ahead of them.
"Not having a good idea of a precise location makes it challenging because some aircraft itineraries and routes are over hundreds of miles, and that results in a long, laborious search across all sorts of terrain and in all sorts of conditions," he said.
Lett admits the 406 MHz ELT isn't perfect technology, but said that shouldn't keep a pilot from upgrading a plane's antiquated distress system.
"From a common sense standpoint, it seems that if someone cares about their life and the life of their loved one, they'd want to make sure they had this relatively inexpensive insurance policy in case something went wrong with their plane."
Lt.-Col. Jonathan Nelles, senior staff officer with search and rescue at 1 Canadian Air Division with the Armed Forces, says ELTs are essential in helping search and rescue workers narrow down where to search for survivors of a crash. (JTFA/Twitter)
David Burke is a reporter in Halifax who covers everything from politics to science. His reports have been featured on The National, World Report and As it Happens, as well as the Information Morning shows in Halifax and Cape Breton.
Report Typo or Error|Send FeedbackSearch and rescue for false alarms costs millions