The province has ordered that people be immediately evacuated from the hamlet of Crutwell near Prince Albert, Sask.
The community and other homes in the vicinity are threatened by a wildfire, which remains about 5 kilometres from Crutwell.
Evacuees are being sent to the Shellbrook Senior Hall on the corner of Railway Avenue and Main Street in Shellbrook. People are urged to use Highway 3.
Those who require help getting out of the area are asked to call 306-747-2178.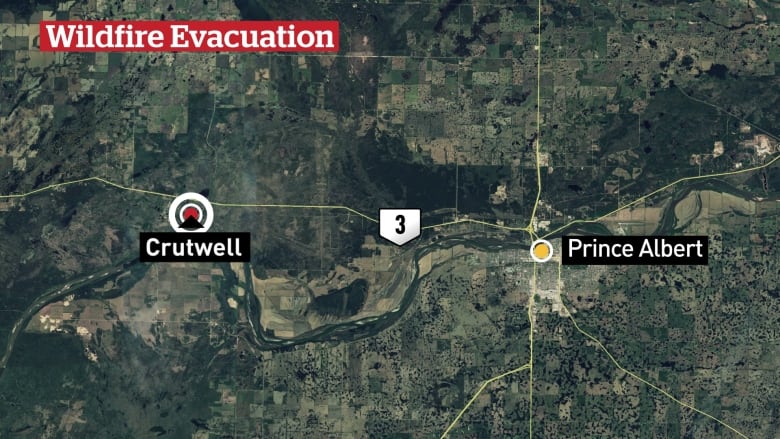 Residents of Crutwell were ordered out of their homes on Monday afternoon. (CBC)
Crutwell, which has about 40 residents, is about 24 kilometres west of Prince Albert.
Fire also close to Holbein
The Rally fire, which is south of the village of Holbein, was first reported late Saturday afternoon. It has grown to 1,500 hectares, or 15 square kilometres.
There is no emergency evacuation order for Holbein, but the community is on standby due to fires in the area.
The Rally fire is still not contained.
According to the province's Ministry of Environment, a fireguard has been completed on three sides of the fire and down to the North Saskatchewan River. On Monday afternoon, the fire breached the fireguard on the east side.
Wildfire Management is working in the area with bulldozers, helicopters and air tanker support.
According to the Ministry, the fire is human-caused.
Smoke from the fire has filled the air in the Prince Albert area, raising the Air Quality Health Index to high risk. As a result, anyone with chronic lung conditions are being asked to stay inside and avoid outdoor activity.
30km west of <a href="https://twitter.com/hashtag/PrinceAlbert?src=hash&amp;ref_src=twsrc%5Etfw">#PrinceAlbert</a> <a href="https://twitter.com/hashtag/saskatchwan?src=hash&amp;ref_src=twsrc%5Etfw">#saskatchwan</a> near <a href="https://twitter.com/hashtag/Holbein?src=hash&amp;ref_src=twsrc%5Etfw">#Holbein</a> May 12 <a href="https://t.co/xjvlrk1KU0″>pic.twitter.com/xjvlrk1KU0</a>

&mdash;@IanOostindie
Two smaller uncontained fires have also been reported in Meadow Lake Provincial Park.
There are 14 active wildfires burning in the province. Nine of those are contained.