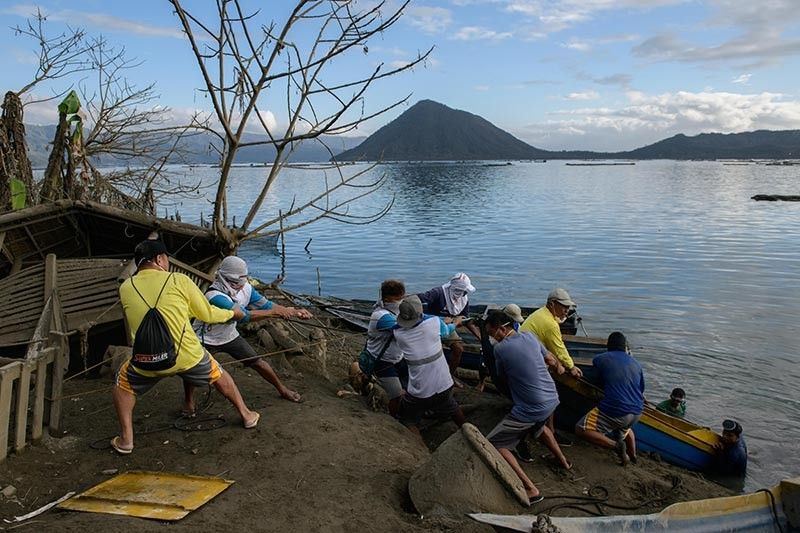 A group of fishermen haul a boat from the water as they make repairs to their operations affected by the eruption of the Taal Volcano, in Buso Buso on Jan. 20, 2020. Decimated fish, scarred coffee plants and vanished tourists: the Taal volcano eruption in the Philippines has inflicted significant damage on the livelihoods of tens of thousands and is expected to cause more.
MANILA, Philippines — President Rodrigo Duterte Monday urged Congress to fast-track the passage of a P30 billion supplemental budget for areas affected by the Taal Volcano eruption.
Duterte said the supplemental budget would be used to provide assistance and livelihood to displaced residents.
"The budget for next year is being prepared now this year. This incident was not considered in the budgeting. We did not expect it to erupt. We might have a supplemental budget from Congress," the president said during the ceremonial distribution of assistance to evacuees in Batangas.
"It would be good if Congress can provide the money together with the – your assistance. They have estimates. I think it was Congressman (Luis Raymund) Villafuerte (Jr.) who made the… It's about 30 billion," he added.
Duterte said Congress may also raise the amount to P50 billion so the government can build evacuation centers in areas facing the Pacific Ocean like Isabela, Cagayan and Samar.
"In the meantime that we are expecting another eruption, it would be good if we start building the evacuation center," the President said.
"But anyway, everybody is eager to help. The government is eager to help especially now," he added.
Duterte provided P5 million each to nine affected areas namely Lipa City, Agoncillo, Tanauan, Mabini, Batangas City, San Luis, Sto. Tomas, and San Jose. He also provided P10 million to Batangas province.
The President assured the evacuees that every single centavo of the supplemental budget would go to relief and rebuilding efforts. He said the agriculture department would also provide assistance to affected farmers.
"But you can be sure that government will respond. You can see how the money will be used. We have money. Do not worry," he said.
"Nothing will be pocketed… I am not joking. The help will reach you. Just wait and we will act fast. Government assistance will come at the right time."
Duterte also cursed at the Taal Volcano for causing misery to the residents of Batangas.
"What's the update on that son of a b**** volcano? Is it still angry? I want to pee on the hole of that son of a b****. Because I am angry with it. But it's not human so you can't slap or kick it. So let's just accept whatever it gives us… Well, that's the ways of the — how the world runs," he said.
As It Happens
LATEST UPDATE: January 20, 2020 – 6:10pm
Get updates as Phivolcs issues warnings over Taal Volcano's unrest. (Main photo by AFP/Bullit Marquez)
January 20, 2020 – 6:10pm
President Duterte distributes cash assistance, hygiene kits, jerry cans, gift certificates and training kits to selected heads of families affected by Taal Volcano's eruption.
January 20, 2020 – 4:25pm
Rep. Vilma Santos-Recto (Batangas) proposes the creation of a Taal Commission to help in the rehabilitation efforts in areas affected the eruption of Taal Volcano.
In a privilege speech Monday afternoon, Santos-Recto also urged the lower house of Congress to realign funds to address the crisis cost of the volcanic eruption.
"I hope we can craft more laws improving the capabilities of disaster preparedness of LGUs to ensure the health and wellness of evacuees," Santos-Recto said.
Rep. Santos-Recto: Patuloy nating suportahan at damayan ang pasanin ng mga kababayan sa Batangas. Sa ngayon masasabi nating overwhelming ang tulong.

— House of Representatives of the Philippines (@HouseofRepsPH) January 20, 2020
January 20, 2020 – 8:23am
Phivolcs has recorded 673 volcanic earthquakes, including 12 low frequency ones in the last 24 hours, which it says "signifies continuous magmatic intrusion beneath the Taal edifice, which may lead to further eruptive activity."
It has observed steady steam emission and infrequent weak explosions that generated ash plumes of from 500 to 1,000 meters tall and dispersed ash to the southwest.
Although some businesses have opened in Tagaytay, which overlooks Taal, Alert Level 4 remains over the volcano.
"DOST-PHIVOLCS strongly reiterates total evacuation of Taal Volcano Island and high-risk areas as identified in the hazard maps within the 14-km radius from Taal Main Crater and along the Pansipit River Valley where fissuring has been observed," Phivolcs says.
January 19, 2020 – 6:26pm
Phivolcs says Alert Level 4 remains in effect over Taal Volcano which means that the threat of a hazardous eruption within hours to days still looms.
"Since 8:00 AM this morning, Taal Volcano's activity has been generally characterized by weak emission of steam-laden plumes 300 to 500 meters high from the Main Crater that drifted to the general southwest," it says in its 6 p.m. update today.
A total of 701 volcanic earthquakes have been recorded since the volcano erupted last January 12. The latest sulfur dioxide (SO2) emission was measured at an average of 4353 tonnes/day as of 5 p.m. today.
Based on PAGASA's wind forecast, if the eruption plume remains below 5 km, ash will drift south and southwest of the main crater. But if a major eruption occurs during the day and the plume exceeds 5 km, then volcanic ash will also blow to the eastern and northeastern sectors reaching parts of Batangas, Laguna and Quezon.
ERUPTION UPDATE FOR TAAL VOLCANO

ALERT LEVEL 4 (HAZARDOUS ERUPTION IMMINENT)

19 JANUARY 2020

06:00 PM#TaalVolcano#TaalEruption2020pic.twitter.com/tLSlyuX1ww

— PHIVOLCS-DOST (@phivolcs_dost) January 19, 2020
January 19, 2020 – 4:10pm
Volcanic ash blanketed the foot of Taal Volcano island gray as the Airforce and members of Task Force Taal assess the situation on Sunday morning, January 19.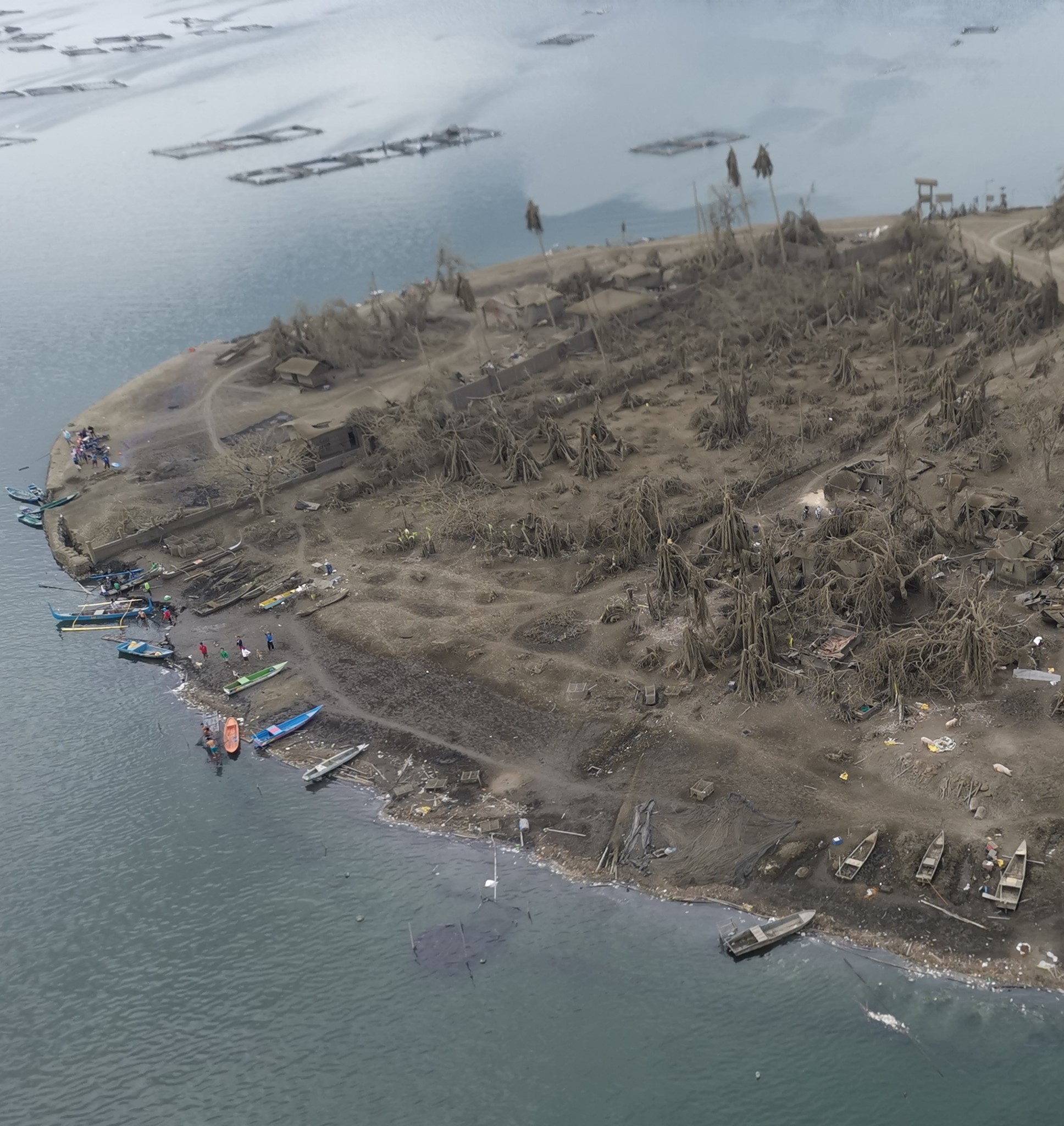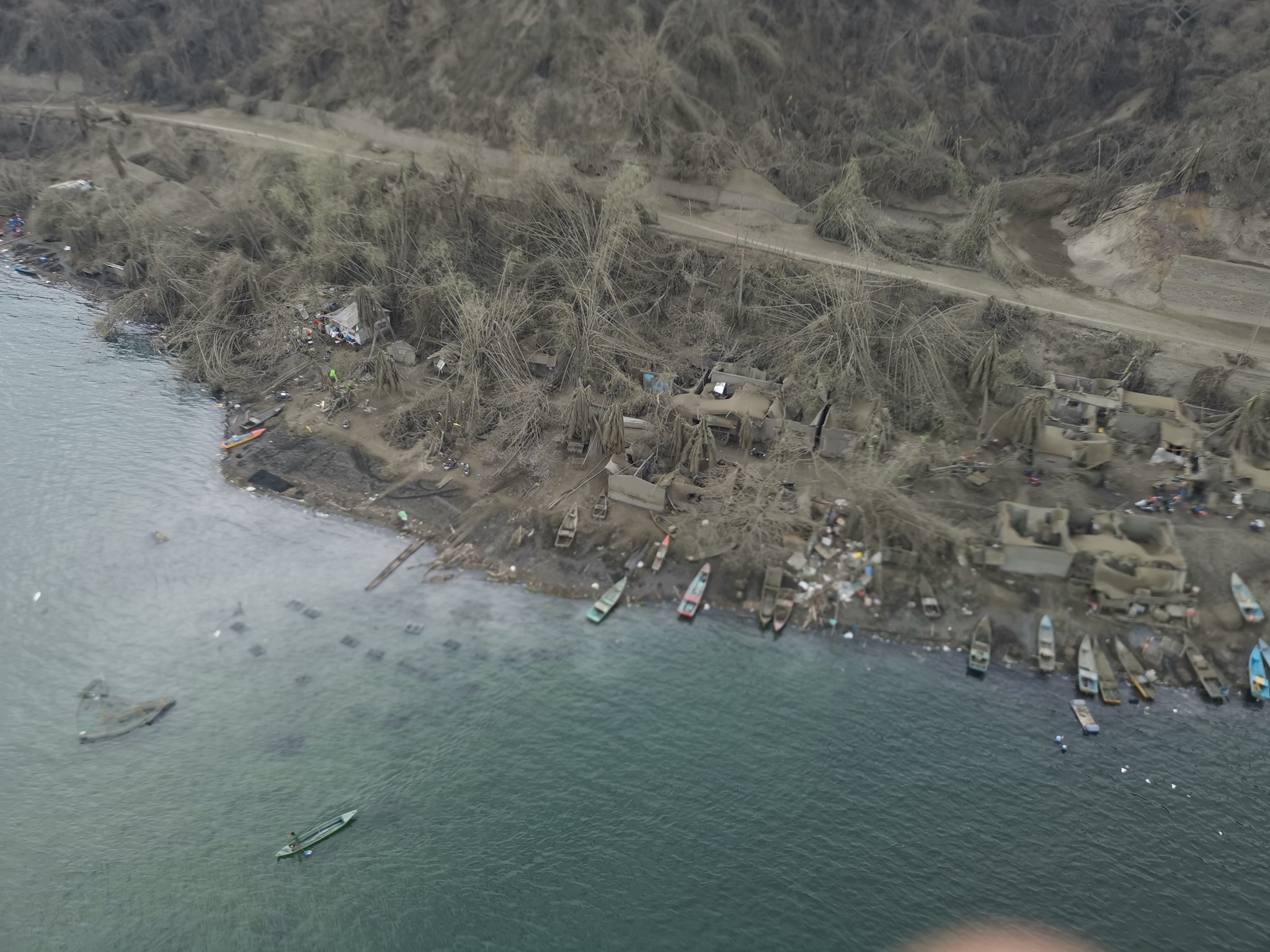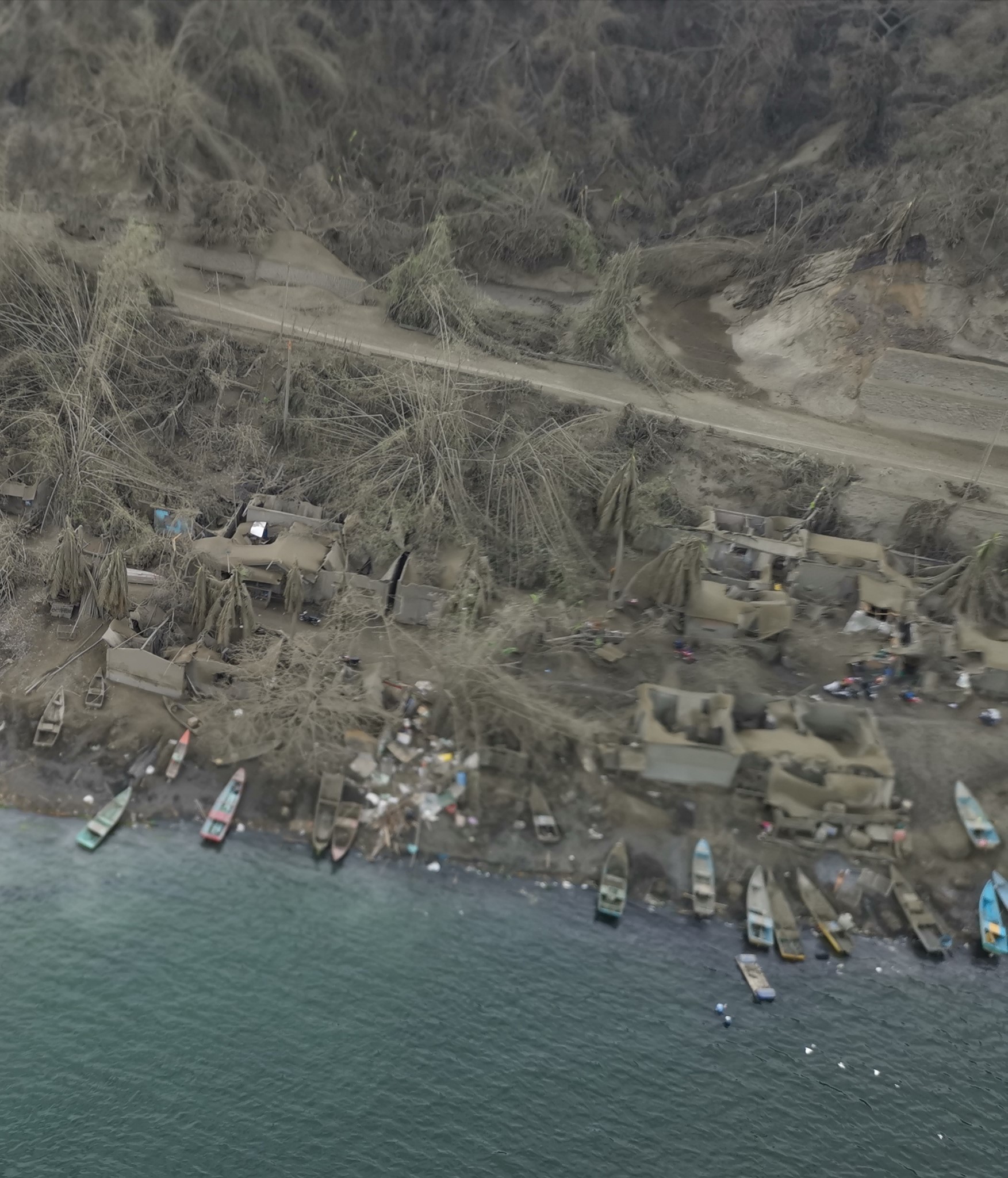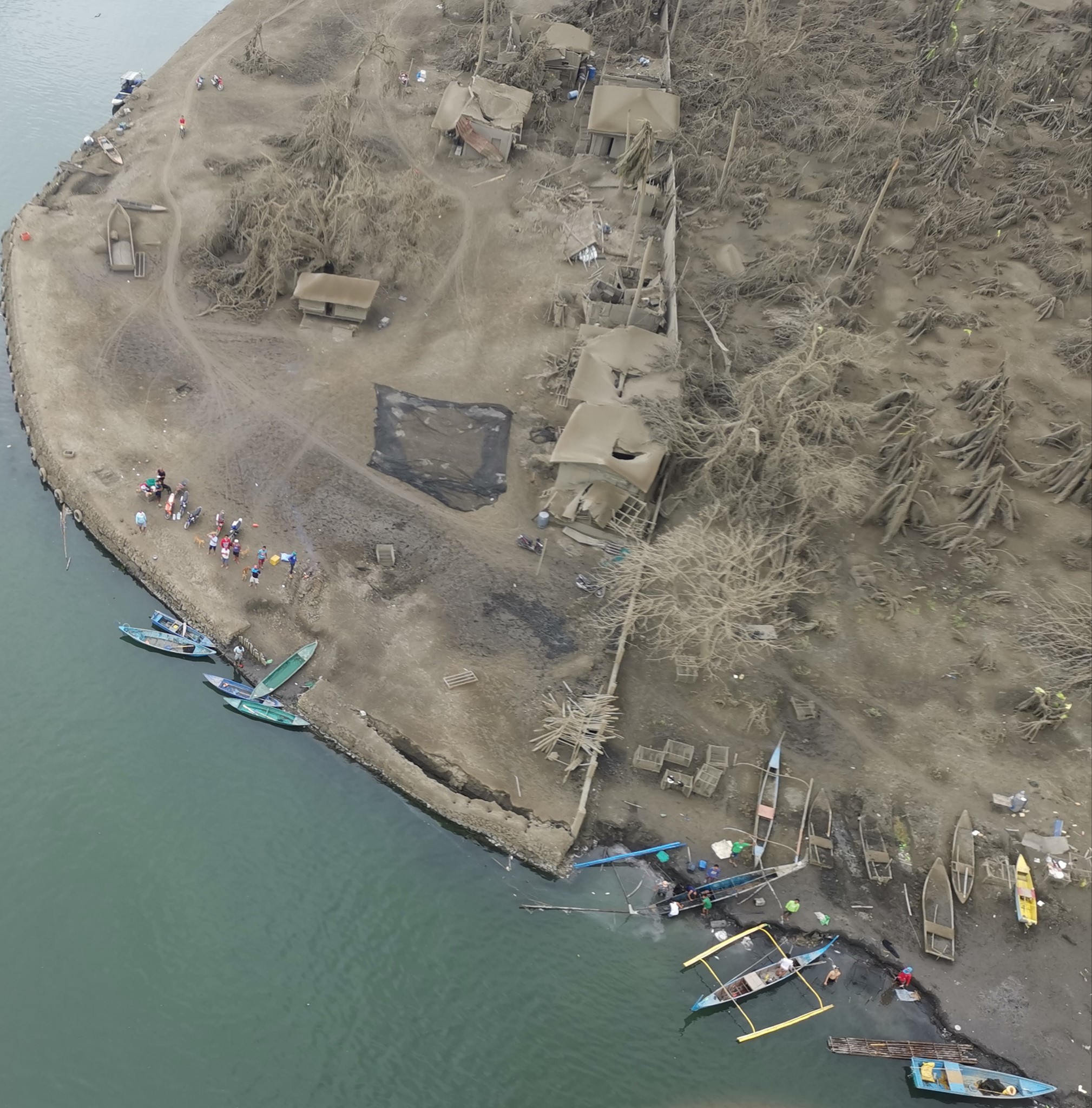 Credit belongs to : www.philstar.ca