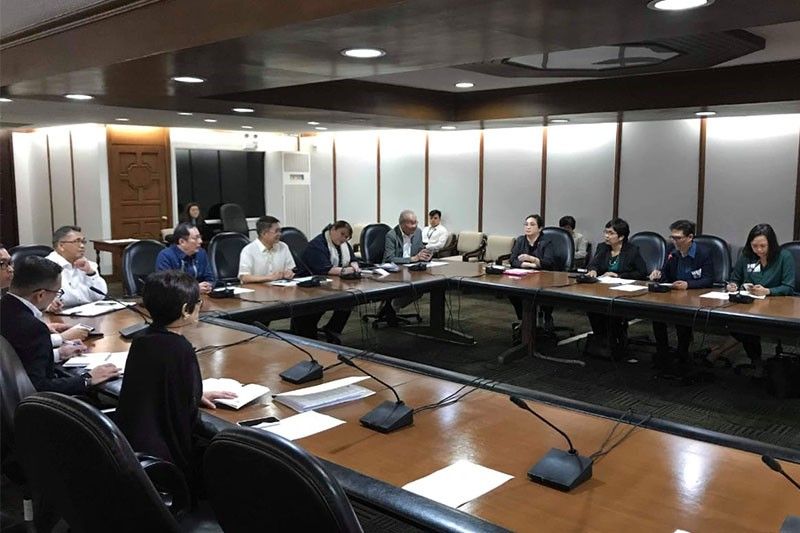 The Department of Foreign Affairs convened an emergency meeting with the Department of Health to discuss strategies to properly respond to the health emergency brought about by the novel coronavirus outbreak in China and other countries.
MANILA, Philippines — Officials of the Department of Foreign Affairs and the Department of Health, and health experts convened an emergency meeting Monday to discuss measures to protect overseas Filipino workers amid the novel coronavirus (2019-nCoV) outbreak in China and other countries.
Foreign Affairs Undersecretary Eduardo Malaya sought the guidance of the Health department on how to establish protocols on the evacuation and repatriation of Filipinos in affected cities and provinces—particularly Wuhan, China, which is the epicenter of the pandemic.
The officials also discussed the formulation of further health advisories for OFWs in affected countries, the DFA said in a statement.
The DOH will
be establishing hotlines in every foreign service post in China, where Filipinos can directly call.
OFWs in affected areas are advised to avoid crowded places, use
masks and gloves, and to practice proper hygiene to reduce exposure to and transmission of the SARS-like virus.
According to the DFA, there are no reports yet of any Filipino abroad who has
been affected by the novel coronavirus.
"The DFA, through its Embassies and Consulates General in China and affected areas, continues to reach out to overseas Filipinos to take necessary precautions and follow the advice from local health authorities in their area," the DFA said in a statement.
The DFA added that it is coordinating with Filipino communities overseas to call for volunteer nurses and doctors who can response in case a fellow Filipino would
be infected.
Health Secretary Francisco Duque clarified earlier Monday that there is no confirmed case of the novel coronavirus in the Philippines.
The DOH, however, is monitoring 11 patients under investigation that have
been put under quarantine. — Patricia Lourdes Viray
As It Happens
LATEST UPDATE: January 27, 2020 – 9:21pm
Follow this page for updates on a mysterious pneumonia outbreak that has struck dozens of people in China.
January 27, 2020 – 9:21pm
Three Chinese nationals showing signs of flu were admitted to San Lazaro Hospital in Manila and are under observation for the novel coronavirus, media reports citing Health Secretary Francisco Duque III say.
Two of them have travel history from China's Wuhan City, the epicenter of the outbreak.
January 27, 2020 – 8:28pm
Germany is considering evacuating its citizens from Wuhan, the Chinese city at the center of the deadly coronavirus outbreak, Foreign Minister Heiko Maas says Monday.
"We are considering a possible evacuation of all willing German citizens," Maas tells a Berlin press conference, adding that the embassy in Beijing had sent a team to support Germans in Wuhan.
The number of German citizens currently in the city was estimated to be "in double figures," Maas says. — AFP
January 27, 2020 – 2:38pm
China on Monday extends its biggest national holiday to buy time in the fight against a viral epidemic, as the death toll spiked to 80 despite unprecedented quarantine measures and travel lockdowns.
In a sign of the mounting official concern, Chinese Premier Li Keqiang visited the ground-zero province of Hubei to oversee containment efforts in Wuhan, a city of 11 million people where the virus emerged late last year.
The government has sealed off Wuhan and neighboring cities, effectively trapping tens of millions of people, in a bid to contain the spread of the virus. — AFP
January 27, 2020 – 12:34pm
Chinese Premier Li Keqiang on Monday is the most senior Chinese leader to visit Wuhan since the city was struck by the outbreak of a deadly virus that has spread across the country and sparked global concern.
The virus toll has spiked to 80 dead despite a huge lockdown of Wuhan and Hubei province, home to the majority of fatalities from a disease that has infected more than 2,700 people nationwide so far.
Wearing a mask and blue plastic scrubs, Li was in Wuhan to "investigate and guide" ongoing efforts to control the virus in the city of 11 million people, which has been placed under an unprecedented quarantine, China's State Council said on its official social media account.
The State Council, China's cabinet, says Li would meet with patients and medical staff on the frontline. — AFP
January 27, 2020 – 10:32am
Government agencies should have been, and should be, more proactive about keeping risks like the novel coronavirus from entering the country, Rep. Lawrence Fortun (Agusan del Norte) says in a press statement.
"Why were we still allowing flights from Wuhan to land in the Philippines in the first place? Why did we have to wait for their announcement of lockdown before deciding to prohibit entry of flights coming from a place already confirmed to be the epicenter of the outbreak of a fatal virus that has turned epidemic?" he says of the entry into the Philippines of passengers from Wuhan in Hubei, China.
"And now, we have to send at least 500 travelers back? And that is not even a decision reached by our authorities, but the airlines?"
He says: "It is the lives and health of our people that are at stake here. We implore our authorities to be more proactive, aggressive and swift in situations like this."
Credit belongs to : www.philstar.ca