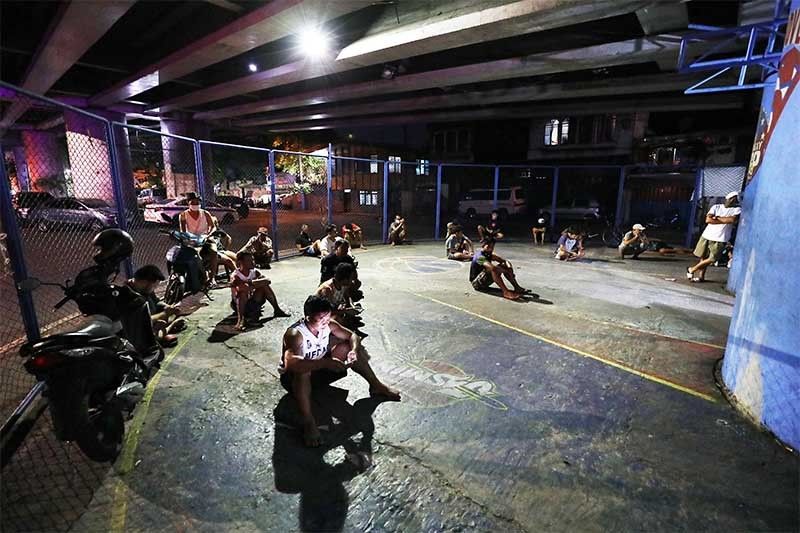 In this April 4, 2020 photo, residents spend the night at a make-shift basketball court under a flyover after they were rounded up by members of the Manila Police District, Sampaloc police station for violating the public safety hours of 8 p.m. to 5 a.m. of the enhanced community quarantine in Manila.
MANILA, Philippines — A group of lawyers are offering free legal services to those who face discrimination amid the COVID-19 pandemic.
Cabinet Secretary Karlo Nograles on Monday reiterated the Inter-Agency Task Force on the Management of Emerging Infectious Diseases' condemnation of discrimination against healthcare workers, overseas Filipino workers, COVID-19 patients, and patients under investigation and monitoring.
"The IATF condemns these and we are warning that we will sue those caught committing this," Nograles said in Filipino.
He said that a group of lawyers have taken on the call to provide legal assistance to those who will experience discrimination.
"We are encouraged by the fact that just a day after I raised this issue there are lawyers from the University of the Philippines College of Law and from all over have volunteered their services to victims of discrimination," Nograles said.
Those who need their legal advice may send them a message through their Facebook page, Volunteer Lawyers against Discrimination or contact them at 09177052333.
Discrimination against health workers
Nograles said that the task force learned that stones were thrown at a house in Iloilo due to suspicions that they were infected by the novel coronavirus. The family's patriarch died due to COVID-19.
He said that the family disclosed to the public their status as Patients Under Monitoring for transparency. Due to this, the family's house was stoned.
"These do not help," Nograles said.
Last week, the ambulance driver of Peter Paul Medical Center of Candelaria Inc. in Quezon province was shot at his hand after the suspect accused him of transporting COVID-19 positive patients.
The driver only transported health workers and the ambulance is regularly disinfected.
The health department earlier denounced acts of physical assault, harassment and discrimination against health workers. This came after a group of five individuals "ganged up" on a nurse in Sultan Kudarat and splashed bleach on his face.
DOH also said it has received reports of healthcare workers being refused access to public transport and laundry, blocked and fined at checkpoints and evicted from their homes.
"These acts cannot be tolerated. We are mobilizing our own personnel in efforts to ascertain more details and hold perpetrators of these attacks liable and reporting these incidents to the Inter-Agency Task Force on COVID-19 for proper investigation and resolution," the agency said. — with reports from Gaea Katreena Cabico
As It Happens
LATEST UPDATE: April 6, 2020 – 4:24pm
Photo shows members of the Philippine National Police deployed in Manila amid COVID-19 threat. The STAR/Edd Gumban
President Rodrigo Duterte on March 16, 2020 declares an enhanced community quarantine over all of mainland Luzon, an expansion of an earlier general community quarantine over the National Capital Region.
The entire National Capital Region—16 cities and a municipality—is under community quarantine from March 15 to April 14, which means the enforcement of social distancing measures like letting fewer people on public transportation, reduced store hours, and the possibiity of curfews.
According to a memorandum issued by the Palace on Saturday, March 14, the quarantine means that "movement of people shall be limited to accessing basic necessities and work; and uniformed personnel and quarantine officers shall be present at border points."
Travel restrictions in and out of the capital will also be implemented.
April 6, 2020 – 4:24pm
Baguio City Mayor Benjamin Magalong may recommend a modified community lockdown if the city sees no more positive COVID19 cases when the Luzon-wide extended community quarantine ends on April 12.
In a meeting with chiefs of hospitals and medical experts Monday, Magalong says plans to recommend a modified community lockdown where Baguio's borders will still be closed while the city will gradually allow economic activities within.
Transport, construction, manufacturing and among others businesses offering basic services will be opened during the modified community lockdown, he explains.
But Magalong sees the continued suspension of classes in the city until the end of April. — The STAR/Artemio Dumlao
April 6, 2020 – 3:27pm
Sen. Sonny Angara confirms that he is now free from the coronavirus after several days in the hospital.
"After several days in the ER and the [COVID-19] wing my doctors finally sent me home today — negative for the virus and pneumonia free," Angara says in a statement.
The senator expressed his gratitude to his doctors and nurses for taking care of him and to his families and loved ones for all the prayers for him.
April 6, 2020 – 1:06pm
President Rodrigo Duterte issues an administrative order authorizing the grant of special risk allowance (SRA) to frontline healthcare workers during the enhanced community quarantine in Luzon.
Administrative Order 28 directs national government agencies, government-owned or -controlled corporations and local government units to grant a one-time SRA, equivalent to a maximum of 25% of monthly basic salary, to public health workers.
This covers medical, allied medical and other necessary personnel assigned in hospitals and healthcare facilities directly catering to or in contact with COVID-19 patients, persons under investigation or persons under monitoring.
April 6, 2020 – 12:19pm
Lawyer Rico Quicho files a complaint against Sen. Koko Pimentel for breaching quarantine protocols and placing medical frontliners and others at risk of contracting COVID-19 at the Makati Medical Center and a supermarket in Taguig.
"At 11:47 AM today (April 6, 2020), I filed with the Department of Justice ("DOJ") through electronic mail, a Letter-Complaint against Senator Koko Pimentel detailing the clear facts and circumstances that establish his direct violation of RA No. 11332 and its implementing rules and other DOH regulations," Quicho says in a statement.
April 6, 2020 – 12:03pm
The Department of Interior and Local Government on Monday releases a call for LGUs to come up with ordinances requiring constituents to wear face masks outside their homes.
It does not seem, however, that the Philippine government will provide the public medically approved face masks.
Cabinet Secretary Karlo Nograles says at a press briefing that handkerchiefs, do-it-yourself masks and face shields and improvised masks can be used.
Credit belongs to : www.philstar.ca