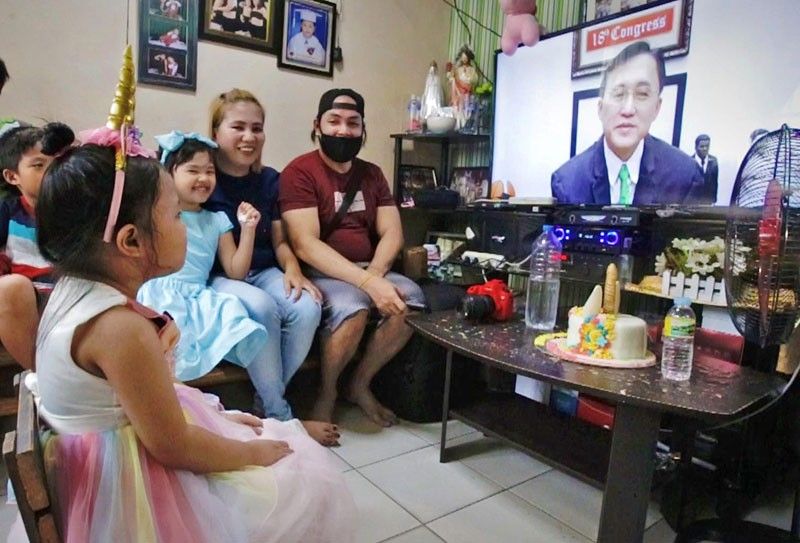 Sen. Bong Go, in a virtual message, wishes 'Baby Xia' and her family good health as she celebrated her 5th birthday last Wednesday
MANILA, Philippines — There is no love stronger than that of parents for their child. And this proved to be the case of Baby Xia, who after going through a biliary atresia operation last year, is now living normally and in good health.
In fact, she celebrated her fifth birthday last June 24.
Sen. Bong Go, who was instrumental in Baby Xia's operation in India, wished the child well, saying he was elated seeing the child up and about.
"It is uplifting to see a very healthy Baby Xia. I hope to meet you soon. Always take care, especially during these times. Let us pray and, together, we can overcome this. To your parents: I know that you love your child so much. I want to see her growing up as a loving child. Thank you and happy birthday Baby Xia," the lawmaker said in his birthday greeting.
Biliary atresia is a condition in infants in which the bile ducts inside and outside the liver are scarred and blocked. Because bile cannot flow into the intestine, bile builds up in the liver and damages it. The damage leads to scarring, loss of liver tissue and function, and cirrhosis.
According to her parents Eric Ngo and Rowena Quipanis, the baby was only two months old when they learned of her condition. Baby Xia, doctors told them, needed an operation – a liver transplant – as the condition could be fatal when left untreated.
The cheapest of such operation is offered in India at P1.2 million. The amount could be three times more when done in the Philippines.
The couple recalled doing everything they could to raise the needed funds – from selling t-shirts to asking friends and relatives for help and seeking support from non-government organizations and other groups – even sleeping outside charitable offices just to get the priority number for the following day.
They were fortunate to have attended one group event in Taguig City on Oct. 14, 2018, where Go, then the special assistant to President Duterte, was a guest of honor, and got the chance to air their plight.
"He (Go) did not hesitate talking with us, listening to our story. We asked for his help to keep our child alive. He told us that he could not give us the P2 million we needed, but assured us that he would help. That gave us hope. He did not leave us alone," Rowena recalled.
And, through the help of Go, government agencies, private donors and the Office of the President, Baby Xia was sent to India in April 2019 and had a successful operation. The after-care medical assistance was also provided continuously months after the operation.
Rowena said they were given enough for Xia's monthly needs, laboratory and hospital fees, even groceries. On top of those, they were also given the chance to meet President Duterte in Malacañang.
As an example of a success story, Go called on the government to further improve access to healthcare services and training for health professionals in treating liver diseases so patients don't have to fly to other countries for the transplant.
He said the government is enhancing the capability of the National Kidney and Transplant Institute (NKTI) to perform such operations.
For the short-term solution, a consortium was formed among the Office of the President, Department of Health, Philippine Children's Medical Center (PCMC) and The Medical City (TMC).
Under this consortium, an estimated P3.6 million is provided to each beneficiary wherein P2.9 million will be spent on the operation at TMC while the rest of the budget will be for pre-operation and post-operation care at the PCMC.
For the long-term solution, the government will be developing the facilities of NKTI and will be sending its specialist staff to Kaohsiung Chang-Gung Memorial Hospital in Taiwan for training. The government has budgeted P58.1 million for the equipment NKTI needed and P1.3 million for the batch of 12 specialists to be trained in Taiwan for one to two months.
"We want our patients to trust in the capabilities of our doctors. We want to tell them that they do not need to go abroad for a liver transplant. This is our objective – to be at par with other countries when it comes to this kind of specialized healthcare services," Go said.
He added that, aside from Baby Xia, many other families are asking for help for a similar operation.
Aside from Baby Xia, the Office of the President and Go also assisted babies suffering from similar illness, such as Eren Arabella Crisologo from Butuan City and Dionifer Zephaniah Itao from Cebu.
Credit belongs to : www.philstar.ca