Almost 30 years ago, the Salingpusa group of artists launched their careers on the grounds of what is now the Pinto Art Museum. Their series of shows started with "Icons" in May 1991 followed by "Flora" the same year.
1992 featured two more shows with "Kundiman" and the "Salingpusa" year-end show. Their artworks were displayed hanging on clotheslines and referred to as Sampayan Art. Those artists are now some of the most sought after in the Philippine art scene.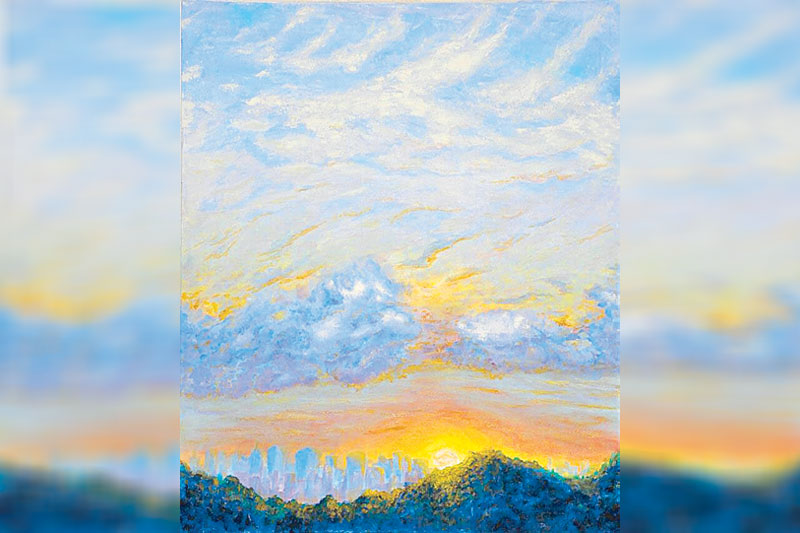 Some of the unsigned artworks for the July 11 Sampayan Art show at Pinto Art Gallery
Another Sampayan Art show is going to be held at Pinto Art Gallery, 28 years after the last one. Through the years Dr. Joven Cuanang has nurtured so many talented artists and hosted them at Boston Gallery and at Pinto Art Museum. Art in the Philippines has enjoyed an unprecedented boom with the establishment of numerous galleries, art fairs and shows.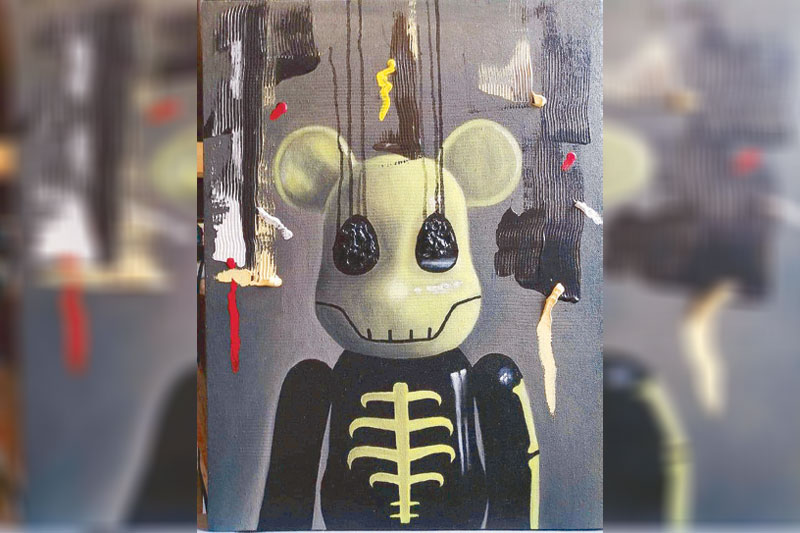 Art nowadays has become a commodity whose value comes from the name marketability of its artist rather than the quality of the work itself. Many have become more concerned with the reputation and bankability of the artist. Pinto wishes to address this trend by recapturing the spirit of youth and playfulness in the Sampayan Art shows years ago.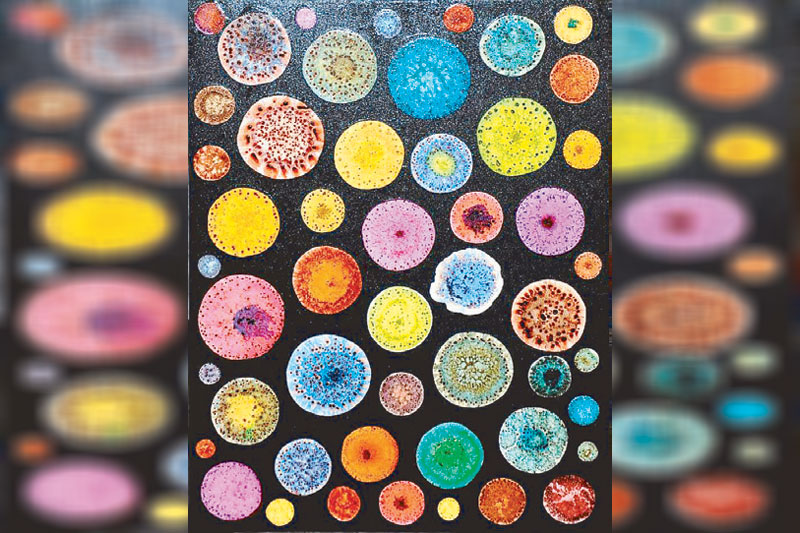 "Connect with your Heart" is a Sampayan show where artworks will not be signed until they are bought. Buyers will acquire pieces not on the basis of who made them but on the personal or emotional connection with their hearts. All artists hosted at Boston Gallery and Pinto from early in their careers have agreed to this format.
The show is curated by artist Jim Orencio and over 200 artists will participate and showcase their artworks on 18 x 24 inch paper or canvas in different media. The maximum price for each piece is P30,000.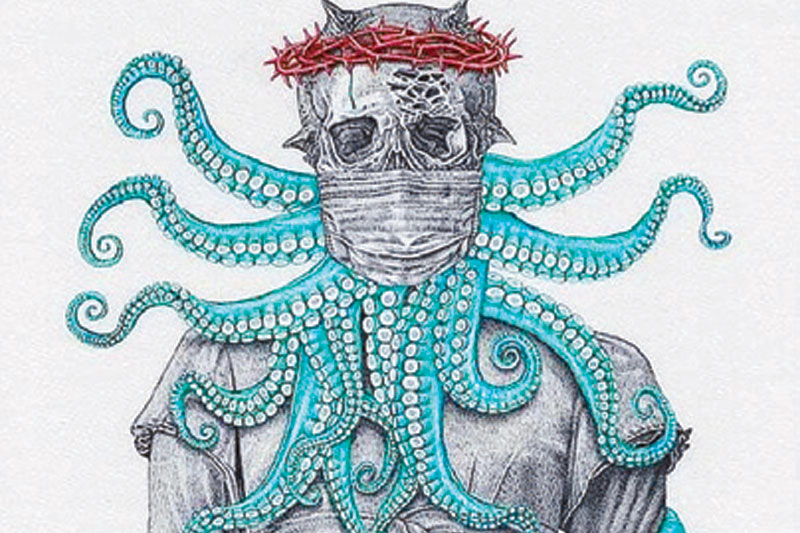 Some artists have submitted more than one work so expect roughly 500 framed and unframed pieces hanging in Pinto Art Gallery on July 11. Doors open at 10 a.m. and the show will run until July 26. Exhibition hours are from 10 a.m. to 5 p.m. daily except Mondays when the museum is closed.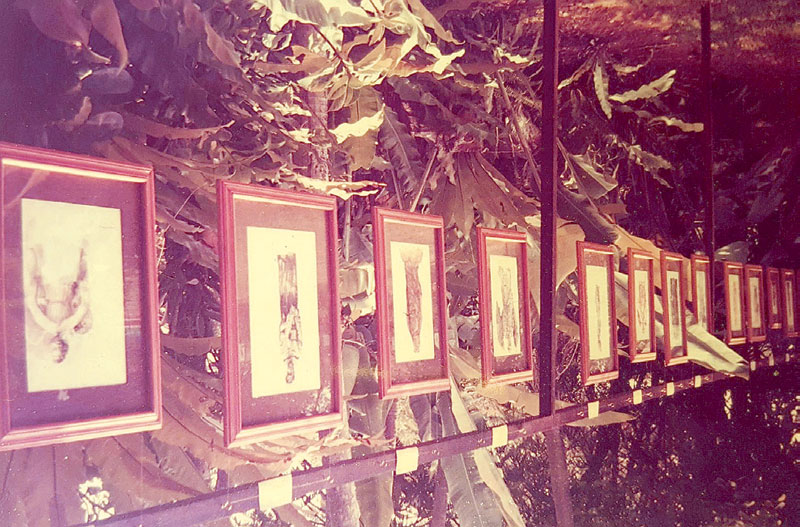 Paintings hanging on a clothesline.
The proceeds of this exhibition will go to the completion of the Pinto Arboretum, a rescue center for endangered Philippine plants and trees; the establishment of an ecologically-sound water conservation program at the Arboretum and the establishment of a gallery to house the collection of rare Maitum jars and anthropomorphic sculptures acquired by the El Refugio Arts and Sciences Foundation Inc., the non-profit foundation supporting the Pinto Museum of Philippine Contemporary Art, the Pinto Museum of Indigenous Art, the Pinto Arboretum and the Pinto Academy for Healing and Wholeness.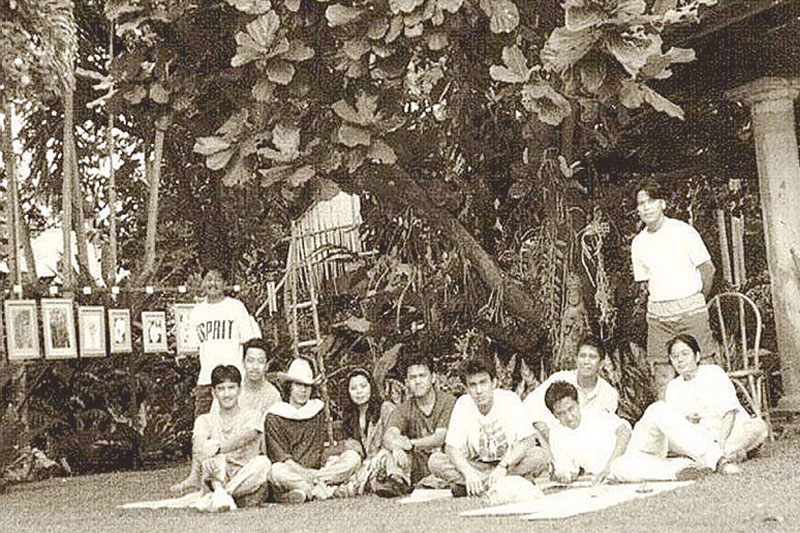 Salingpusa in 1991(from left): Andy Estila, Boyet Custodio (standing), Bobby Olayvar, Ferdie Montemayor, Tammy Tan, Elmer Borlongan, Jose John Santos III, Emmanuel Garibay (back), Mikel Parial (front), Karen Flores, Anthony Palomo.
In order to comply with the social distancing policy of Pinto Art Museum during this pandemic, visitors will have to make an appointment. Contact Jenny Villanueva of Pinto Art Museum at (0927) 764 6270 or landline (02) 8697 1015 or email pintoartmuseum@yahoo.com. You may also contact Rommel Pascual of Boston Gallery at (0917) 549 0545 or landline (02) 8722 9205 or email thebostonartgallery@yahoo.com.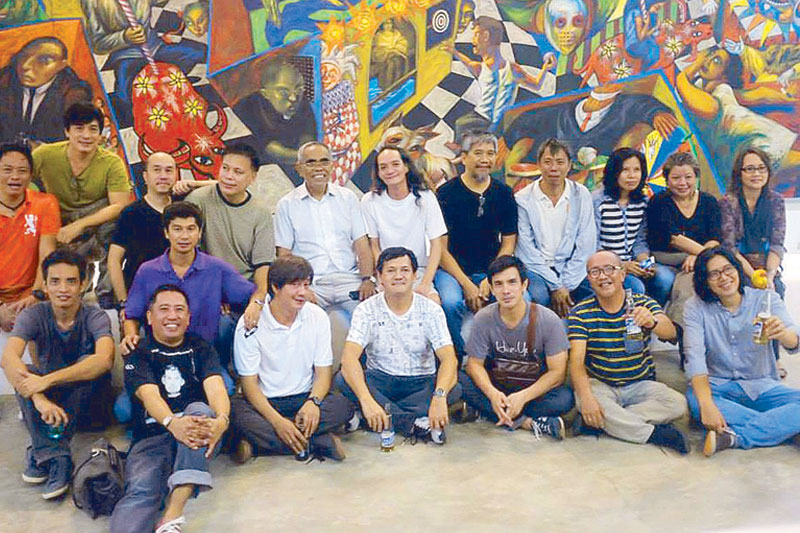 Salingpusa today: (Back row, from left) Jim Orencio, Tony Leaño, Renato Salonga, Anthony Palomo, Dr. Joven Cuanang, Gemo Tapales, Emmanuel Garibay, Andy Orencio, Joy Mallari, Tammy Tan, Weena Soberano Espardines; (Front row, from left) Erwin Leaño, Rolly Acuña, Mikel Parial, Ferdie Montemayor, Elmer Borlongan, Jose John Santos III, Cris Villanueva, Mark Justiniani.
Follow me on Instagram @pepperteehankee
Credit belongs to : www.philstar.com