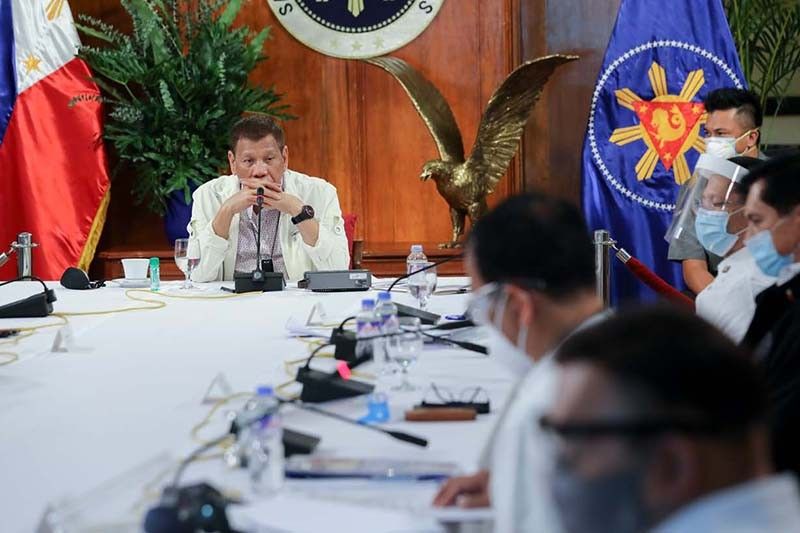 President Rodrigo Duterte holds a meeting with members of the Inter-Agency Task Force on the Emerging Infectious Diseases (IATF-EID) at the Malago Clubhouse in Malacañang on June 22, 2020.
MANILA, Philippines — President Rodrigo Duterte once again came to the defense of Health Secretary Francisco Duque III, who is facing an investigation for alleged irregularities and anomalies over the agency's handling of the country's coronavirus response.
In an address aired late Monday, Duterte said he had faith the country's top health official, who has been in hot water since March when the government belatedly took the threat of COVID-19 pandemic seriously.
"I am very sure and I place my reputation on Secretary Duque that there was no corruption that happened there," the chief executive said in a mix of English and Bisaya.
This came days after the Office of the Ombudsman announced it would start an investigation into the delayed procurement of personal protective equipment, inaction in the release of financial assistance of "fallen" and infected health workers and delayed reporting of virus-related cases and deaths.
"With due respect to the Ombudsman, the honorable Martires, iniimbestiga pa niya pero kung ako, kung ako lang ang tanungin, kung ako ang imbestigahin niya, eh di magpunta talaga ako sabihin ko na I believe in the honesty and integrity of my people," Duterte said.
(With due respect to the Ombudsman, the honorable Martires, he is still investigating but if you ask me, if I was the one being questioned, investigated, I will say I believe in the honesty and integrity of my people.)
Duterte added that Duque will not steal from the government because the health chief is already rich.
"Dili na niya kaya. Dili na niya kaya kay dato na ni daan si Duque. Naa ni'y hospital, naa ni'y eskwelahan, naa ni tanan. Hasta tanang gwapang asawa, naa niya. Mao ni'y importante, tanang—tanang gwapa," he said.
(He wouldn't do that. He wouldn't do that because Duque is already rich. He has a hospital, a school, everything including the most beautiful wives, he has them all. They are all beautiful — this is important.)
Carlito Galvez, National Task Force COVID-19 chief implementer, also vouched for Duque, saying he "has nothing to do" with the procurement.
Last month, Duterte defended the DOH over the procurement of allegedly overpriced protective gear and medical supplies, saying he was the one who ordered Duque to procure them regardless of the cost.
Duque: Delay in arrival of PPE due to global shortage
In the same taped address, Duque said that the country ordered protective gear as early as February.
"Mr. President, ay talagang nagsumikap po tayo, nagpunyagi po tayo na makuha ang sapat na bilang ng mga PPEs. Pero dahil nga po sa shortage, 'yung global shortage po, Mr. President ay naghintay tayo nang matagal bago po tayo makakuha ng atin pong mga personal protective equipment," the health chief said.
(Mr. President, we worked hard in getting enough supply of PPE. But because of the global shortage, we had to wait before getting supply of protective gear.)
Duque also said the families of the 32 health workers who died from COVID-19 and 19 others who were severely infected had already been compensated.
He added his office will submit documents to respond to a subpoena sent by the ombudsman.
As It Happens
LATEST UPDATE: June 17, 2020 – 4:06pm
At least 14 senators called on Health Secretary Francisco Duque III to resign over his failure of leadership in addressing the COVID-19 pandemic. Follow this thread for updates.
June 17, 2020 – 4:06pm
The Department of Health says they welcome the move of the Office of the Ombudsman to investigate the liability of Health Secretary Francisco Duque III and other DOH officials over the government's response to the COVID-19 pandemic.
"DOH officials will willingly cooperate with the authorities to ensure utmost transparency throughout the duration of the investigation and beyond," it says in a statement.
April 21, 2020 – 6:45pm
The Philippine Medical Association, Philippine Hospital Association, Private Hospital Association of the Philippines, and the Philippine College of Hospital Administrators support Health Secretary Francisco Duque III amid calls for his resignation.
"We don't change horses in the middle of the stream and instead we should hold on to one another's hand so tight so that, faced with this viral storm, we cross the stream together," the statement reads.
April 16, 2020 – 4:10pm
Health Secretary Francisco Duque III appeals to the public to work together as a team following a Senate resolution calling for his resignation.
"We will answer these allegations in due time, but right now, we will continue to be in the trenches with our health care workers and frontliners," Duque says in a statement.
The DOH chief says he will continue to serve the country to the best of his ability as the nation battles an "invisible enemy" that "remains unpredictable."
April 16, 2020 – 3:58pm
Sen. Francis "Kiko" Pangilinan says he supports Senate Resolution No. 362, calling for Health Secretary Franciso Duque III's resignation for his "failure of leadership, negligence, lack of foresight, and inefficiency in performance."
"Naghugas ng kamay. Mahigit dalawang buwan na ang nakalipas, pero wala pa rin kaming nakitang pagbabago sa makupad at malabong pagpapatupad ng mga anti-COVID effort. Napigilan sana ang pagkalat ng COVID. Nagawan sana ng paraan ang kawalan ng PPEs sa mga ospital. Napigilan ang pagkamatay ng ating mga kababayan at mga magigiting na frontliner," says Pangilinan in a statement.
Credit belongs to : www.philstar.ca