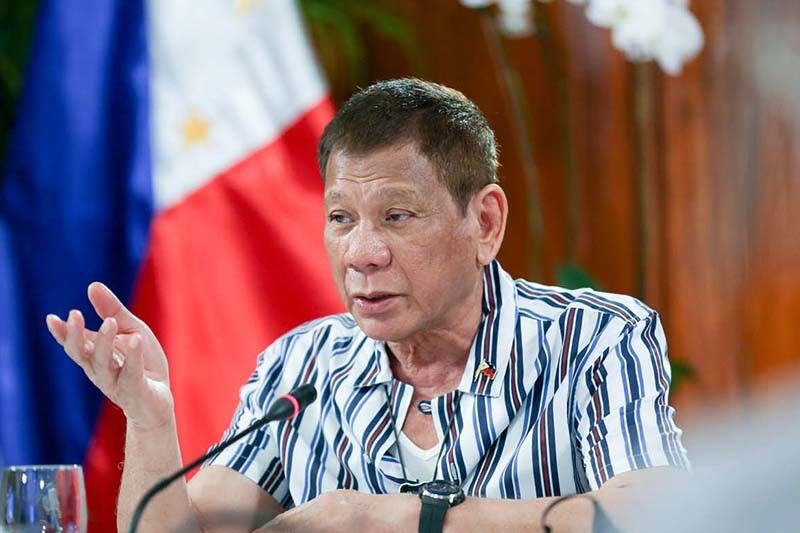 President Rodrigo Duterte holds a meeting with members of the Inter-Agency Task Force on the Emerging Infectious Diseases (IATF-EID) at the Malago Clubhouse in Malacañang on June 15, 2020.
MANILA, Philippines — The government is eyeing to buy radios for learners in far-flung communities as the country moves away from traditional face-to-face interactions and shifts to distant learning modes.
But the problem is that the government is running out of funds, President Rodrigo Duterte said in a televised briefing late Monday evening.
The chief executive said the government is considering buying transistor radios that will be distributed to poor communities that do not have televisions, mobile phones and access to internet connection.
"Baka kung magtagal ito talaga, sayang ang panahon. We might buy the radio at 300 maibigay sa lahat ng—sa lahat ng barangay na maabot ng radio para naman 'yung mga mahirap may communication sila sa teacher nila," Duterte said.
(If this goes on for a long time, we are wasting time. We might buy the radio at 300 so we could give these to all barangays so the poor ones will have means of communication with their teachers.)
DepEd will implement distant learning alternatives such as online classes, printed modules or learning through radio and television when classes formally open on August 24.
The president said he will "look for the money" to purchase transistor radios.
READ: Coronavirus response depletes government cash
"We will come up with something in the next few days. Maybe before the end of the week, I would be able to look for the money. Wala na tayong pera ngayon (We don't have money now). I would look for the money to buy transistor radios to be distributed all throughout the country," Duterte said.
"We will try to do it. We might not be able to succeed to bring all of it to the barangay level but we will try," he added.
Some 10.6 million learners have enrolled in public and private schools nationwide as of Monday.
The coronavirus disease that shuttered schools across the archipelago has so far infected 26,420 people, with 1,098 deaths.
As It Happens
LATEST UPDATE: June 8, 2020 – 5:40pm
President Rodrigo Duterte signed the bill that grants him special powers to address the novel coronavirus outbreak in the Philippines. Bookmark this page for updates.
June 8, 2020 – 5:40pm
There is no urgency to hold special sessions for the second part of the law that provided President Duterte additional powers to respond to the coronavirus pandemic at least for now, Malacañang said yesterday.
Presidential spokesman Harry Roque reiterated the position of the executive branch that the Bayanihan to Heal as One Act would remain in effect until June 25. He said the law took effect immediately upon its publication in a newspaper of general circulation or in the Official Gazette and would be in full force for three months unless extended by Congress.
"The President signed the Bayanihan Act on March 24, and was published in newspapers on March 25, a day after it was signed by the President," Roque said at a press briefing.
— The STAR/Artemio Dumao
June 5, 2020 – 12:33pm
Health Secretary Francisco Duque III says he takes responsibility for the delay of financial assistance to the families of healthcare workers who succumbed to COVID-19
Duque earlier blamed his subordinates for supposed lack of urgency in addressing the issue during the press briefing.
June 5, 2020 – 8:24am
President Rodrigo Duterte questions why there are no implementing rules and regulations for a provision of the Bayanihan to Heal as One Act that provides compensation for health workers who contracted COVID-19.
"You cannot run your own errands, someone has to do it for you," Duterte tells Health Secretary Francisco Duque III during a meeting with the inter-agency task force on COVID-19.
Duque, on the other hand, answers the president that 32 families have already been identified as eligible for P1-million aid. These are the families of health workers who died from the disease.
"Nakakahiya talaga sir, namatayan na nga pero parang walang sense of urgency ang mga tao ko. Ang sama-sama ng loob ko," Duque says.

June 3, 2020 – 6:57pm
The Senate has approved a bill to extend President Rodrigo Duterte's emergency powers to address the COVID-19 pandemic on second reading.
The bill, called Bayanihan to Recover as One, extends the grant of those powers until September.
June 3, 2020 – 3:08pm
Senate President Tito Sotto asks Health Secretary Francisco Duque III to immediately implement Section 4(f) of the Bayanihan to Heal As One Act, which provides compensation to public and private health workers who contracted COVID-19, as well as the families of health workers who died from the disease.
In a letter, Sotto expressed concern that no health worker and his or her family have received their supposed renumeration for sacrificing their lives after more than two months of the implementation of the law.
"May I remind you that we, as public servants, are duty-bound to cushion the effects that this pandemic brings and not to add to the problem or, worst, to be the problem and source of panic and further uncertainties in this already challenging world," Sotto tells Duque.
Credit belongs to : www.philstar.ca