As Korean beauty standards go global in popularity, I was quite excited when South Korean skincare line AHC invited us to a virtual event to get to know it products, meet its beautiful global ambassador Oh Yeon Seo, get some tips from the company's beauty expert, and to promote a holistic lifestyle.
I have always been interested in skincare and open to discovering new products and innovations. Koreans are known for their dewy and perfect skin, which I am fascinated by. It is sometimes hard to believe their age because of their forever-young glow. As I ride this K-beauty wave, I was introduced to this brand and what it has to offer.
AHC, or Aesthetic Hydration Cosmetics, is the No. 1 Korean aesthetic brand and was established in 1999. Many dermatologists and aestheticians in Seoul love the brand, which has over 20 years of hands-on experience. It started as a skincare line exclusively used by professionals in beauty clinics.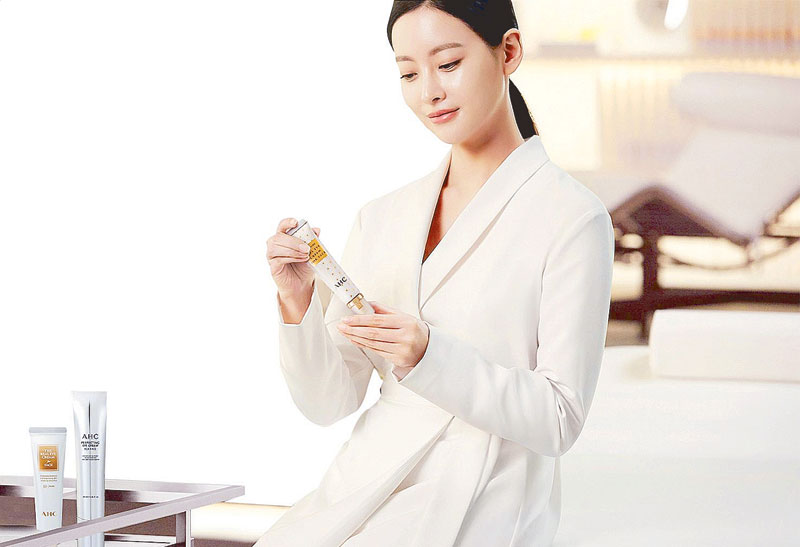 Glass-skin glow: Oh Yeon Seo gets her flawless, fair skin from the AHC Skincare line, which is available at Watsons.
AHC became a cult favorite through word of mouth and there was a demand to make it available for more people to use. The company philosophy is to develop and offer the best skincare products found in high-end aesthetic clinics with a friendly price range in order to reach a bigger market. Thus, it makes beauty more accessible.
The luxury skincare brand also advocates the importance of holistic "self-care." They define this as encompassing physical, mental and emotional wellbeing. AHC's approach is internal as well as external. For them, self-care is part of skincare and healthy skin is a reflection of that.
This is more meaningful during these stressful times. Therefore, it was quite fitting that they focused on mindful meditation. I have found meditation to be a panacea for any inner turbulence I may have. It brings in calm, clarity and peace of mind. Meditation is also a beauty secret. It releases the hormone DHEA (dehydroepiandrosterone), which produces estrogen and diminishes as one ages. Therefore, meditation is anti-aging. It also increases dopamine, the "feel good" chemical in our brain, while it decreases the stress hormone cortisol. A combination of meditation and the correct skincare equals beauty, a glow, and agelessness.
The main event was the appearance of AHC ambassador, Korean actress Oh Yeon Seo. She is known for her iconic roles in the K-dramas My Sassy Girl, Come Back, Mister and most recently, Love with Flaws. I was awed by her luminous and ageless appearance, as if time had stopped and she continues to be in her early twenties. She is perfection.
I was curious and even envious of her beauty, so I asked her the following:
Korean skincare is now the global trend. What made you choose the AHC skincare line?
Oh Yeon Seo: I really believe in the Aesthebalance technology by AHC: advanced skincare science, thoughtful formulation, and optimized application. Being the No.1 Korean skincare brand, AHC is truly a top-quality brand but at an affordable price.
What are the two AHC beauty products you can't live without? Why?
The Real Eye Cream for Face Pure and Hydra Gold Foil Mask are my top AHC beauty products. Both are very easy to use and really help to maintain my skin as young and fresh-looking, plus I can bring and use it anytime anywhere, too!
What improvements have you noticed on your skin and eye area since using AHC's Pure Real Eye Cream for Face?
Since I started using the Real Eye Cream for Face Pure, I felt that it really made my skin look younger. I noticed that my skin got softer and more hydrated, plus it improved my skin's elasticity.
How to get the Oh Yeon Seo glow
Personally, these are the AHC products that captured my attention and interest, which I will definitely try to get some of that Oh Yeon Seo glow.
Real Eye Cream for Face. This is the No. 1 eye cream in Korea, where one is sold every three seconds. It claims to have cumulative sales that reached 79 million won. The 2-in-1 anti-aging cream for eyes and face is lightweight but provides moisture and nourishment. It contains over 91 percent-natural ingredients that go through the Ultrafine Microemulsion System for deeper and faster absorption, resulting in hydrated skin, added firmness, and will give you that much coveted "lift."
Peony Bright Skincare Line. I admit that I am attracted to this because the peony, specifically the pink one, is my favorite flower. Little did I know that this beautiful flower is beautifying. It is clinically proven to improve skin pigmentation and reduce spots in just four weeks. The Peony Bright line includes: Peony Bright Deep Cleansing Foam, Peony Bright Clearing Toner, Peony Bright Luminous Serum, Peony Bright Spot Corrector, and Peony Bright Toning Up Cream. It is best to use these products in a step-by-step process for optimum results.
Hyaluronic Toner. I have been a fan of hyaluronic acid for a few years now and am aware of its anti-aging properties. It helps retain moisture, refines the skin and leaves it soft and plump. It is the perfect after-cleansing step prior to moisturizing. This toner also contains rosemary, peppermint, bergamot, tea tree, and scented geranium, which help to clarify and purify skin. Lavender, freesia, and chamomile soothe and calm sensitive skin.
* * *
AHC Skincare is now available in the Philippines at all Watsons branches nationwide. It is also available on Shopee, BeautyMNL and the brand's official Lazada page. For more information on AHC, visit https://www.ahcbeauty.com/. You can also check out AHC on their social media pages. FB: AHC Beauty Philippines | IG: @ahc.global | YT: AHC Beauty Southeast Asia.
Credit belongs to : www.philstar.com