Give and you shall receive, and it will be given back to you a hundredfold.
"Give us our daily bread" — this line from the Lord's Prayer reflects our essential need for physical and spiritual nourishment, especially in these trying times. Bread is a staple in almost every household around the world. And, in our case, it would be in the form of the humble pan de sal.
When my daughter Mela and I decided to donate pan de sal to the frontliners in PGH, we decided to make a demo video out of it. Just a simple way to connect with my students and friends and whoever would be interested in learning something new while confined in their homes.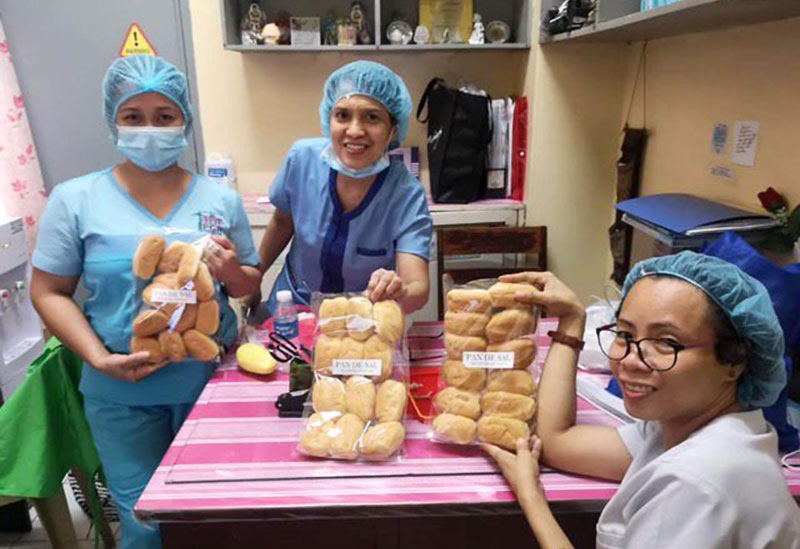 Frontliners and their yummy pan de sal
Little did I realize that it would become viral on social media. I was humbled by the number of messages from countless people who have joined the virtual baking demo. I have been tagged on numerous videos posted on Facebook, Instagram, and YouTube by different people, from housewives, children, and men, to mothers, mothers with daughters, and professionals proudly showing off their baking experiences spurred by my demo.
I still cringe at the thought that somehow our production of the demo could have been a bit more professional considering that I once had my cooking show and have worked as a food stylist for television commercials.
To think at that time, my instructional demo was shot using my daughter's cellphone mounted on a borrowed tripod. This is why I am humbled by the impact of how it was received; how the simple act of baking pan de sal would bring widespread satisfaction through the stories posted on social media. Pictures of beaming faces as they showed off their baked creations.
The iconic Filipino pan de sal garnered views from other countries like Spain, USA, Australia, Brazil, Hong Kong, and more. Even the Philippine ambassador to Portugal was elated to share her success in the process.
I was particularly touched by an Instagram post of a young girl intently watching and so focused on my demo using a cellphone. I can imagine the smile that lights up one's face when you manage to transform flour into something you can eat and share. It may be an exact science, but it is just as magical.
Until now, I have been receiving photos and videos sent by those who watched from here and abroad.
I have always found comfort in baking, and if there is any good thing that has sprung from this crisis, it would be the gift of time and the gift of friendship — more time to spend with family and exploring new possibilities in the new normal.
Now I begin to understand that while the pandemic has kept people confined in their homes, a lot have turned to baking as a means of therapy and stress release.
The best way to not feel hopeless is to get up and do something. And to accomplish projects, unlock hidden talent or rediscover your skills gives you a feeling of empowerment and control in these trying times. Sharing my pan de sal video was fortuitous because it resonated with a lot of people. And the flood of positive feedback was a big boost to my spirits as well.
This simple gesture has brought me many blessings. But I was certainly not expecting the biggest surprise so far: a gift from Besterm International, a food equipment supplier. They sent me my dream oven, the Italian-made Venix tabletop convection oven. Apparently they had seen my video, too. For this I am truly grateful and humbled.
I extend much gratitude to everyone who shared with me their baking triumphs, their journey and the joy of unlocking a new skill. As we navigate through this new normal, it is my hope that we have more adventures in baking together in the virtual space.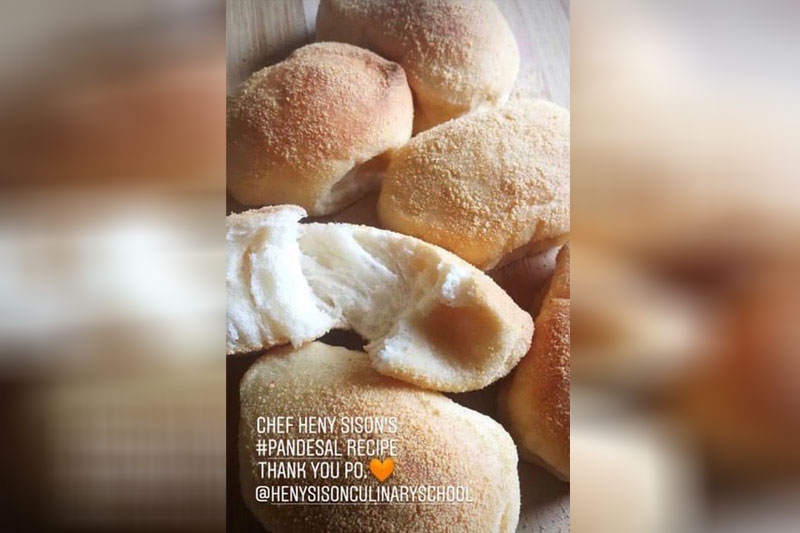 Pan de sal
Ingredients:
1 ??cup ??lukewarm water (110 °F)
?2?? teaspoons ??instant dry yeast
2 ??teaspoons ??sugar
For the dough:
?500?? grams ??bread flour
1 ??teaspoon ??salt
1/2 ?cup ???sugar
1/2 cup ???corn oil
2 ??egg yolks, slightly beaten
Breadcrumbs
Procedure:
1. Prepare yeast mixture. Let rest for 7 minutes.
2. Add the rest of the ingredients and knead until smooth and elastic. Let rest until it doubles in bulk.
3. Punch down and roll into a baston. Cut using a wooden dough cutter to seal and cut.
4. Roll in breadcrumbs.
5. Place on cookie sheet. Let rise until double in size.
6. Bake at 3500F for 20 minutes or until golden brown in color.
Credit belongs to : www.philstar.com