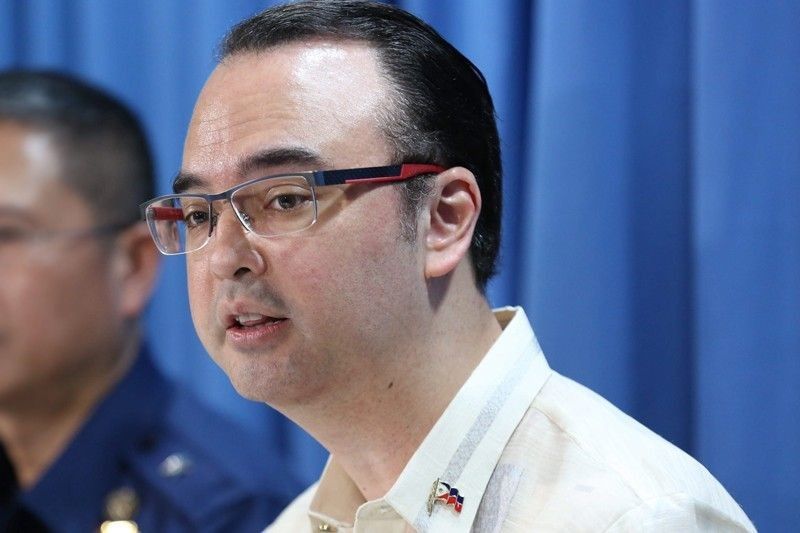 Speaker Alan Peter Cayetano insisted activism will not be targeted under the new terror bill.
MANILA, Philippines — While the government may have shown political will in enforcing security measures against terror threats, the country "remained a destination" for foreign terror fighters, according to the US State Department in its 2019 annual report on terrorism.
In its Country Reports on Terrorism 2019 released on Wednesday, the State Department said foreign fighters from Indonesia, Malaysia and countries in the Middle East and Europe continued to arrive in the Philippines as the government struggled to apply a concerted approach to prevent terror attacks.
It acknowledged that the Philippine government made some adjustments in its military, law enforcement and counter-radicalization efforts to address shifting threats from terror groups that continued to operate primarily in the country's southern region or in Mindanao.
Terror groups linked to the Middle East-based Islamic State and active in 2019 included the Abu Sayyaf, Bangsamoro Islamic Freedom Fighters (BIFF), Ansar al-Khalifa Philippines (AKP) and the Maute group.
"Groups affiliated with ISIS-Philippines continued efforts to recover from battlefield losses, recruiting and training new members and staging suicide bombings and attacks with IEDs and small arms that targeted security forces and civilians," the report said.
It cited a suicide attack by an Indonesian couple at the Jolo Cathedral in Sulu on Jan. 27 last year that killed 23 people and wounded 102. The Abu Sayyaf claimed responsibility for the attack.
The report cited the government's political settlement with the Moro Islamic Liberation Front (MILF) but pointed out that some rogue elements of the group continued to oppose the peace process.
The report said the Communist Party of the Philippines and its armed wing New People's Army continued attacks on security forces and civilians, as the government sustained its military and law enforcement operations against the group.
Although the Philippine government made progress toward compliance with United Nations Security Council (UNSCR) 2396, taking steps to curb terrorist travel and improving information sharing with foreign partners, the report said the proposed amendments to strengthen the 2007 Human Security Act (HSA) by covering preparatory acts and reducing administrative hurdles to terrorism prosecutions remained pending in Congress at the end of 2019.
The Philippines' main counterterrorism legislation includes the HSA and the 2012 Terrorism Financing Prevention and Suppression Act (TF Law).
The Anti-Terrorism Act of 2020, which amended the Human Security Act of 2007, is awaiting President Duterte's signature.
'True activism'
Speaker Alan Peter Cayetano, meanwhile, insisted activism will not be targeted under the new terror bill.
He said "true activism" should not be mistaken for "destructive activism" that allows terrorists within its ranks.
"Critics say activism is not terrorism. We agree with you. Activism is not terrorism. We want to promote activism, from the youngest child. That is why my late father had a show, Compañero y Compañera, saying 'wag magpa-api, alamin ang batas (don't allow yourselves to be abused, know the law)," he explained in a statement.
"In the same vein, terrorism is not activism. You should not allow terrorists to hide within your ranks," the Speaker pointed out.
"This is activism at its truest and finest form – when we make a difference not by tearing things down, but by finding things to fix and building something better from it," he stressed.
Cayetano also dismissed fears that the measure would be weaponized against critics of the Duterte administration.
"We can never let our guard down. Not against overreach by government, nor the acts of terrorists. But contrary to what critics insist, these two objectives should not be mutually exclusive. With more trust and less politics, I am confident that we can have both," he added.
On the other hand, Vice President Leni Robredo said there are "objectionable provisions" in the anti-terror that make it dangerous. Edu Punay, Janvic Mateo
Credit belongs to : www.philstar.ca