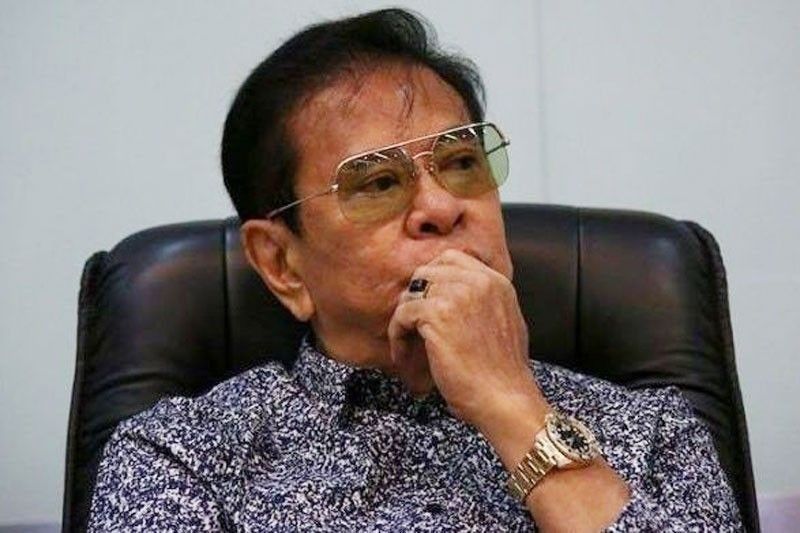 Narvacan, Ilocos Sur Mayor Luis "Chavit" Singson Sr., president of the League of Municipalities of the Philippines, voiced the stand of his local government colleagues in an interview over radio dzBB.
MANILA, Philippines — Municipal mayors are pushing for the lifting of term limits for local chief executives.
Narvacan, Ilocos Sur Mayor Luis "Chavit" Singson Sr., president of the League of Municipalities of the Philippines (LMP), voiced the stand of his local government colleagues in an interview over radio dzBB.
He said putting term limits is bad for the country, especially if a local official is performing well in his jurisdiction.
"Why limit the terms of performing mayors? There's no difference; limit their terms and their spouses or their children will succeed them," he said in Filipino.
Currently, local chief executives can only stay in office for three consecutive three-year terms or nine years. For Singson, it makes no sense for a performing official to step down from his post because of term restrictions.
To go around the law, Singson said politicians let their relatives run for the same post to ensure that their family remains in power.
"Why punish them by making them quit if even of they're serving well," he said.
Singson also said he wants the elections for local chief executives held every five years instead of three years, explaining that the current setup is not only expensive but is also the cause of bitter fighting among politicians.
The 1,488-member LMP recently passed a resolution pledging support for constitutional economic reforms. However, Singson said it is up to the lawmakers to decide whether they would discuss other issues on Charter change such as his proposal to lift term limits.
Singson, a former congressman, also said passing an anti-political dynasty law is no longer necessary, as people are now smarter and will not hesitate to kick out non-performing local leaders. He added that there are now social media platforms that people can use against corrupt local officials.
"The people are smarter. Even if you give them money, they will not vote for you if they don't like you," he said.
Singson is also pushing for a shift to federalism to give more power to the regions. He said that under the current setup, the Senate does not represent the entire country.
Under a federal form of government, Singson said every region can vote for its own senator.
But Charter change (Cha-cha) – in whatever form – is not on the mind of some lawmakers at the moment, including Senate President Vicente Sotto III.
"It's not listed in our priorities but if the House of Representatives will transmit to it us, then we will take it up," Sotto told reporters.
Earlier, Sotto said the chamber is eager to pass the proposed Bayanihan to Recover as One Act as well as economic measures like the Corporate Income Tax and Incentives Rationalization Act.
"There are other priorities, but these are the ones that are on top of the list," Sotto said.
Senate Minority Leader Franklin Drilon, who had warned the resurgence in the campaign to amend the Constitution was meant to scrap the 2022 elections, said Cha-cha is unacceptable.
"Regardless of the merit, the issue on Cha-cha is the timing. Should we debate on Cha-cha now, which is a very divisive issue, or should we concentrate all our efforts and resources on economic recovery?" Drilon said.
"What our country urgently needs now is food, not dance. Joblessness is a huge problem, so Cha-cha must be placed on lockdown," he said.
He said claim of the LMP that they want Cha-cha to increase their Internal Revenue Allotment was invalid as Congress cannot amend the interpretation of the Constitution by the Supreme Court.
"When the Supreme Court ruled that the 'just share' of the LGUs under the Constitution means all taxes collected by the state, then the higher IRAs for LGUs must be implemented and Congress and the executive cannot disregard it. Therefore, there is no need for institutionalization of the decision, because it is already institutionalized," he stressed.
Militant party-list lawmakers yesterday expressed strong objection to calls for amending the 1987 Constitution while the nation is still reeling from a global pandemic.
Bayan Muna Rep. Carlos Zarate and Gabriela Rep. Arlene Brosas, of the Makabayan bloc, warned of repercussions to national sovereignty should the Cha-cha efforts succeed.
"We must be very vigilant against this Charter change move because it is very dangerous and will result to a further sell-out of our national patrimony and sovereignty. Not to mention, of course, the possible term extension of politicians and the lording even more of dynastic politics and governance," Zarate said in a statement.
"Cha-cha since day one of the Duterte administration is already a key component of its governance playbook. The administration will not abandon it as it will facilitate even stronger grip on power by Pres. Duterte and his allies," he alleged.
Brosas agreed and argued that constitutional reform will not provide immediate relief to the already struggling Filipinos.
"The overwhelming lack of effective public health response from the government is the real problem that needs to be addressed immediately, not supposed imbalance in the sharing of resources," Brosas said in a separate statement.
"The Duterte administration seems to have exhausted LGU funds to create an excuse to push for Charter change in the guise of IRA reallocations. It will not solve uneven development of provinces as rural poverty is rooted in land and resource monopoly," she pointed out.
Some Roman Catholic bishops have called on lawmakers to set aside their plan to amend the Constitution and focus on strengthening the government's response to COVID-19 crisis.
"Prioritize bills that will uplift their living and working conditions. Set aside amendments of the Constitution. Give emphasis on jobs creation, improvements of internet connectivity, especially with modular and online learning," Balanga Bishop Ruperto Santos said.
For apostolic administrator of the Archdiocese of Manila and Manila Auxiliary Bishop Broderick Pabillo, politicians are showing their insensitivity by pushing for Charter change.
"There should be a popular movement against Charter change," Sorsogon Bishop Arturo Bastes said. – Paolo Romero, Robertzon Ramirez, Edu Punay, Artemio Dumlao,
Credit belongs to : www.philstar.com