Continuing from Monday's feature on "Artists in Quarantine," we look at three more artists — two mature ones and a young artist — to show that age is not a factor in creativity, and that quarantine has allowed these artists to continue creating art.
These three artists have made the best use of their time in quarantine to keep on creating despite all the challenges. The three also show that art and creativity does not depend on the size of physical space you have access to, or your age or social circumstance. Ultimately, it is through art that we become resilient and not lose our humanity, the important essence of who and what we are.
* * *
Feedback is welcome. Please email the writer at paulo.alcazaren@gmail.com. Erratum for last week's article: the correct spelling of the Bohol-based artist's name is Felix Mago Niguel and he graduated from the Philippine High School for the Arts.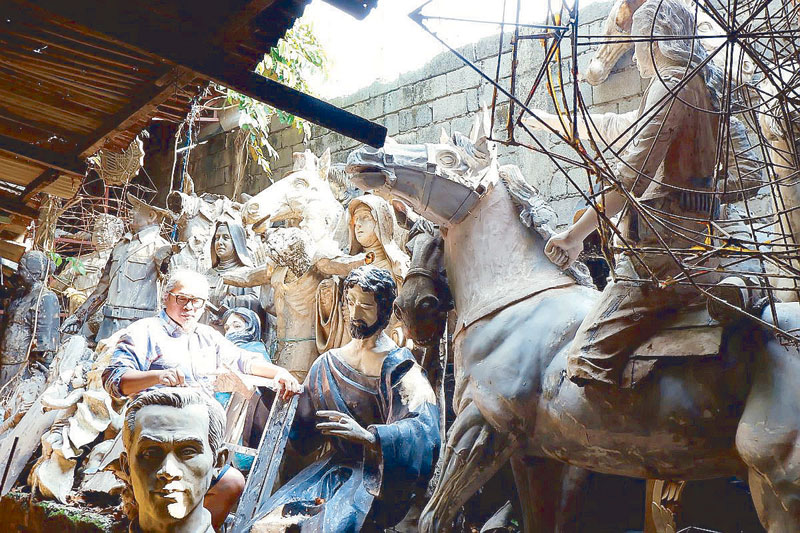 Toym organizing his sculptures at his Marikina Studio
Toym Leon Imao: into the batcave
This colorful artist, known for his quirky and socio-politically relevant art, lives in a 2,000-square-meter family compound in Marikina.
He reports that when the quarantine started he had to close down his studio. Seven of his studio staff were stranded and were not able to go home to their provinces. Because the lockdown was so abrupt, Toym Leon Imao reports that they did not have time to stock up on materials and had to work with what was left before the lockdown.
"So, with my staff (to make the best use of the time), we started organizing seven different studio spaces and stockrooms; we did general cleaning of all the maquettes, prototypes, sculpture components, and casts."
Toym reports, "My favorite part of the lockdown is that I had time to do some renovations on my parents' old house in the compound, and lots of time to attend to my 'Batcave' — it is my toy collection room. Much of what I do as a contemporary artist deals with pop culture, kaya the batcave is my personal sanctuary."
The quarantine also allowed Toym to start building the "dream three-story library I have been always planning to do beside our old house, so pikit-mata I started on it, and as of July, we finished all the structural metal works and will proceed to finishing this August."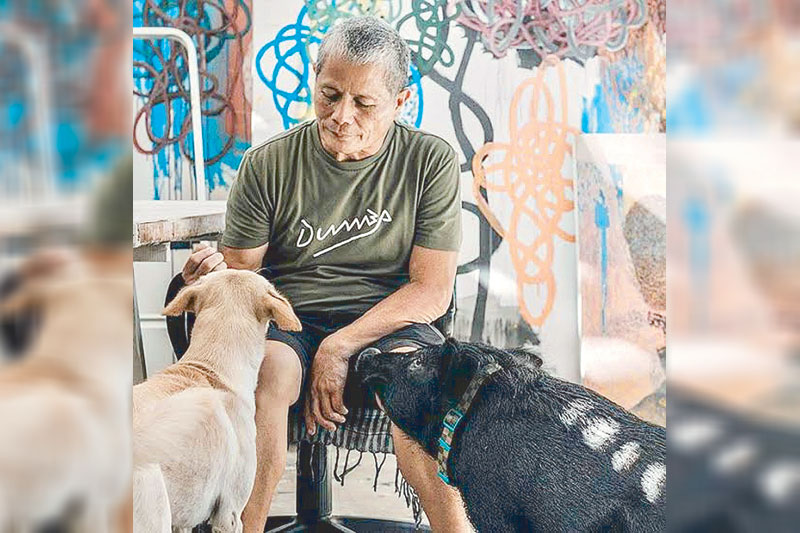 Rock Drilon in his studio with his pets Simeon and Baba the Baboy.
Photo by Roazelle Perez
Rock Drilon: Rock's garden
Rock Drilon, who anchored the avant-garde scene and ran two galleries here in Manila, moved to his hometown, Dumangas, just outside Iloilo City, eight years ago. He is now a leading light in Iloilo City's and the region's art scene, without losing his connections with Manila.
He is also an advocate of biking, which is part of that city's new identity as probably the Philippine's most bike- and pedestrian-friendly place.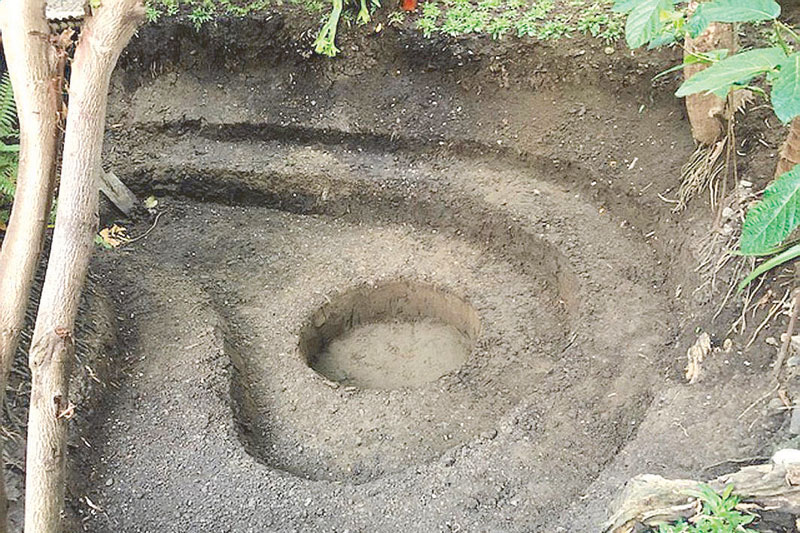 Rock's work in progress: "Earthwork in the Time of Corona"
Rock built his studio in Dumangas four years ago. This is where he creates his art, which has expanded into his garden. This reflects his environmental advocacy. The garden, which I hope to feature fully when it is complete (with a green roof over his studio), is a work in progress.
Rock also serves the Iloilo community by advising the mayor and other officials whenever they need him in the areas of art, culture, biking and the environment.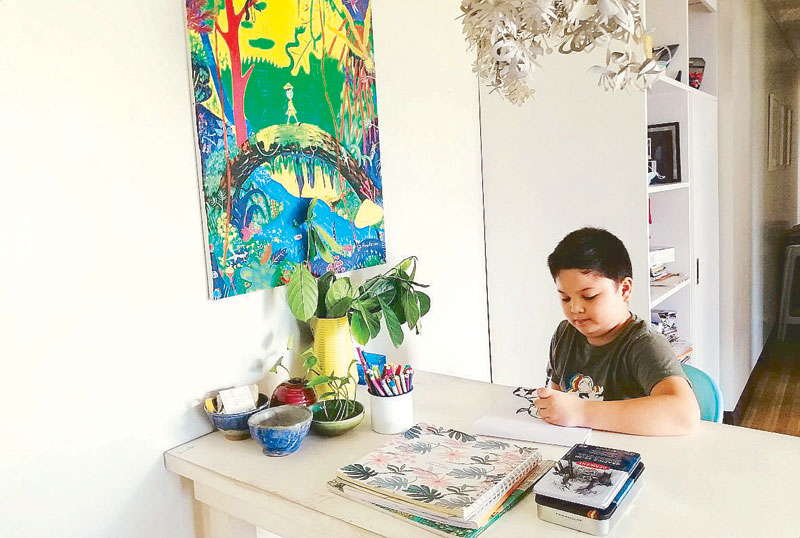 Goldo Zamuco's workspace is their dining table, which also doubles as his distance-learning spot. It's also positioned next to bookshelves, where all his books, sketchbooks, and art materials are stored.
Goldo Zamuco: Nine-year-old artist
Goldo Zamuco is the nine-year-old son of Rachelle Medina, an interior designer, writer and former editor-in-chief of Real Living, who now contributes to several online sites focusing on interior design and residential architecture.
Goldo shares his mother's creative genes. As his mom relates, "Because of the pandemic, he hasn't been out in close to five months, and it has been a good time to hunker down and make art. (He) started drawing when he was four years old. First it was just the random scribbles of a toddler, and then when he started copying pictures of his favorite cartoon characters, I noticed each one was more detailed than the usual kiddie drawing, and with very vivid, accurate colors, too."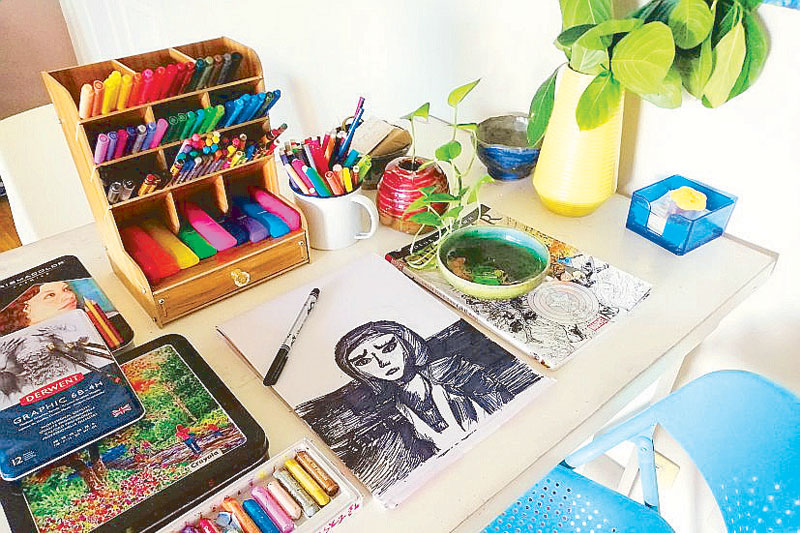 Goldo's favorite set of art materials: Crayola nontoxic markers, colored and watercolor pencils, a complete set of graphite pencils and pastels.
Two years ago, Rachelle enrolled him in Fernando Sena's summer art class at UP Diliman. The proud mom relates that, "After completing the course, he would sit in on Sena's regular classes in basic sketching and painting every few months."
Rachelle encouraged her son's budding talent and provided Goldo a creative nook at home at their dining table. This is also where he takes his distance-learning classes. Rachelle reports that he used to draw at their low coffee table in the living room, but quickly outgrew that space. "Goldo loves this spot because he can chat with everybody."
On his daily art schedule: "Goldo starts to draw first thing in the morning after breakfast, and in between his lessons. He doesn't have a favorite medium, and uses whatever he feels like at the moment — watercolor and colored pencils, crayons, markers, pastel — but all his sketches are usually done in fine markers."
Credit belongs to : www.philstar.com