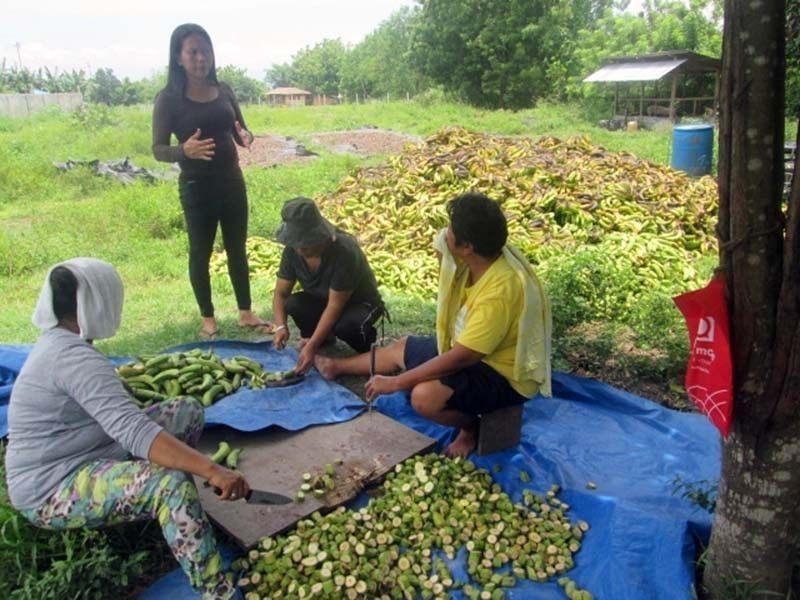 This photo from the Viva Salud website shows a member of one of its partner organizations speaking with rural women. Viva Salud is an NGO "furthering the right to health and sovereign development"and has been financing programs of and building relations with Philippines-based organizations for decades.
MANILA, Philippines — United Nations experts urged President Rodrigo Duterte to take into consideration the anti-terrorism bill's chilling effect on delivering essential or life-saving interventions.
Nine UN special rapporteurs urged Duterte to reconsider certain aspects of the pending "Anti-Terrorism Act of 2020" to ensure that it complies with the Philippine government's international human rights obligations.
The contentious bill as of July 2 is under "final review" by the Palace legal team and is days away from automatically lapsing into law. Duterte cannot veto parts of the bill as the Constitution holds that line veto may only be done in appropriation, revenue or tariff bills. As it is, if one provision of the bill fails the Constitutionality test, the president must veto the whole bill.
The UN experts stressed that compliance with human rights treaties "are complementary and mutually reinforcing goals for effective counter-terrorism measures."
They added that the proposed legislation to counter terrorism "raises serious concerns regarding the protection and promotion of a number of fundamental human rights."
In particular, they raised concern on the bill's "designation of civil society and humanitarian organizations as 'terrorists' in the context of ongoing discrimination directed at religious and other minorities, human rights defenders and political opponents."
On humanitarian action
UN rights chief Michelle Bachelet earlier this week said that the looming new law may have a chilling effect on human rights and humanitarian work, that would hinder support to vulnerable communities.
In their letter to Duterte, the UN experts raised the alarm on Sections 12 and 13 of the enrolled bill.
Section 12 states that persons who provide "material support to any terrorist individual or terrorist organization, association or group of persons committing…acts under Section 4, or knowing that such individual or organization, association or group of persons committing or planning to commit such acts shall be liable as principle to any and all terrorist activities" committed by the said organization.
Section 4 of the bill defines the acts that constitute terrorism but critics of the proposed measure said it is overbroad and open to abuse.
Meanwile, Section 13 of the bill states that humanitarian activities of the International Committee of Red Cross, the Philippine Red Cross and "other state-recognized impartial humanitarian partners….in conformity with the International Humanitarian Law" are exempted from Section 12 of the act.
The UN rapporteurs acknowledged the exemption in Section 13, but raised concern on the phrase "other state-recognized impartial humanitarian partners…"
"This is particularly concerning as section 12 appears to criminally sanction acts which occurred without intention or unknowingly, with grave potential to create a chilling effect for organizations engaged in delivering essential or life-saving interventions," they said.
"This section constitutes a direct interference with the provision of impartial humanitarian assistance by placing state recognition and state arbitration as the basis for the provision of humanitarian services," they added. — Kristine Joy Patag
As It Happens
LATEST UPDATE: July 2, 2020 – 9:30pm
President Rodrigo Duterte has certified as urgent a bill that seeks to strengthen the government's campaign against terrorism, which would allow longer detentions without charge and give the executive branch more power against dissent.
Various rights groups sound the alarm on the proposed "Anti-Terror" bill and urged the public to reject the "unconstitutional" proposed legislation.
Follow this page for updates. Photo courtesy of The STAR/Micheal Varcas
July 2, 2020 – 9:30pm
The Bangsamoro Transition Authority Parliament has passed a resolution asking President Rodrigo Duterte to veto the anti-terrorism bill "to provide Congress the opportunity to review and address the issues of vagueness, overbreadth and other concerns," MindaNews reports.
June 10, 2020 – 7:22pm
Opposition Sen. Leila de Lima says Filipinos are not being "disinformed" about the dangers of the Anti-Terrorism Bill but are simply "waking up."
"Did the main proponents of the bill, and Malacañang, misread or miscalculate the public pulse? Perhaps, they saw in the current crisis situation a "strategic" opportunity to push for such a draconian measure, thinking that people are too preoccupied and overburdened by COVID-related concerns and challenges; they are under too much mental, physical and economic duress to care about other issues, let alone to resist," De Lima says.
"The proponents must think again, and rethink their hardline position. Congress should stop the enrolment of this Terror Bill and return it to the respective chambers for further evaluation," she adds.
June 9, 2020 – 2:14pm
The Palace has received the enrolled, or final, copy of the anti-terrorism bill, GMA News' Joseph Morong reports.
This, despite around a dozen members of the House saying they were withdrawing their 'Yes' votes or that they never voted in favor of the bill, which was passed last week.
June 9, 2020 – 12:40pm
Presidential spokesperson Harry Roque says Malacañang has yet to receive the final version of the controversial anti-terrorism for the signature of President Rodrigo Duterte.
June 8, 2020 – 6:38pm
UP Diliman, through its Executive Council, says it "unequivocally opposes the proposed Anti-Terrorism Act of 2020 that is awaiting the signature of President Rodrigo R. Duterte."
"Because UP is the national university, the country's urgent concerns are the university's concerns. These include policies and laws that are deleterious to our people's rights and welfare. It is in this context that we are compelled to take a stand on the Anti-Terrorism Act," it also says.
The university said that "rather than [eliminating] terrorism by addressing its root causes, the Act will merely embolden law enforcement agencies in disregarding constitutionally protected human rights."
"While we have witnessed heroism and kindness from many of our government workers during the pandemic, we are however, deeply troubled by stories of arrests and unlawful detention of critics of the Act."
Credit belongs to : www.philstar.ca