What's better than sitting at home alone during COVID lockdown? Sitting at home, learning about Irish whiskey from an expert, while sipping three bottles of Jameson.
Jameson is one of the most popular whiskey brands in the world, but what was special about the recent Zoom Jameson Tasting Experience was the box — stocked with Jameson Original, Black Barrel and the peerless 18-Year in flight-size bottles — and the Zoom commentary from Jameson brand ambassador Tommy Byrne.
So we got a nice deep-dive into what distinguishes Irish whiskey from the Scottish varieties. First, the name: the "e" in whiskey is for Irish blends; the Scots drop the "e" and call it "whisky."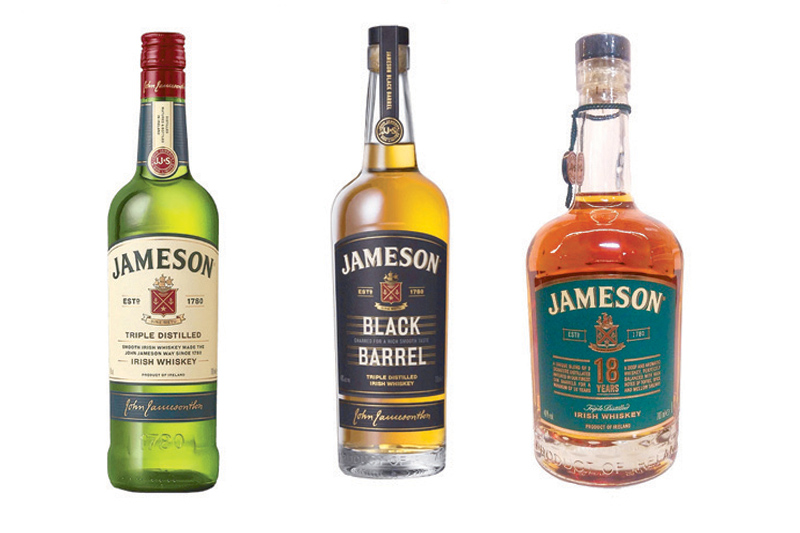 Jameson Original, Black Barrel and 18-Year Jameson
More importantly, Irish whiskeys rely on a blend of malted and unmalted barleys. The unmalted grain gives Irish whiskey a distinctive creamy texture. And the triple-distilling common to Irish whiskeys gives them a smoother sipping profile — no harshness.
In truth, Byrne, who stood inside the Jameson facility in Midleton, Ireland to share his wealth of knowledge, gave us a pretty lengthy rundown on the brand, its history, and its various taste profiles. All the while, the cool amber bottles stood lonely, unopened and waiting.
But good things come to those who wait.
The other distinctive things about Jameson are the minimum four-year cask aging (pretty standard for whiskeys, though American bourbons settle for two years' minimum before bottling), and the mix of grain distillation and pot stilling, which blends malted and unmalted grains for that creamy texture we mentioned.
Ireland gets pretty much all of its aging barrels from the US, because American law requires that oak barrels be used only once for bourbon (which is a corn- and rye-based spirit). That is a sweet deal for Jameson, because they scoop up the barely-used "virgin" barrels for their own whiskeys, resulting in a caramel-toffee sweetness and a distinctive amber color (grain alcohol, when distilled, is colorless; it's the aging in barrels that gives it that inviting glow).
The American barrels are double-charred as well — they actually set them on fire, releasing toasted caramel flavors and hints of vanilla in the bourbon or whiskey when it's aged. Those familiar with Jameson will recognize that butterscotch-like sweetness with the first sip.
Jameson also uses Spanish sherry oak casks, known as butts, adding some fruity, nutty notes, almost a Christmas-cake flavor profile.
I asked about the taste profiles of pot still versus grain whiskeys, and Tommy noted that the pot still gives it a sweet apple/spice flavor, while the grain distillation gives it a lighter, sweeter, almost floral character. Mix the two together, and you've got a very flavorful blend.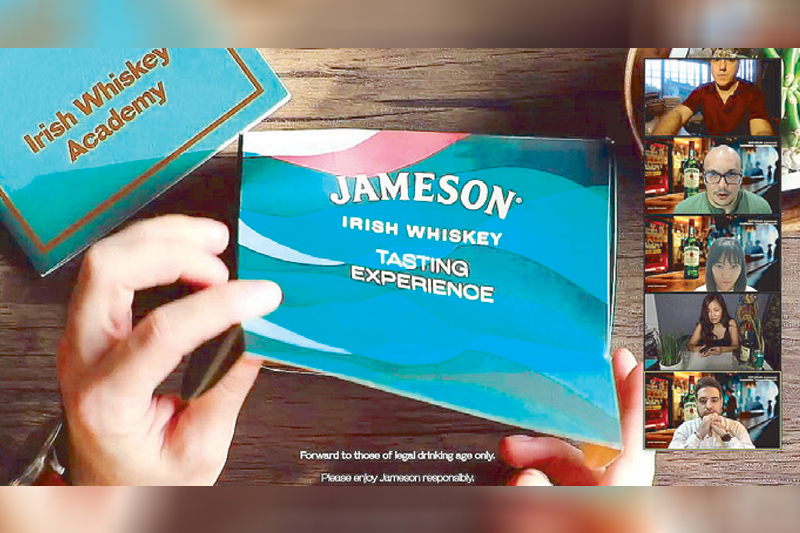 The Jameson Tasting Experience offered a virtual way to appreciate (and sample) Irish whiskeys.
Tommy took us through the brewing process, and I've always been intrigued by the fact that whiskey starts out as beer — before they take the distilling process to the next level. I asked him if Jameson had ever experimented with a beer-whiskey hybrid, or would that just be a bad idea like Jeff Goldblum getting inside a teleportation device with a housefly? He said Jameson has tried something like that, using Irish seasoned beer casks instead of the usual oak barrels. It's called Caskmates Stout Edition, and it results in whiskey with a flavor hint of green apples, freshly cut hay and cacoa beans. Hmm. Not sure that's something I'm looking for in a beer or a whiskey, but thanks for the info, Tommy.
We then ran through the differences between Irish, Scottish and American spirits. Irish whiskey is generally triple-distilled, made from unmalted barley, malt and maize (corn). The Irish blends are generally non-peated, so less smoky character, unlike Scotch whisky. Pot stills and column stills are favored, and Ireland requires three years of casking, based on the "softer, milder" climate, i.e., not too hot in summer, not too cold in the winter.
Jameson, by the way, is a 240-year-old brand and the world's biggest-selling Irish whiskey. They use the world's largest working pot still at 80,000 liters, and the US market accounts for half of their sales.
Now, down to the tasting. We sampled Jameson Original, with its distinctive green bottle, first. The bourbon barrels give it a nice full amber color and the aged sherry casks give it a fruity, green apple flavor with a hint of raisins. Tommy proclaims it "Such an easy drinker. Silky smooth, no harshness." And we concur.
We moved on to the Black Barrel. It's double-charred, using small-batch grain whiskey for extra sweetness; prized by bartenders for mixing cocktails (Tommy recommends tossing in a single ice cube), it goes down just as well neat, with its butterscotch, toffee and fudge aroma and nutty spice and vanilla sweetness. Delicious.
Tommy even threw in a little Gaelic for the occasion, raising his glass and proclaiming "Sláinte!" (SLAN-chay) which means "to your health." We tossed back a few rounds of "Mabuhay!" and "Kampai!" in return. This was an international event, after all.
Finally, we settled into the Jameson 18-Year (not available here just yet, but soon, we're told). Tommy proclaims it "silky, like a nectar, almost like a dessert." The general reaction after the first sip was "Wow!"
And that's what we stick around for. The 18-year is complex yet mellow, with a nose of aromatic oils, wood and spicy toffee. After 18 years, it's aged a further six months in bourbon casks, so it's smooth, smooth, smooth, with just a hint of vanilla, wood and leather, and sherry nuttiness.
Makes you a believer in triple-distilled Irish whiskeys, if you weren't one already.
* * *
And now, starting October, this guided tasting experience can be yours at home: Jameson is holding special online tasting classes, with participants receiving their own Jameson Tasting Experience box which includes a sample of Jameson Original Whiskey. The sessions are run by Jameson brand ambassador Julien Rubio and interested participants can register for an online raffle on the Jameson website, with lucky winners getting a slot in the session. (Visit https://www.jamesonwhiskey.com/en-PH/article/jameson-virtual-tasting-experience to enter.)
* * *
For more info and updates on Jameson products, like Jameson Irish Whiskey on Facebook at facebook.com/JamesonWhiskeyPH, follow @jamesonph on Instagram, or visit their website at jamesonwhiskey.ph.
Credit belongs to : www.philstar.com