What are the success secrets of legendary, self-made business leader Andrew Tan in building up Emperador to become the world's No. 1 brandy brand in terms of quantity sold and now a global multinational? How does Emperador, Inc., a wholly owned subsidiary of Tan's Alliance Global Group and a new addition to the prestigious Philippine Stock Exchange (PSE) Mainboard Index and Industrial Index, assess the Philippine future after the global pandemic?
Emperador, Inc. president, CEO and executive director Winston S. Co recently granted The Philippine STAR an exclusive interview. Here are excerpts.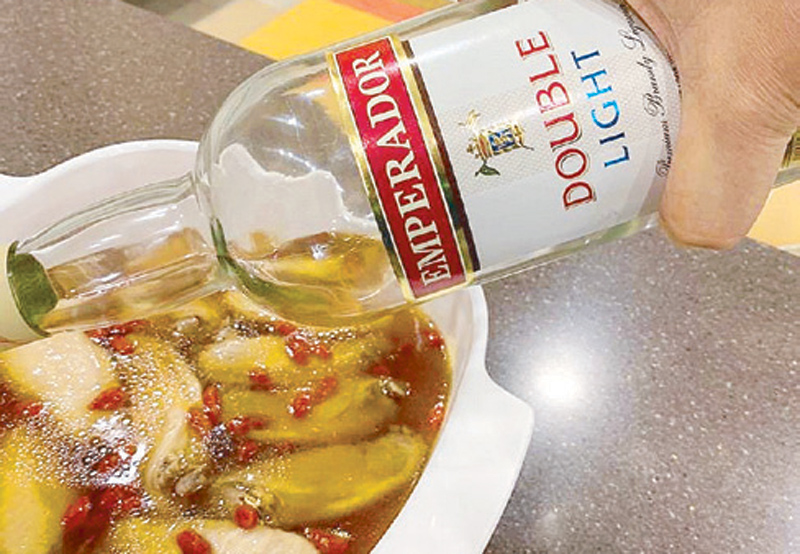 Dr. Andrew L. Tan uses Emperador Double Light in his dishes
Philippine STAR: How are you doing in this global pandemic; how do you see the Philippine future after this crisis?
Winston S. Co: In the Philippines, we hope the crisis will blow over. We believe Filipinos are very resilient and we shall bounce back. I think 2021 will see a significant economic recovery for the Philippines. We at Emperador are doing very well, not only in the Philippines. We are doing well because our brands are iconic and recognizable and during times like these, people go for trusted brands. We're growing in the UK, US, Russia, the Netherlands; we're growing spectacularly in China in both Scottish whiskey and brandy by doubling our sales this year there. Our Claymore Whiskey is today the second largest-selling whiskey in Hong Kong. We're doing well in Latin America, and Emperador is looking soon at entering Chile and Argentina.
What are the success secrets of Andrew Tan that created and built up Emperador into a global player in just four decades?
The passion, vision, creativity and innovative spirit of Dr. Andrew Tan are the secrets to his success. He is a master blender. He is passionate about the art of blending and about business. Our first successful liquor product was Andy Player whiskey, blended here in the Philippines. He is a visionary, seeing things most cannot see. He is very creative and innovative. In liquor, you must have a good sense of global trends. People think there is no space to innovate in liquor, but Dr. Tan is good at product innovation. He launched a white brandy called "Terry White" in Spain for younger consumers, for cocktail mixing.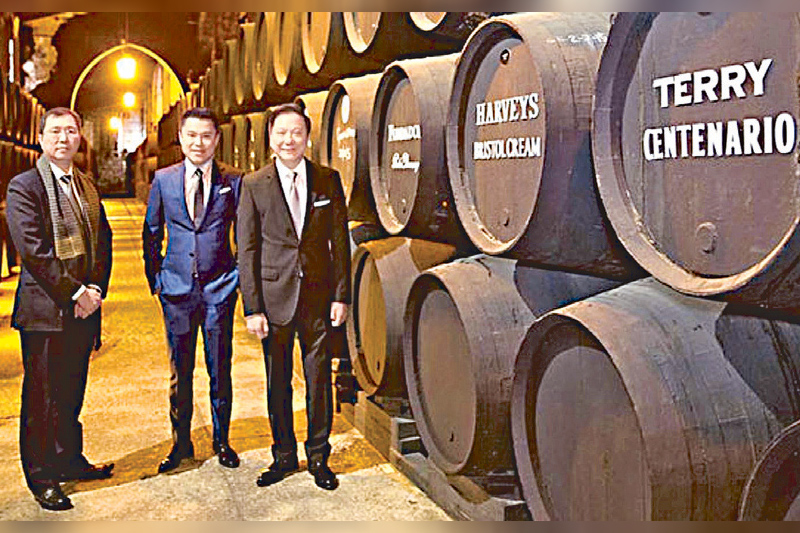 Emperador president Winston Co joins Dr. Andrew L. Tan and Kevin Tan at the Bodegas Fundador in Spain.
I've had lunch at his office and he has a nice bar there. Does he drink alcohol?
Yes, he drinks to appreciate and socialize.
At the birthday dinner of a common friend, I saw Andrew Tan sing well. Is it true he likes to cook also, even adding some of his liquor to dishes?
Yes, Dr. Tan likes cooking. He'll add Emperador Light or Fundador Light to adobo and chicken wings.
How is he as a boss?
As a boss, he is a team player, part of the team. He collaborates. His ideas are very good, he distills his ideas and implements well. It is amazing, I feel so entitled to be at his side all these years.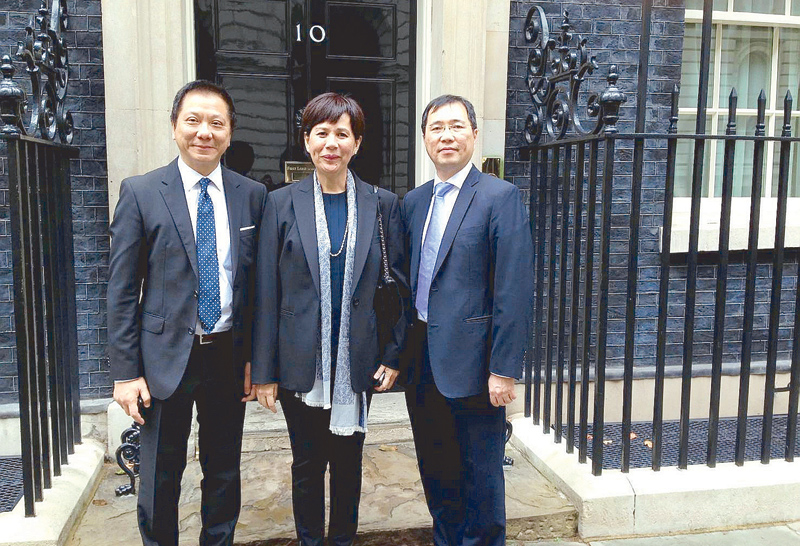 Andrew L. Tan and his wife Katherine Tan with Winston Co
I heard you have been working with Andrew Tan at Emperador since the start. How old were both of you then and how did you meet him?
I've been working with Dr. Andrew Tan for 41 years, starting in 1979, right after my graduation, actually even before the start of his liquor business. I was just in my 20s and he was then 27 years old, so he was more than a boss but more like a colleague. It was his younger brother William who introduced me to him.
If there was no liquor business yet, what was Andrew Tan's first business where you worked?
He had a business called Unisphere International, which imported Sunbeam appliances, an American brand. We imported hairdryers, hand mixers, oven toasters. I joined him as a salesman. We also sold the Oster blender, a fruit processor.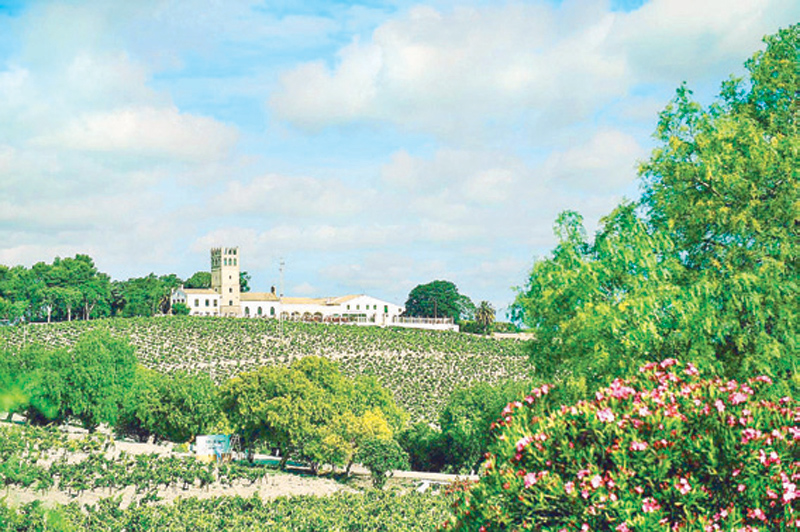 The vast vineyard of Fundador in Jerez de la Frontera, Spain
Before Emperador, the Philippine alcohol market was dominated by big firms in beer, rum and gin. Why did Andrew Tan go into the seemingly unpopular product of brandy?
Yes, there was no local brandy popular in the Philippines then. Emperador brandy was introduced in 1990. It was what they call now the "Blue Ocean Strategy." Dr. Tan saw the opportunity for product differentiation and creating new market space. Dr. Andrew Tan is really a visionary, he sees things that many others do not see.
In the late 1980s, he went to Spain to research, he went to a lot of bodegas and he brought in technology. Who could imagine that, after 27 years, he would end up buying the premium and iconic brand Fundador in 2017? Fundador is the oldest and largest-selling Spanish brandy in the world.
Is it true what I read, that Emperador bought 2,000 hectares of vineyards in Spain?
Yes, we bought 2,000 hectares of vineyards in Spain in the same year Fundador was bought. Of that, 1,000 hectares in Toledo are dedicated to the Philippine market.
Your brands and products are now present in what markets worldwide?
Fundador is present in more than 60 countries. Part of the group is UK's famous luxury brand Dalmore whiskey. We also have Mexico's No. 1 El Presidente brandy. We had bought Terry Centenario, the No. 1 brandy in Spain. All the brands of Emperador are now present in 100 countries, in six continents, except Antarctica because there's no people there! You can find our brands in any airport in the world, in the Duty Free shops in more than 400 cities of the world. In the Philippines, I don't think there's any company like us that has gone global in 100 countries.
Is the Emperador group coming out with any new products soon?
We are looking at rum, producing Philippine rum for the international market.
On your hopes for Philippine economic recovery next year, when do you think things will start normalizing?
I am optimistic. In China, the economy and society are already very normal now, Spain too, and London. Hopefully normalization will start towards the fourth quarter of 2020. We hope that by November and December, we will start becoming somewhat normal again.
* * *
Thanks for your feedback at willsoonflourish@gmail.com! Follow @wilsonleeflores on Instagram, Twitter and Facebook. Read also https://investment.fwd.com.ph/experts/asia-s-business-leaders-and-what-we-can-learn-from-them.
Credit belongs to : www.philstar.com