MANILA, Philippines — For Joy Mendoza, a best-selling author, award-winning blogger and a mother of six, the quarantine period came as a blessing as it allowed her family to focus on being together, learning and getting into healthy routines.
"When the kids aren't studying, they are hanging out with one another — exercising, biking around our village (with masks, of course), going outdoors to the garden, reading books, doing art, playing strategy board games, singing, practicing their instruments, doing chores," she furthers.
Making time to teach each of their kids — aged 17, 14, 12, 10, 7 and 1.9 years old — is challenging enough, but with God at the center, Joy and husband Edric, who is the Chairman of Homeschool Global, are able to balance the kids' academics and personal passions.
"Elijah is enjoying his psychology book and programming. Edan is into botany, art and architecture. Titus is liking his physical science curriculum, as well as pre-algebra. Tiana loves zoology and language arts. Catalina is starting to like language arts and math," the doting mom says. The younger kids take about three hours and finish by lunch time, while the older kids study for four to six hours.
Home-schooling and Home-based schooling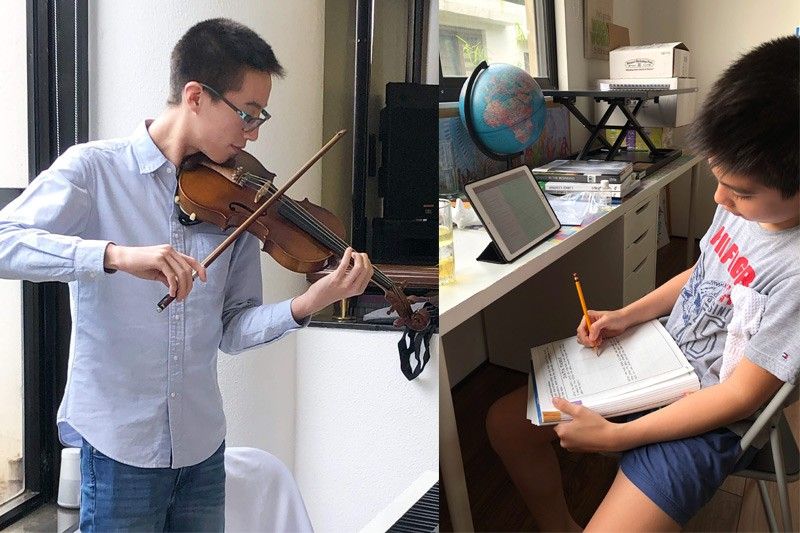 Rediscovering Learning at Home: Elijah and Edan Mendoza maintain a balance of their academics and personal passions. (Photo Release)
Because of the imposed quarantine nationwide, home-schooling and home-based schooling set-ups have grown exponentially.
Joy's children are enrolled at Homeschool Global, a pioneer organization in Philippine homeschooling space that's accredited by the Department of Education and follows K-12 curriculum.
"If parents are primarily responsible for their child's education, then it's considered homeschooling. This can mean hiring tutors, signing up for online courses, or tapping friends and other teachers to help with certain subjects, but overall, it's the parent who's deciding on the child's education set-up," explains Joy.
For beginners, homeschooling offers flexibility in learning at home. Joy shares, "Homeschooling allows flexibility of schedules and parents get to customize the lessons, material, and activities for their children. Online home-schooling can be a full program that covers all the subject areas that may be accredited or non-accredited by the DepEd. Or, it can be a program that covers specific subjects, skills, or interests that a child needs or wants to learn about during their homeschool year."
Due to quarantine restrictions, more children are now enrolled in home-based schooling and home-schooling. Both set-ups require the involvement of parents in the child's education at home. Joy explains, "Whatever mode of schooling that involves kids studying and learning at home is growing. The difference is that home-schooling is parent-led, where there's high parental involvement and decision making, while home-based or distance learning are school-directed.
Online learning is the new normal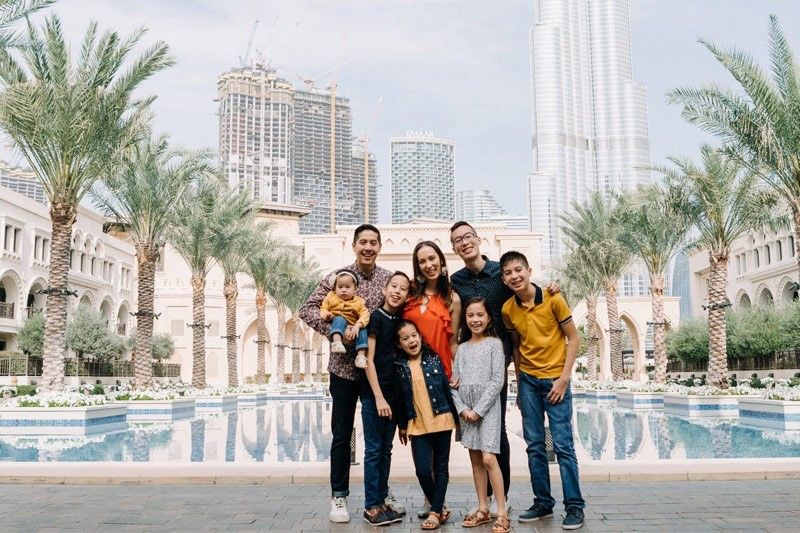 The Mendoza Family (L-R): Edric, Caylee, Titus, Joy, Elijah, Edan, (bottom) Catalina and Tiana (Photo Release)
Before the pandemic, most homeschooling parents relied on physical books and resources for their education programs. Now, in the new normal, online materials have been gaining traction.
"Parents are looking for all kinds of resources to enrich, augment, and help their child's schooling. Online materials are one of the many resources available to parents, and it's one of the most convenient because someone else does the teaching for a parent, which lessens the burden and load on parents who may not feel confident teaching every subject themselves," she says.
Therefore, a stable and fast internet connection is one crucial factor to consider when opting for homeschooling or home-based learning.
"It's super important!" says Joy, who have been a PLDT Home subscriber. "Homeschoolers need good internet connection to research, enrich their learning, access videos and content that help them to learn concepts, skills, and subjects, as well as attend music, art or PE classes. It's also a way for them to communicate with their friends. Homeschooling parents need the resources and online communities that the online space provides, too."
She explains that online materials are great for older kids who are more independent than younger children. Growing up, they should be trained to navigate the online world with caution and wisdom.
"Physical modules also have their place, and these are more advisable for younger children, who need to get used to reading actual books, writing on paper, and using their hands and bodies to learn instead of being dependent on screens."
PLDT Home's reliable and strong connection has helped Joy and her children in home-schooling. "Personally, I have found it to be reliable during this quarantine. We are a family of eight, plus our household help, and we all use the internet for various purposes. I'm glad there's connectivity in every part of our home."
Learn more on how PLDT Home's fastest internet connection can help your children's learning at home. Visit www.pldthome.com.
Credit belongs to : www.philstar.com