We've seen the mask phenomenon evolve from medical-grade necessity to fashion statement. Artisanal Filipino masks, especially, are all the rage, with many collectors out there on the lookout for unique face coverings. But the movement is still evolving.
Now mask makers and social entrepreneurs are creating unusual pairings, twinning masks with other fashion pieces to create a more complete look and even more of a fashion statement.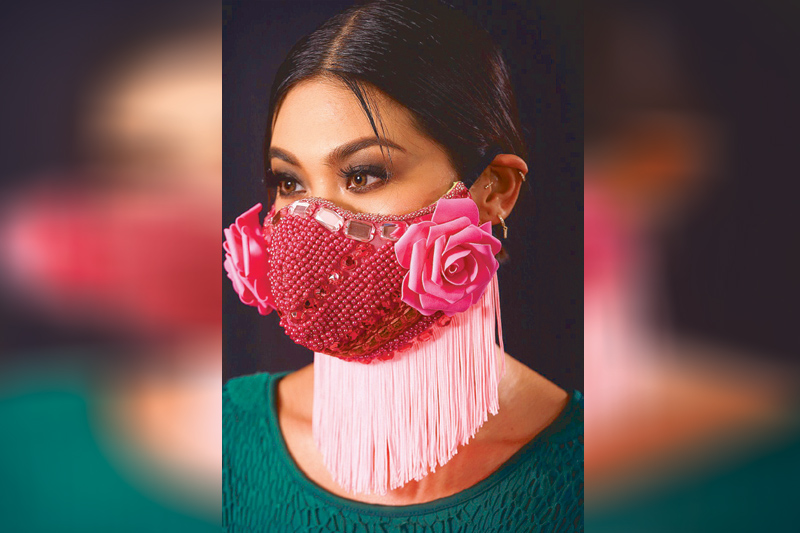 In bloom: "Rose Blush" from MaskED by Ed Aniel
Ed Aniel: Masks + couture
During lockdown, designer Ed Aniel decided to take the humble mask from drab to fab, not only twinning it with couture but also making it a couture item in itself in his new collection, "MaskED by Ed Aniel."
"Often we search for ways on how we can create an impression," Aniel says. "MaskED aims to take it one step further by offering masks that have been carefully crafted by local artisans whose businesses have slowed down during the pandemic."
The artist, dancer and production director spent hours with local artisans intricately handcrafting each piece, using a combination of carefully curated fabrics, beads, lace, sequins, and other embellishments.
Aniel uses frames on each made-to-order creation to keep the mask surface away from the wearer's lips. "Doing the metal frame is the first and most challenging part of my masks," he says. "But I know that I have to achieve the perfect shape and the right distance from the mouth so I can call it lipstick-friendly."
* * *
MaskED by Ed Aniel and other design options are available on a made-to-order basis @suncastle_ed_aniel on Instagram.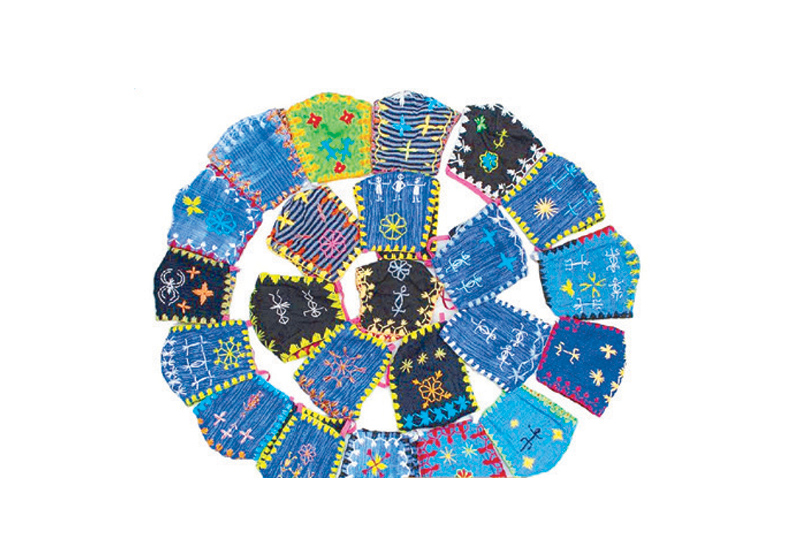 All made by hand: Woven and embroidered Abra masks and top from Mask for A Cause PH
Mask For A Cause PH: Masks + hand-woven tops
Entrepreneur Michelle Bayhonan started selling hand-woven masks from Abra last June over her personal Facebook account, and within two days, the 30-piece collection was sold out. That's when she knew she was onto something. Demand was high, so she started another FB page and named her business Mask For A Cause PH "because we wanted to promote masks made from indigenous, hand-woven textiles from different tribes, ethno-linguistic groups and regions in the Philippines."
Bayhonan discovered the weavers mostly through research online, by attending webinars about weaving and through the #HabiCommunity Virtual Marketplace.
The Abra artisans also wove and embroidered sleeveless tops, so Bayhonan decided to help them market those as well. "Not a lot of people are buying fashion nowadays since everyone is working at home, but we try to market our tops in line with the #FilipinoFashionFridays movement, where you wear Filipino-made every Friday."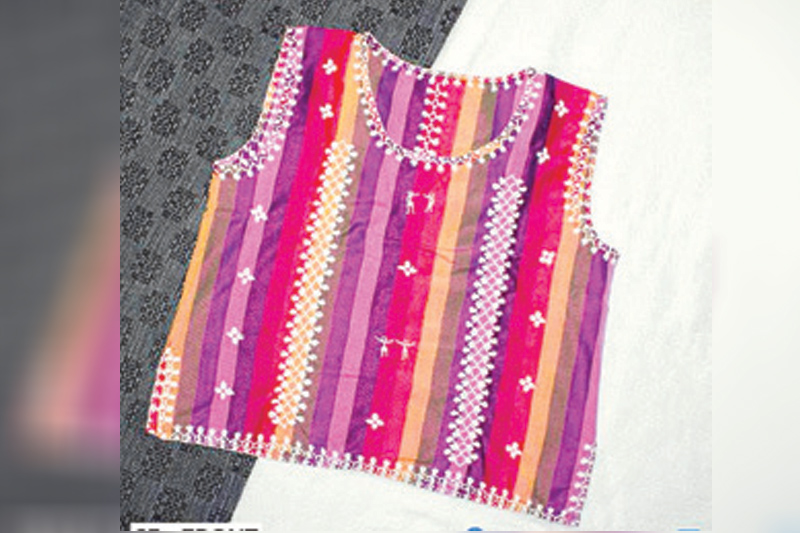 Thus far Michelle has bought almost 200 masks from the Abra artisans, and has added to her roster Hablon masks sourced from a designer friend in Iloilo, as well as Yakan masks from Zamboanga. "We were able to ship 100 Hablon masks to the US already," she notes. (Two Filipina nurse friends resell for her in California and Michigan.)
Bayhonan hopes to become a one-stop shop for Pinoy woven textiles. She shipped 49 meters of Yakan fabric to the USA and is setting up an Instagram account (@hinabiatibapa) for ordering.
"I also want to venture into ready-to-wear or customized Filipino woven clothes that are affordable and can be worn for every day or casual wear, and not just as Filipiniana," she says.
* * *
To order, visit the Mask for A Cause PH store on Shopee, Facebook page: "MaskForACausePH" and @maskforacauseph on Instagram.
In the US you can order from the "MaskForACausePHCA" (California) or "MaskForACausePHMI" (Michigan) FB pages.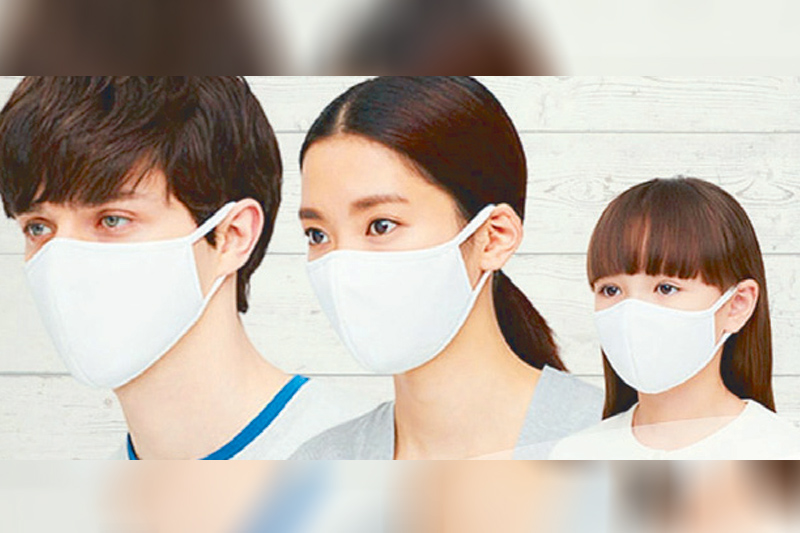 Japanese minimalism: Uniqlo's white and black Airism masks are 99 percent effective at filtering out viruses and bacteria, and come in small, medium and large sizes.
Uniqlo: Masks + LifeWear
Since the Japanese seem to have mask wearing down to an art, I was avidly awaiting Uniqlo's take on the mask, and it's finally here. The global apparel retailer is using high-tech Airism fabric for its masks, and the first edition is in black and white — all the better to pair with Uniqlo's endless variety of LifeWear.
Each pack contains three masks and retails for P590. It comes in Small for kids, Medium for small-faced adults, and Large for regular adult dimensions.
The center of the mask employs an Airism mesh-fabric filter that is 99-percent-efficient at filtering out bacteria, blocking droplets and protecting the skin from virus-contaminated particles and pollen. The triple-layer mesh structure keeps the mask light, thin and smooth, optimizing breathability.
The Airism mask also cuts out 90 percent of ultraviolet rays, serving as a sunscreen.
Though Uniqlo doesn't advise wearing the Airism mask during strenuous exercise or directly under the hot sun, the mask is machine-washable and good for 20 washes at 40 degrees using regular household detergent.
Personally I like its Japanese minimalism and simplicity, but I'd also love more fashionable masks or another Uniqlo designer collab.
* * *
Uniqlo's Airism mask is available at www.uniqlo.com/ph/en and Uniqlo stores nationwide.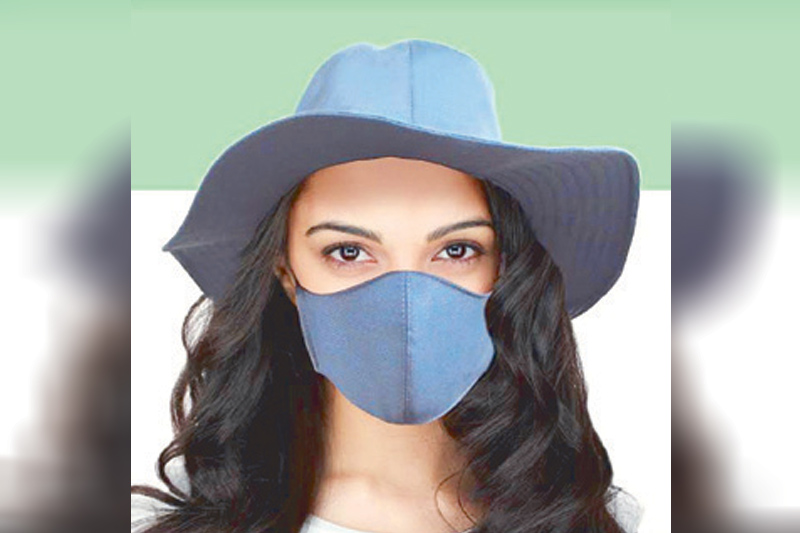 Hats on: Mask Habit PH makes matching hats to make mask-wearing fun and fashionable for clients
Mask Habit PH: Masks + hats
Mask Habit PH ingeniously pairs masks with another daily necessity in the sunny Philippines: hats.
"We always want to be bringing something new to the market, and thought the hat and mask would go hand-in-hand practically, given the hot tropical weather and the need for shade," says Mask Habit cofounder Xavier Ticzon.
An architect by profession, Ticzon started Mask Habit during the ECQ with business partner Jennica Castro, a fashion designer and beauty professional who was customizing her own masks during the lockdown.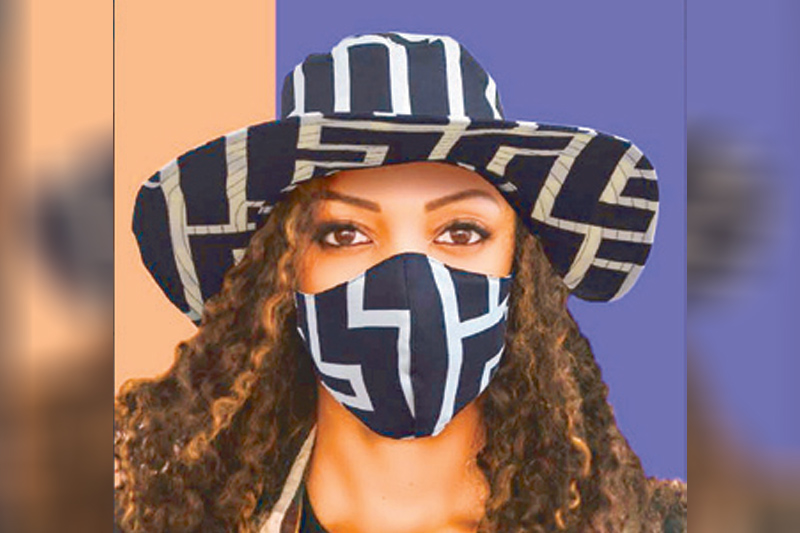 "She had this brilliant idea of donating quality masks to frontliners, and to those in need," Ticzon says. "We then realized that we could support the charity by selling quality, affordable masks."
Mask Habit's masks and hats are made in various provinces of Luzon. "All our masks and hats are proudly made in the Philippines. One of our crafts groups is composed of ladies that were heavily affected by the pandemic, and now this is providing a form of livelihood for them."
The brand's advocacy has drawn celebrities like Marc Nelson, Hero Angeles, Pam Quiñones, and customers from abroad. "The Classic Masks sell the most, as well as the gray and black Hat + Mask collections," Castro says.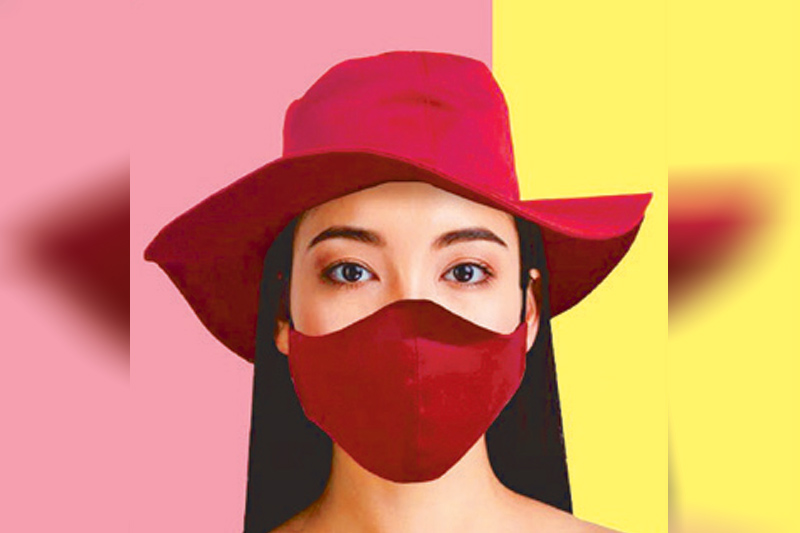 Mask Habit PH hope to donate more than masks in the future. "Right now there are still many non-medical frontliners that are still wearing disposable masks," observes Ticzon. "As much as possible, we would like to transition everybody to the use of reusable masks for sustainability and eco-friendly reasons; we also want to do our part in keeping our cities clean."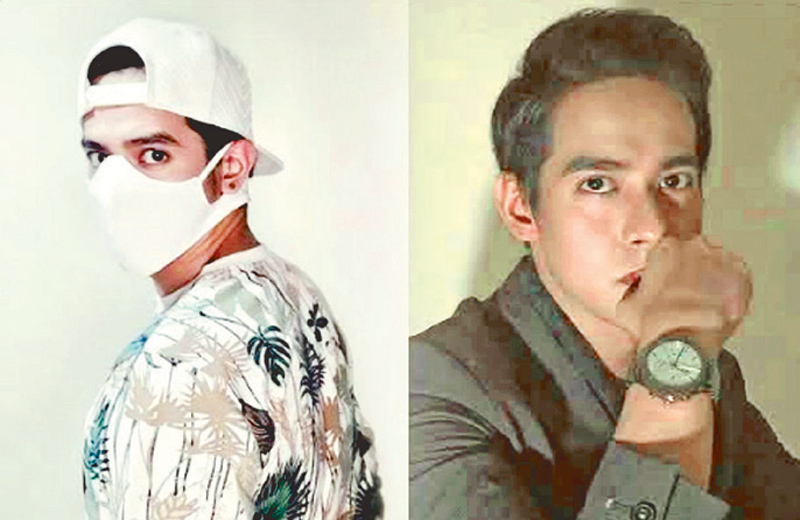 * * *
To order, send a message at www.facebook.com/MaskHabitPH/ or Instagram @mask.habit.ph. You can also contact them at 0927-575-9881.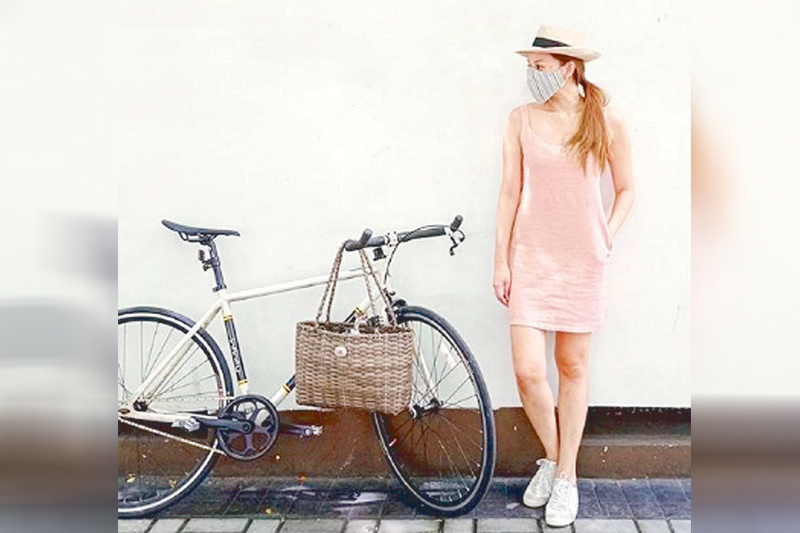 Modern loungewear: Fashion designer Camille Villanueva in a mask-and-dress ensemble from CamLu
CamLu: Masks + loungewear
CamLu is a partnership between fashion designer Camille Villanueva and fashion stylist Luis Espiritu. "It started when my sastres asked me to make masks during the quarantine," Camille says. "My first batch did really well and I started to look for local fabrics. Luis then helped me."
Espiritu had local, modern fabrics sourced from Great Women, a social platform for artisanal communities and their textiles. "I was so happy to find local, hand-woven cotton!" Camille says. "We ended up talking and realized we have the same vision in contributing and helping the industry in our own little way. Both of us want our designs to channel contemporary aesthetics that reflect both form and function."
So they started CamLu (Camille + Luis), aiming to create relevant pieces in limited edition. "The lifestyle now is people stay home more, so we decided to do loungewear," the two say. "We only go out to buy essentials or go out for work if it's really important, then we need to wear the masks.
"That's when we thought of making it a collection. Make a look. Make the loungewear stylish enough to be worn out and comfortable enough to wear at home. But more importantly, we wanted to produce slow fashion that's quality and worth keeping."
CamLu are happy to say that every batch of their masks is selling out, and their newly introduced loungewear is picking up as well.
"We aim to support local, to help our sastres, weavers and local artisans. We aspire to create pieces that are of global standard, of purpose and most importantly, very Filipino."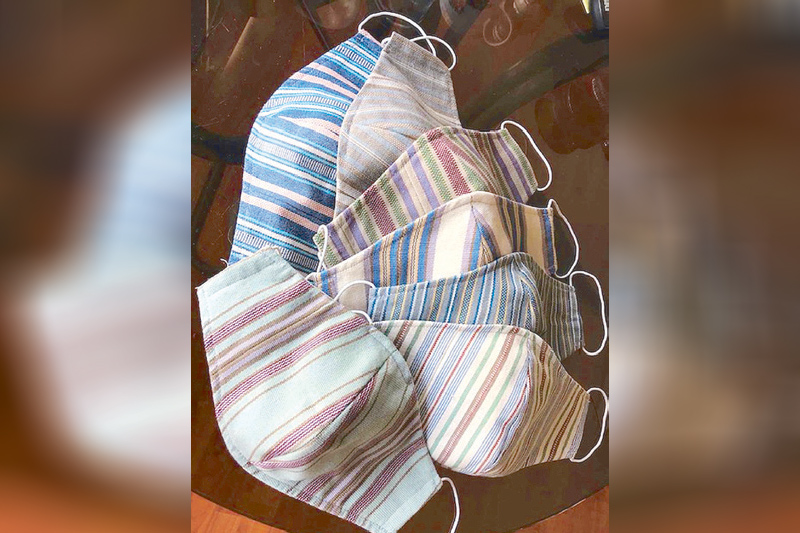 CamLu's hand-woven, artisanal facemasks
* * *
CamLu will soon launch on Instagram. In the meantime, message @camillevill on IG, where she also posts their catalog.
* * *
Follow the author on Instagram @theresejamoragarceau and Facebook (Therese Jamora-Garceau).
Credit belongs to : www.philstar.com