A 200-page coffee-table book, At the Threshold of New Beginnings, was launched by the Rotary Club of Makati West (RCMW) on June 29, marking the distinguished organization's golden anniversary that began the year before.
Despite the pandemic's stifling features of scaled lockdowns, the launch wasn't virtual, even as social-distancing protocols were observed at the venue, Spaces Makati, the co-working space facility of the Regus Group. RCMW member Lars Wittig, the Regus Group's senior vice president for ASEAN, saw to the venue's availability.
Over 500 members of this Makati Central Business District-based club are cited in the book, with their colorful stories and photographs featured. Spearheading the commemorative volume was past president Dennis Decena as chairman of the book project, which was carried out during the term of 2019-2020 RCMW president "Eric" Tensuan.
Despite production difficulties owing to the quarantine environment that imposed itself early in the year, the book production team hurdled the challenges of a pressurized timetable by relying on Zoom meetings, with chief chronicler Santi Dumlao, managing editor J. Albert Gamboa, art director Elias Guerrero, photo editor Fides Tensuan, and print production director Edsa delos Santos backstopped by the RCMW's secretariat.
I recall having worked together with Rotarian past president Decena, the "walking archive" Dumlao, and Gamboa on the FINEX golden jubilee coffee-table book a couple of years ago, so I'm not surprised that the team came through with plenty to spare.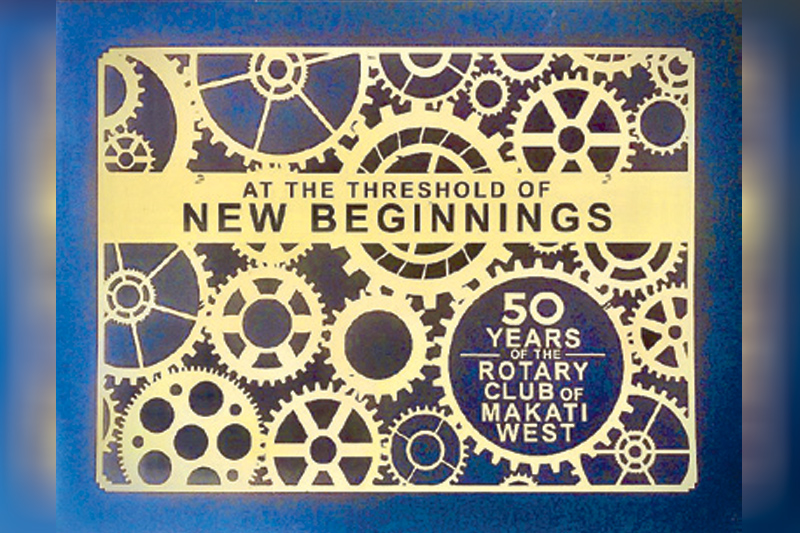 I had also been part of the teams that produced the Rotary Club of Makati's commemorative book on its 40th year, in 2005, as well as its 50th anniversary book a decade later, so I'm aware of how Rotarians rise in determination to live up to their commitment to the motto, "Service Above Self." This involvement through the decades is "channeled through Five Avenues of Service: Club Service, Vocational Service, Community Service, International Service, and Youth Service."
In his Foreword, Golden Jubilee President Enrico B. Tensuan writes:
"This club is a marvelous communal machine, an ingenious lightning rod that attracts the ferociously noble and earnest energies of Men of Zest. The great ability of these gentlemen is only dwarfed by their tremendous compassion for their fellow countrymen. While the name of Rotary was already an established brand when it came to this nation from across the sea, the efforts of those who fill our ranks and manifest its acts have made this chapter its own entity.
"Some of its members joined Makati West out of a sense of social obligation. Others wanted exposure to relevant modern issues through its distinguished guest speakers. And a number of them simply wanted to be part of a distinguished fellowship. Whatever their intent, what they ultimately received was purpose; a purpose that led them to causes they could truly believe in and work towards; a purpose that called for deeper involvement in philanthropic pursuits. They were encouraged to become closer with those they had tasked themselves with aiding. Getting to know them as real people rather than far-off beneficiaries encouraged their benevolent passions all the more."
Chronicler Santi Dumlao flashes back to the first 25 years, beginning on Nov. 22, 1969, when the Rotary Club of Makati West was officially chartered. Historical context, from local to international, provides a welter of memories layering that same year: the creation of the New People's Army (NPA), man landing on the moon, the Beatles' final live concert that was held on a rooftop, Miss Philippines Gloria Diaz crowned as Miss Universe, the Woodstock concert, and the reelection of Ferdinand E. Marcos.
Since then, assistance to the handicapped and out-of-school youth, community projects, outreach programs, feeding centers, the "Rotacare" medical/dental healthcare program, a series of community-based Rotary Village Corps, a computer outreach program and similar civic-minded efforts have become cyclical features, in regular complementation of spontaneous big-ticket generosity on the tragic occasion of natural disasters such as the Mt. Pinatubo eruption, Typhoon Ondoy, Supertyphoon Yolanda, and the Taal eruption.
Flashing forward to the present, PP Eric Angeles writes about "50 Years of Service":
"As of May 15, 2020, the number of COVID-19 infections in the world had passed the 4.5 million mark, leaving more than 300,000 dead and the worst is yet to come. Even with draconian lockdown protocols, RCMW rose to the occasion with many members implementing projects and services needed to put a fight against this unseen enemy."
Beyond all the fellowship socials, playtime and formal celebrations — the 50th induction at the Conrad Manila Hotel on July 13, 2019, the RCMW's Golden Celebration at the BGC Maybank Theater on Nov. 23, 2019, and the bestowal of achievement and service awards — what continues to keep the Rotarian "Always in High Gear" is written in this wise:
"We mark the 50th anniversary as a milestone year, and indeed it is, to take pause and look back at accomplishments, and gear up for greater undertakings.
"As all Rotarians know, there's really no time for any lengthy pause. Let the celebrations proceed, but the work must likewise proceed. The community service projects must continue. New ones must be initiated.
"…The list is long. There are just so many opportunities for Rotary to serve. Indeed, the needs constitute the call. It's the call to be of Service Above Self."
Credit belongs to : www.philstar.com