MANILA, Philippines — Entombed inside my body is a life that once was brimming with zest and joy but is now ceaselessly being ravaged and ruined by a grave malady with no cure.
Parkinson's Disease. It's as ruthless as COVID-19. It's insidious, relentless — a progressive, retrogressive muscle disorder that stays with you forever.
It gnaws at your self-esteem, erodes your confidence, alienates you from family and friends, and turns you into the person you never wanted to be.
It simply evicts you from your personal life and makes you an exile from your real self.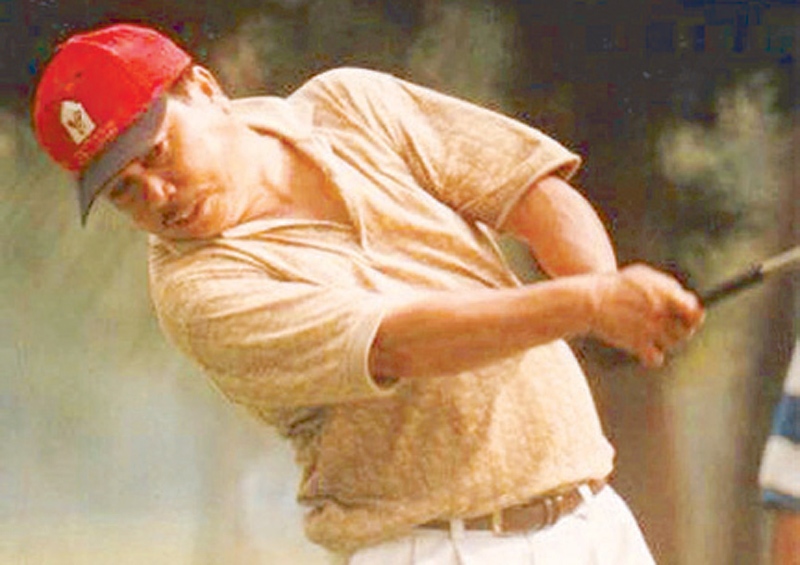 Lito Tacujan playing golf: The game he loves
"It won't take your life away but take away the pleasure of living," said one author afflicted with PD.
For 12 years I have endured its sinister and debilitating ways as it methodically steals my mind and body, keeping me awake night after night, with pain shooting from involuntary twitching of the legs, severe spasms and, in the rare times sleep would come, it would be fitful, sometimes turning to bad dreams.
"Paano ka na, Dad? (How will you cope, Dad?)," said a worried daughter as I groped and grappled my way to the breakfast table due to shortage of dopamine in the brain.
While before I was full of enthusiasm and verve, I now shuffle and hobble to a chair for a brief rest or "freeze," unable to take a single step.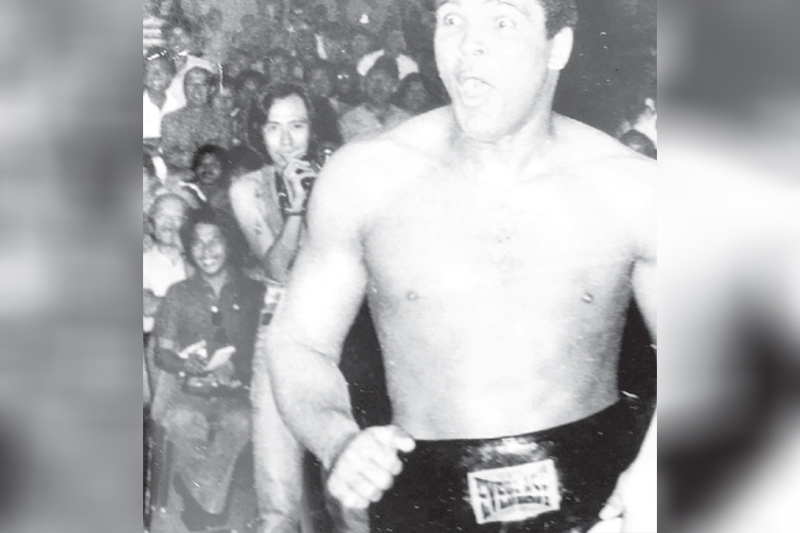 Tacujan (seated, left) gamely chases Muhammad Ali during the 1975 Thrilla in Manila.
While before I had the time of my life, I now measure the day with doses of Levodopa, Rasagiline, Amantadine — costly medicines that are a constant drain on my life savings but give momentary relief.
Day after day, week after week, and year after year, Parkinson's is a malevolent force its victims have to deal with, in a withering battle that could test to the limit one's will to survive and live.
Two of my greatest loves writing and golf are slowly being lost to its unforgiving presence in me.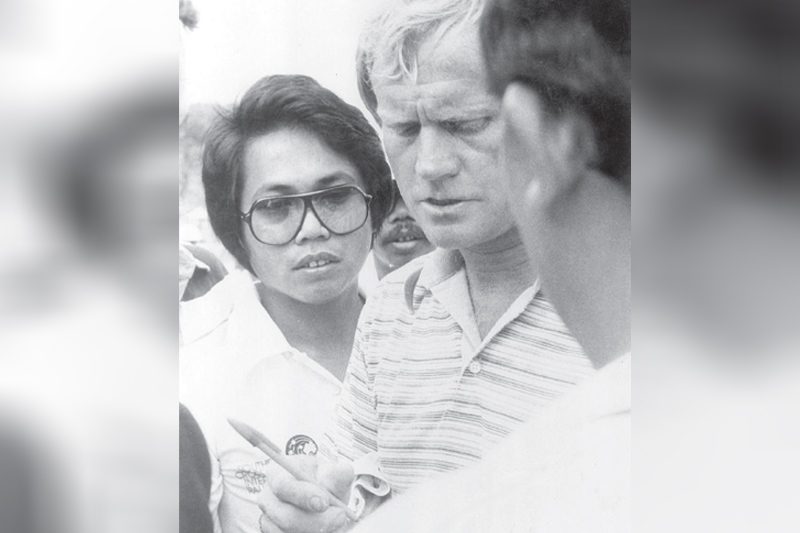 In Macau interviewing golf legend Jack Nicklaus in 1977
It's been a mental and physical challenge to write sports stories and commentaries now, and my golf swing, once described by a friend as "elegant," has been reduced to thrashing about on the old course, putting "yips" (jerky nervous strokes) and all.
"Akala ko yung Parkinson's ko galing sa yips (I thought my PD came from the yips)," I told golf buddies in jest.
I simply love to write, capture in free-flowing prose the drama, joy and grief of winning and losing, the cheers from a victory and the tears and heartbreak from a defeat. It's self-gratifying and gives one a sense of fulfillment afterwards.
They're slipping away, slowly, painfully.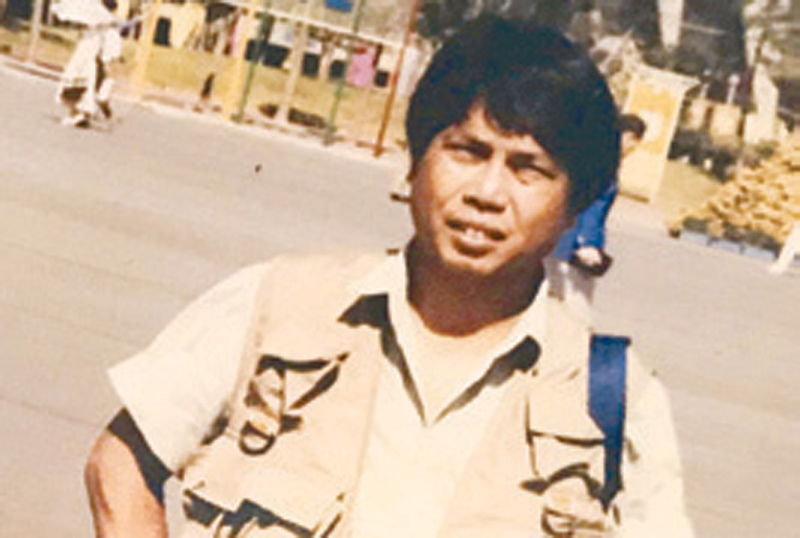 All geared up during the 1988 Seoul Olympics
But why this demeaning self-revelation? Why this unraveling of an embattled stand in a struggle to keep dignity and quality of one's life?
Why single me out from a sea of humanity? God, in His infinite wisdom, certainly has the answer why He took away the best in me and turned me into a feeble old man, hobbling, shuffling, and stooped.
And yet amid the pains and heartaches and wavering faith comes a wellspring of hope and courage to excruciatingly move on.
And with the care, warmth and love of those dear to us, we will hang on and pray for a medical breakthrough, for that glimmer of light at the end of the tunnel that will put an end to this nightmare.
The irony is that Parkinson's, for all its cruel manifestations, has given me a new perspective, a deeper sense of being, and awareness of the ever presence of God in us.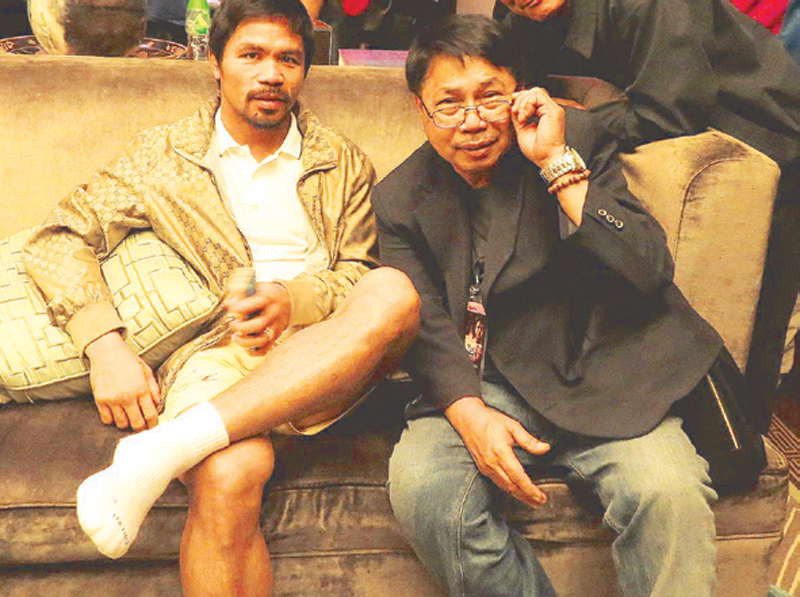 With boxing great and Senator Manny Pacquiao
So I'm rushing this off while I still have the skill and energy to craft and recall dreams fulfilled and a life well lived.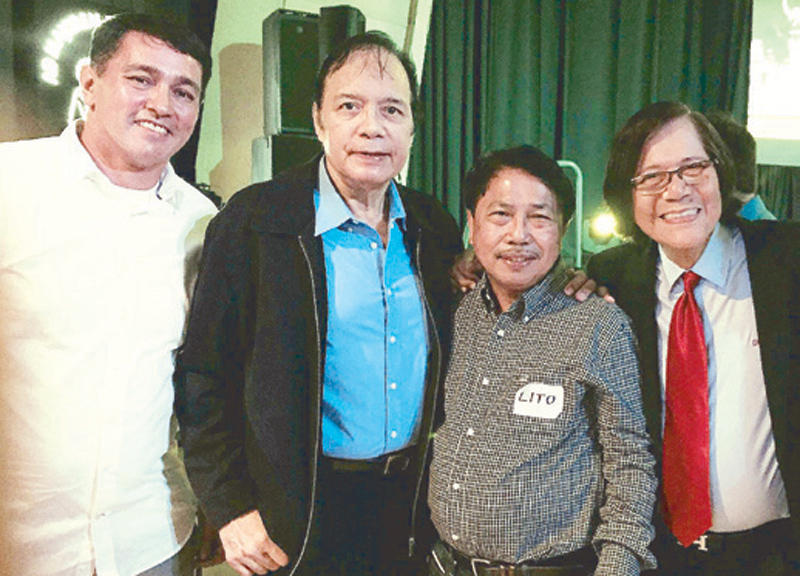 With basketball legends Vince Hizon, Robert Jaworski and Dante Silverio
Credit belongs to : www.philstar.com