Were you aware that the very famous SM Group logo its blue-colored two capital letters SM inside a blue circle seen in all of its malls was designed decades ago for self-made entrepreneur Henry Sy, Sr. by the advertising firm of Ricardo Po, Sr., who'd eventually go on to found the popular Century Tuna? Po has recently been ranked by Forbes magazine as the Philippines' 17th wealthiest and estimated his net worth at $1 billion, while his late client's children the Sy siblings led by Tessie Sy Coson and Hans Sy have been ranked No. 1.
Both inspiring "rags-to-riches" billionaire tycoons Sy and Po started out as hardworking, visionary immigrants from Fujian province, south China. They later got to know each other when Po went into the advertising business, with Sy becoming his client. Apart from achieving business successes, each respectively revolutionized Philippine lifestyles via modern malls and canned tuna manufacturing. Both men also followed Confucian teachings on philanthropy through the SM Foundation (from educational charities to anti-pandemic donations) and CPG-RSPo Foundation (sharing millions of free meals).
While the world's economists are discussing possible economic recovery scenarios for their respective countries as either V-shaped (a sharp decline into recession, then a sharp rise) or U-shaped (sharp economic decline, then a prolonged recession, before recovery), the business career of the Century Tuna founder was described by his 50-year-old son and Century Pacific Group president Christopher ("Chris") Po as W-shaped.
Why W? It charts a saga of a sharp decline, followed by a sharp rise back upward, followed again by a sharp decline and ending with another sharp rise. From decline into poverty as an immigrant teenager after his mother had to flee a China ravaged by 1930s-1940s Japanese military invasion, Ricardo Po, Sr. succeeded in the advertising business; he then lost a fortune as a stockbroker trading on margins in the 1973 stock market crash; and then he rose again with bigger success as founder of Century Tuna in 1978.
Upon hearing this W-shaped success story of Ricardo Po, Sr., I am reminded of a quote by the great statesman and writer Winston Churchill: "Success is not final, failure is not fatal: it is the courage to continue that counts." Whatever challenges one may face, be resilient and never, ever give up!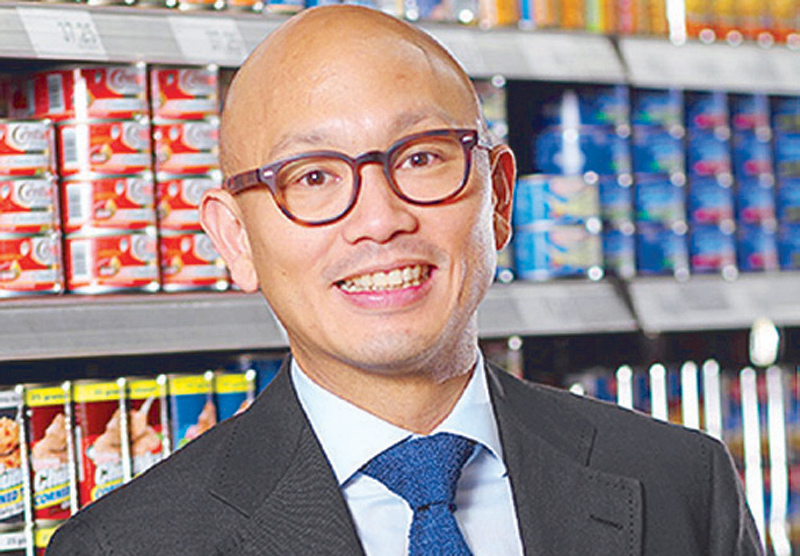 Chris Po, CEO of Century Pacific Group
By the way, mark my words and this fearless forecast: I believe our now recession-hit Philippine economy will experience a strong V-shaped economic recovery in the middle or second half of 2021 after COVID-19 due to our good macroeconomic fundamentals, in the same way our Asian neighbors China and Vietnam are now dramatically experiencing steady economic revival.
The abovementioned stories were some of the anecdotes recounted by Chris Po at a recent Zoom edition of the traditional monthly dinner forum of the Anvil Business Club, which I chair; also present were vice chairman, Nielsen Philippines/Myanmar/Vietnam country head Patrick Cua, president Hubert Chua, chairman emeritus George Siy and project head and VP Claudine Sy. It was a unique and candid talk by Po to over 200 young Filipino-Chinese entrepreneurs, mainly about business strategies.
By the way, at the forum, I mentioned that the Philippines' top sardines brands are run by graduates of my alma mater, Quezon City's Grace Christian High School (now called Grace Christian College): Chris Po heads the biggest canned tuna brand, Century Tuna, and also 555 Sardines; William Tiu Lim founded the country's largest sardine brand Mega Sardines; and Gregory Tung, Jr. heads Ligo Sardines. Coincidentally, both Po and Lim are also alumni of Harvard.
What are some success lessons Chris Po and his three brothers Ricardo Jr., Leo Po and Ted Po learned from their father? From Century Tuna and 555, the Po family's businesses, brands and investments now include Shakey's Pizza, Birch Tree, Arthaland, Argentina Corned Beef, Hunt's Pork & Beans, Angel Milk, Swift Sausages, Blue Bay Tuna, Peri Peri Charcoal Chicken, Yoshinoya fast food, and more.
Chris Po cited these lessons from his dad, which all of us entrepreneurs and professionals can learn from:
• Unwavering commitment to hard work.
• There's no such thing as "easy money," and easy money can also be easily lost.
• Take no shortcuts.
• Measure yourself to high standards, not easy goals or mediocre standards.
• Have an entrepreneurial and resourceful mindset.
• Seek continuous growth, always look for opportunities and new ideas.
* * *
Today, Oct. 4, is the feast day of St. Francis of Assisi, the patron saint of the environment and animals, also the name chosen by Pope Francis in 2013 when he was elected. The humble, pro-poor and idealistic St. Francis of Assisi was also an inspiration to 2018 Magsaysay Awardee (and my late father's cousin), former Ambassador Howard Q. Dee when he founded the Assisi Development Foundation in 1972, which has since aided millions of needy Filipinos.
Just this Sept. 30, the first ever United Nations Summit on Biodiversity ended in New York, with General Assembly president Volkan Bozkir warning that 13 million hectares of forest are lost every year and one million species are on the brink of extinction.
What can we do to help prevent the worsening of poverty and social inequity in this time of pandemic crisis? And what can we do to protect the earth's biodiversity and ecology?
* * *
Thanks for your feedback at willsoonflourish@gmail.com! Follow @wilsonleeflores on Instagram, Twitter and Facebook. Read also https://investment.fwd.com.ph/experts/asia-s-business-leaders-and-what-we-can-learn-from-them.
Credit belongs to : www.philstar.com