In the "new normal," the saying "Where two or three are gathered in my name…" holds true now more than ever. People are longing for a center in their lives to keep them anchored.
Pope Francis himself called on pastors and the faithful to make an effort to respond faithfully to the eternal mission: "To lead humanity to an encounter with Jesus Christ."
Let us help this happen by participating virtually in bringing 20,000 families around the world to Jesus.
The Parents for Education Foundation (PAREF), in partnership with SmartCatholics (New York) and Parousia Media (Australia), is organizing an online international conference entitled "Jesus-Centered Life: An International Family Conference" from Dec. 5 to 8, the Solemnity of the Immaculate Conception.
In this virtual conference, a community of parents, educators, and young people will help each other rediscover the hope they have been looking for in this confused and hurting world: a life centered on Jesus.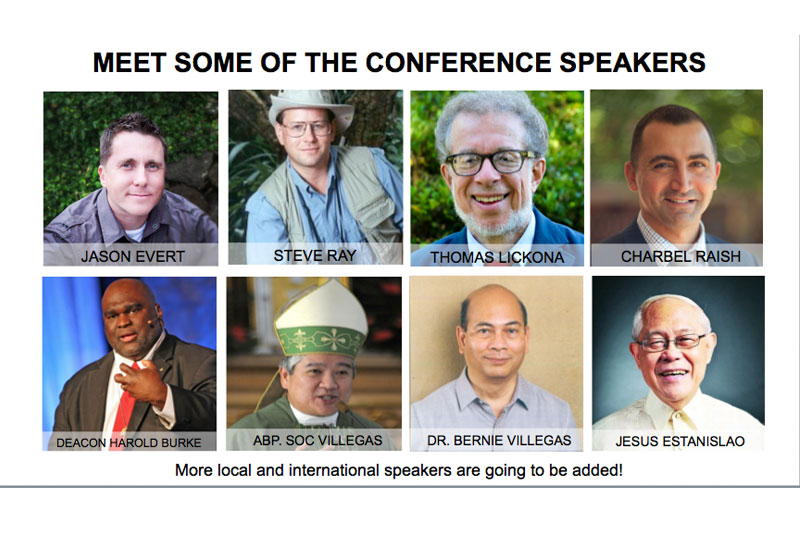 Speakers include Jason Evert, Steve Ray, Thomas Lickona, Charbel Rais, deacon Harold Burke, Archbishop Soc Villegas, Dr. Bernie Villegas and Jesus Estanislao.
How to join
To register for the event for free, visit free at bit.ly/jesuscenteredlife. And, for a small fee of $25, you get a Full Acess pass, which entitles you to join the conference community; connect with families and new friends from around the world; chat with speakers; RSVP to live Q&A sessions and panel sessions; join the exclusive closing session; unlock all the videos to access any time; download MP3 audio files of all the talks; and get a free digital copy of the Jesus-Centered Life book.
Everything is online. There will be re-recorded talks, interviews, and panel discussions, daily meditations, rosary, and Holy Mass.
It will not be just a virtual conference, but also a dynamic global community online.
There will be local and international speakers for the different audience segments, including parents, young adults, families, students, teachers and school administrators.
The panelists are from Australia, Nigeria, Kenya, US, Hong Kong, Canada, Ireland, and the Philippines, among others. For the Filipino-based sessions, discussions will center on the sharing of best practices among families of different Catholic groups.
Unlike traditional onsite conferences where participants sit through the talks of onstage speakers, a virtual conference offers a memorable experience by giving you access to dozens of local and international speakers who will enrich your family's learning through their different perspectives.
If you happen to be busy on one of the conference days, you can finish the 15- to 20-minute videos whenever you want to, wherever you are, since the content is self-paced and pre-recorded.
There is no experience more rewarding than being able to connect with a community of believers, even if, thanks to the present situation, it is online.
For details, contact Bernz O. Caasi, PAREF Conference Coordinator at jocaasi@parefnorthfield.edu.ph. If you wish to be a sponsor, email conference marketing officer Leigh Tobias at edtobias@parefpreschools.edu.ph.
Credit belongs to : www.philstar.com