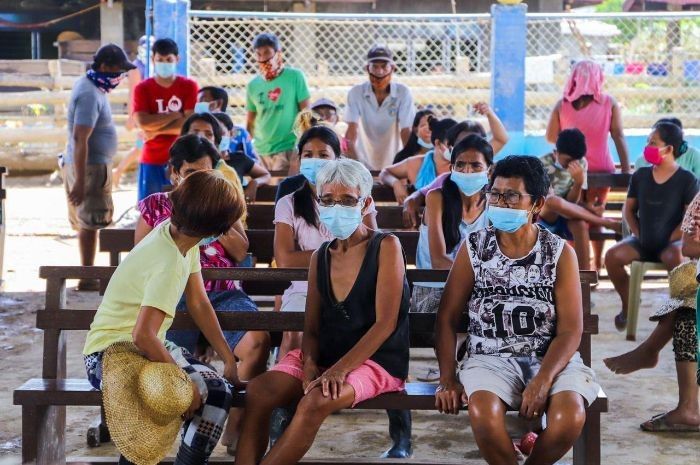 Photo taken on Nov. 16, 2020, shows residents of Barangay Marana 2nd, City of Ilagan waiting to receive relief goods. They were isolated during the onslaught of flooding wrought by Typhoon Ulysses.
MANILA, Philippines — Another 1,791 coronavirus infections were reported by the Department of Health on Saturday, bringing the national caseload to 416,852.
Of the total number of cases, 33,224 are classified by the health department as active, which means these patients are still undergoing treatment or quarantine.
On Friday, the country reached a grim milestone as the total number of coronavirus-induced deaths exceeded the 8,000-mark, landing on a total 8,025. Another 55 fatalities recorded Saturday brings the country's death toll to 8,080.
Another 328 individuals were reported to have survived the deadly virus, however, bringing the total recoveries to 375,548.
The Philippines positivity rate currently stands at 5.5%. This is based on the 25,430 people tested before 12 p.m. the day previous, 1,398 of whom tested positive.
The following areas posted the most number of cases per the health department's latest bulletin:
Tarlac with 211 new cases
Davao City with 115 more infections
Laguna with 74 new cases
Cavite with 69 more infections
Negros Occidental with 65 new cases
Worldwide, 57.49 million people have contracted coronavirus, a staggering 1.37 million of whom died as a result.
It has been 249 days since parts of the Philippines were first placed under community quarantine.
Since then, the country has reckoned with an onslaught of typhoons which have brought additional fatalities and fears that the spread of coronavirus will intensify in shelters where physical distancing and the implementation of minimum health standards pose a challenge.
A total of 45,906 families — or 183,644 individuals — are currently crammed into 1,257 evacuation centers, according to a National Disaster Risk Reduction and Management Council's situation report as of Nov. 20.
READ: Evacuee in Marikina tests positive for coronavirus | Experts urge more gov't funding for evacuation centers to prevent casualties, COVID-19 spread
— Bella Perez-Rubio
As It Happens
LATEST UPDATE: November 21, 2020 – 4:02pm
Follow this page for updates on a mysterious pneumonia outbreak that has struck dozens of people in China.
November 21, 2020 – 4:02pm
The Department of Health reports 1,791 additional cases of COVID-19. This brings the total number of confirmed cases in the Philippines to 416,852.
Of those, 33,224 are registered as active cases. There are 328 new recoveries and 55 more deaths.
November 21, 2020 – 11:02am
The Washington Post reports that the coronavirus tests imported from South Korea by the governor of the US state of Maryland were flawed and ended up not being used.
The newspaper says Maryland Governor Larry Hogan spent $9.46 million in April to import 500,000 coronavirus tests from South Korea.
But the tests turned out to be flawed and the state "quietly" paid the same South Korean company an additional $2.5 million for 500,000 replacement tests, the Post says. — AFP
November 21, 2020 – 9:40am
Sen. Ronald "Bato" dela Rosa announces that he got infected with COVID-19.
November 21, 2020 – 9:09am
US President Donald Trump's eldest son Donald Trump Jr has tested positive for COVID-19 and has been quarantining without symptoms, a spokesman says.
"Don tested positive at the start of the week and has been quarantining out at his cabin since the result," his spokesman says.
"He's been completely asymptomatic so far and is following all medically recommended COVID-19 guidelines," the spokesman says of the 42-year-old.
November 20, 2020 – 6:32pm
The World Health Organization says anti-viral drug remdesivir should not be used to treat COVID-19 patients no matter how severe their illness as it has "no important effect" on survival chances.
Denting hopes in one of the few treatments that had shown some initial promise in severe patients, a WHO Guideline Development Group (GDG) of international experts say there was "no evidence based on currently available data that it does improve patient-important outcomes". — AFP
Credit belongs to : www.philstar.com