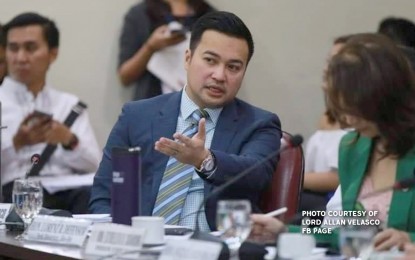 MANILA – Speaker Lord Allan Velasco on Monday urged the leadership of the Philippine National Police (PNP) to remind its ranks on the proper and responsible use of their weapons after a police officer shot dead two unarmed victims in Paniqui, Tarlac.
In a statement, Velasco said policemen should also apply non-violent means as much as possible.
"Police officers must be reminded that force and firearms may only be used if other means remain ineffective or without any promise of achieving the intended result," he said.
Based on the video that went viral on social media, Senior M/Sgt. Jonel Nuezca, 46, was caught on camera killing Sonya Gregorio and Frank Anthony in Barangay Cabayaoasan in Paniqui on Sunday.
Velasco said he shares the anguish that many feel about the tragic incident, noting that the public outrage to it is "totally understandable".
"We sympathize with the family of Mrs. Sonya Gregorio and her son, Frank Anthony, especially their young and innocent relatives who, unfortunately, bore witness to the horrific killings," he said.
He expressed hope that the circumstances surrounding their deaths are investigated thoroughly and that justice would ultimately be served.
"The culprit, Police Officer Jonel Nuezca, must not go unpunished and that his effective prosecution must be ensured," he said.
Nuezca, who went home to Paniqui, Tarlac, has been disarmed and is now in the custody of the Tarlac Provincial Police Office.
PNP chief, Gen. Debold Sinas, assured an impartial investigation on the incident, as he condemned to the highest order the criminal act committed by the police officer.
"The PNP does not and will never condone any criminal act of our police officers, in particular the case involving PSSg Nuezca, as criminal action has already been initiated by the chief of police of (the) Paniqui MPS (municipal police station) in Tarlac where the subject policeman is now placed in detention," Sinas said in a press conference in Camp Crame.
He also noted that the incident was an isolated act of criminality that does not reflect the PNP's policies and practice.
"In no way will such an incident affect the sworn duty of the 221,000 police personnel to serve and protect our people. Our organization remains committed to carry out our mandate and we will always be ready to selflessly provide our people the services that they deserve from their Philippine National Police," Sinas said. (PNA)
Credit belongs to : www.pna.gov.ph