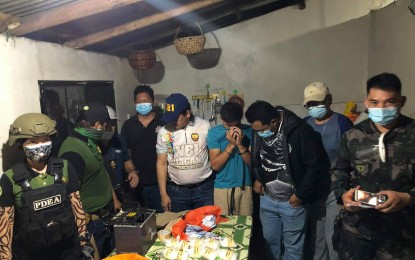 ILIGAN CITY – Authorities arrested on Sunday afternoon a 22-year-old suspect who yielded about a kilo of shabu worth PHP6.8 million in a buy-bust operation here on Sunday.
Lawyer Abdul Jamal Dimaporo, chief of NBI Iligan District Office, on Monday identified the suspect as Mahid Amer, a resident of Barangay Tambacan, whose family is alleged to be one of the major shabu suppliers in the city.
Dimaporo said a team of NBI and Philippine Drug Enforcement Agency (PDEA) operatives collared Amer inside his house and seized the illegal drugs hidden in a car battery.
Amer's family allegedly uses its money transfer business as a cover for their illegal drug trade, according to the NBI official.
"This family is one of the biggest sources (of shabu) here. Around 40 to 50 percent of drug supplies in Iligan City are sourced from this family," Dimaporo said in the dialect.
According to the NBI official, Amer's mother was arrested in Davao City a few years back for selling shabu but the case was dismissed due to technicalities. The matriarch now lives in Iligan City.
Amer's older sister and a brother are currently detained at the Iligan City Jail for illegal drugs, Dimaporo said.
A case for violation of Republic Act 9165, otherwise known as the Comprehensive Dangerous Drugs Act of 2002, is being prepared against Amer, who remains in the custody of NBI. (PNA)
Credit belongs to : www.pna.gov.ph