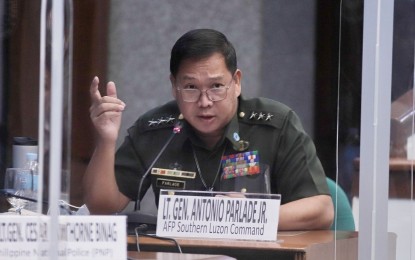 MANILA – A ranking military official dismissed claims made by the Communist Party of the Philippines-New People's Army (CPP-NPA) that it is not involved in the kidnapping of minors or children.
"Marco Valbuena, Chief Information Officer of the CPP, denies NPA kidnapping of children exists. Wow! Where is this denial coming from? From Utrecht, Netherlands? Let's refresh Valbuena of just a few of these kidnappings of minors by the NPAs," said Lt. Gen. Antonio Parlade, Jr., Southern Luzon Command (SolCom) chief, in a statement sent to the Philippine News Agency Thursday.
In debunking Valbuena's denial, he cited the case of Mary Jane Ganay alias "Elsie", who surrendered to the government with the help of the clergy in Oriental Mindoro in December 2020.
He added that in Elsie's testimony, she claimed that she was only invited to attend the wedding of NPA member Daisylyn Castillo alias "Tikya" and Marjun Malucon, alias "Warren" in Sitio Mantay, Barangay Monteclaro, San Jose, Occidental Mindoro, not knowing that she will be held against her will.
"After the said wedding, she was never allowed to return (home) and she was only 16 years old during that time. She underwent courses and trained with NPAs, got pregnant, raped, until her surrender in 2020," said Parlade, who is also a spokesperson of the National Task Force to End Local Communist Armed Conflict.
He also mentioned the cases involving Layag Sanyuan alias "Layka", Helen Villanueva alias "Jenny", Maylin Ligduman alias "Joan" who are all minors who surrendered with four others after their leader Lorelyn Saligumba alias "Farah", reportedly a member of the Morong 38, was killed in an encounter in Baco, Oriental Mindoro in June 2020.
"They were asked to fetch water, bring backpacks of NPAs to the mountains, and were never allowed to return to their homes.
These minors, aged 15-17 became communists, married fellow NPA members to protect themselves from being raped, until they had a chance to escape and surrender to the government's pastor friends.
"Alias 'Joan' was forced to marry NPA (member) Nilo Ligduman alias 'Roel', also a minor. Alias 'Jenny', on the other hand, was forced to marry Renante Villanueva alias 'Rens/Joe'," he added.
The CPP-NPA is listed as a terrorist organization by the United States, European Union, the United Kingdom, Australia, Canada, New Zealand, and the Philippines.
Parlade said he could go on enumerating the kidnapping of minors by the NPA but added that the Commission on Human Rights (CHR) and the Department of Social Welfare and Development (DSWD) can provide complete details on minors recruited and sexually abused by their comrades.
"I can go on Valbuena, but the CHR and DSWD can also provide you a more complete list of NPA child warriors who were forced to have sex with NPAs while they were minors. And that will fall either as qualified or statutory rape, Mr. Valbuena. That's a double major offense, and no amount of denying will exonerate your terrorist colleagues," he added. (PNA)
Credit belongs to : www.pna.gov.ph