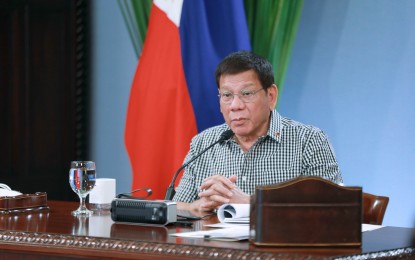 MANILA – Despite calls for him to be the first to be inoculated to boost vaccine confidence among the public, President Rodrigo Duterte on Sunday insisted to wait for his physician's advice on which vaccine brand to get.
In a press conference during the arrival of the initial 600,000 doses of China-made Sinovac Covid-19 vaccines donated by China to the Philippines, Duterte aid he could not receive the said vaccine because it is not recommended for senior citizens. Duterte turns 76 on March 28.
"Kami yung mga 70 (Us aged 70), we have to be careful. Ako naman may doktor ako sarili (I have my own doctor). She thinks that another brand, I will not mention it, 'yun nalang ang hihintayin niya, hihintayin ko (that's what she's waiting for, that's what I'm waiting for). I cannot just (opt for) out of the box vaccine simply because I have to take care of my age," he said.
He, however, assured the public that he will indeed get vaccinated with his preferred vaccine brand to show that it is safe and effective.
"Alam mo (You know), in the matter of getting the vaccine, it is to my advantage. It is to my self-interest that I should get one, no doubt about it. As to what brand, 'yan ang problema (that's the problem) because it is left to the sound discretion of my doctor," he added.
Meanwhile, he also told Vice President Leni Robredo, who earlier asked him to get vaccinated first, to go get jabs herself.
"Siya man ang apurado, siya ang mauna (She's the one in a rush, she should go first). Ako (Me), I cannot just decide. She's young, I am not. I have to defer to my doctor. But I said on the matter of getting the vaccine, it is my self-preservation will be at issue. Kailangan ko magpabakuna (I need to get vaccinated)," he said.
He said getting a vaccine would benefit him as his job requires him to meet a lot of people here and abroad.
"Ano bang problema nila sa bakuna? Talagang magpabakuna naman ako (What's their problem with the vaccine? I'm really going to get vaccinated). If I do not want to die and get Covid, I should get one, I go around a lot. I meet so many people on any given trip outside. Bakit dadramahin pa yung sinong mauna. Ako magpabakuna, ang problema ko ang doktor ko may hinihintay (Why do they have to make a drama out of who goes first. I'm going to get vaccinated, my problem is I'm still waiting for my doctor's advice)," he said.
On Feb. 22, Presidential Spokesperson Harry Roque said the President prefers to get inoculated with a vaccine developed by state-run pharmaceutical company Sinopharm.
He said Duterte is qualified to receive vaccine shots from Sinopharm under the compassionate use license since he is the commander-in-chief of the military.
Currently, Sinopharm has yet to secure an emergency use authorization from the Food and Drug Administration (FDA) of the Philippines.
Take your pick
The initial 600,000 doses of Sinovac-made Covid-19 vaccines donated by China to the Philippines arrived in the country on Sunday afternoon.
Frontline healthcare workers are the first in the government's vaccination priority list. However, only a small percent of medical front-liners have expressed willingness to receive the China-made vaccine.
Duterte assured frontline healthcare workers that they will also be given the option of receiving the Covid-19 vaccine brand of their choice.
"They have a choice, it's either AstaZeneca or Sinovac. Kung ayaw nila ng (If they don't want to receive) Sinovac, maghintay sila in (they just have to wait for) a few days," he said.
He also guaranteed that China-made vaccines are safe since they were approved for emergency use by the Food and Drug Administration (FDA).
The Philippines was expected to welcome 525,600 doses of Covid-19 vaccines from the United Kingdom's AstraZeneca but the arrival will be delayed for another week amid issues of global supply. (PNA)
Credit belongs to : www.pna.gov.ph