Exactly a year ago was our last normal week. But inside the world of a Korean drama, the pandemic doesn't exist. Everyone is beautiful, the light always hits just right, and even misfortunes serve as climactic twists to a happy ending.
And the food — there's always food, never complete without many tiny plates of sides and cold drinks. It is always steaming hot (except for the likes of naengmyeun, a hot weather-appropriate cold noodle dish), it's always mouthwatering, and when eaten, the nourishment goes all the way to the soul. "Mashita!" They exclaim. That's Korean for delicious, which verbatim translates as "taste to exist."
Life can't be as perfect as the hits Crash Landing on You, Goblin, Hotel de Luna, Itaewon Class, or It's Okay To Not Be Okay. We can emulate their style and recreate the characteristically distinct fashion of their leads, like in this photo shoot.
The best part is that we can have their food. In fact, at Korea Garden, the pioneer Korean restaurant located along Jupiter Street in Makati, you can order them as sets!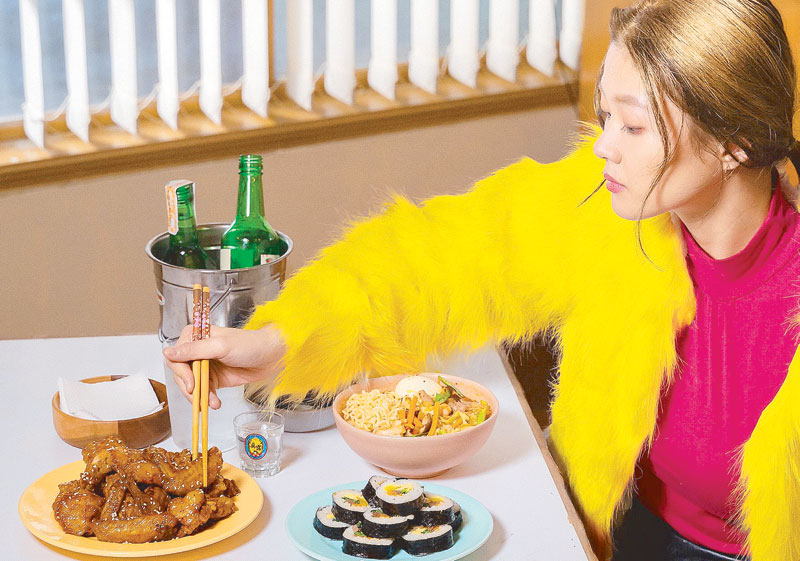 As Sunny with the Goblin set.
"I think K-dramas have really opened up hearts and minds to Korean food, even when it's not the main point of the show," surmises Korea Garden's Andrea Ang. "Nowadays when we talk to customers, it's less about explaining what's in each dish. People come to us now armed with the correct Korean name for the dish, and a Hallyu reference."
Korea Garden is an institution, a go-to since it opened its doors in 1974 with its very own K-drama worthy Filipino soldier-meets-Korean maiden origins (the story is turned into 1957 Filipino film Ulilang Bituin).
Andrea knew she could make the menu more palatable. Inspired by Andrea's grandmother, a jet-setter-turned-K-drama-addict, she shares, "She's glued to the TV, but in a really cute way: she fell in love, honestly, totally, completely, with Captain Ri because he reminded her so much of my lolo, who had passed when they were quite young."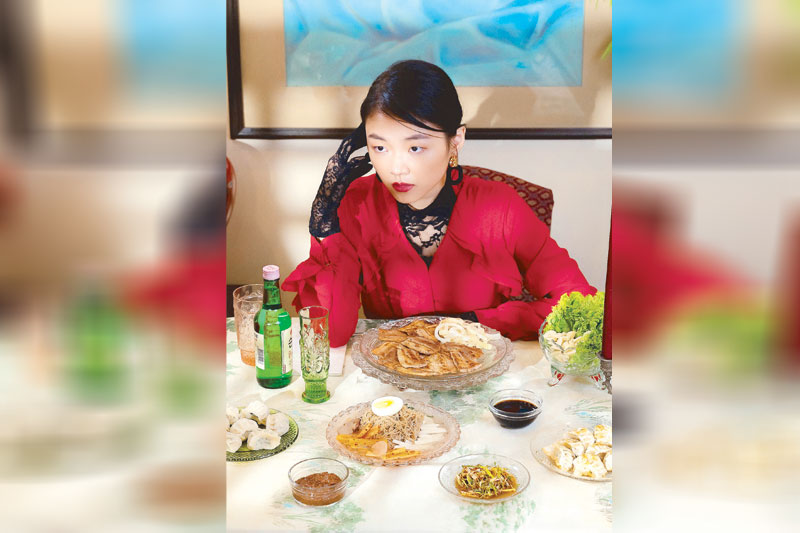 As Jang Man Weol with the Hotel De Luna set.
"I think they make her nostalgic for love," she explains. To date, Andrea's grandmother has seen CLOY 15 times. "And this introduced my lolo to me a bit more, too — we never used to talk about him so much. But how she sees Captain Ri — who is disciplined and serious, but shows his love through acts of service and sacrifice —makes me feel like I know him somehow, finally."
Meanwhile, Andrea never really got into K-drama — she partakes of the culture by stanning top girl group Blackpink. For a menu that really covers every other type of K-drama — not exclusive to the tragedy-free plots that her grandmother loves — she consulted with friends.
"There's no way she would've watched Goblin, for example," she notes. "I made sure we were able to pinpoint characters whose plot points included food, and who had a distinct look."
The result is set menus including food that each leading lady actually eats in her respective K-drama. The Goblin set has Sunny-ssi's fried chicken, kimbap, ramyeon, and soju — not prepared by the lead Ji-Eun Tank, but fit for a reincarnated queen. The immortal Jang Man Weol's love of traditional Korean food is represented in the Hotel de Luna set with steamed mandu, fried mandu and samgyeopsal, and naengmyeun. Take the edge off a long day with Itaewon Class' Jo Yi-Seo's banchan, soju, and kimchi-jjigae. Go no-frills like the resplendent Ko Moon-Young who likes her jook and banchan with the It's Okay To Not Be Okay set. We're not in North Korea, so we can definitely order Yoon Se-Ri's Seoulite favorites of Korean fried chicken, ramyeon, banchan and grilled beef bulgogi.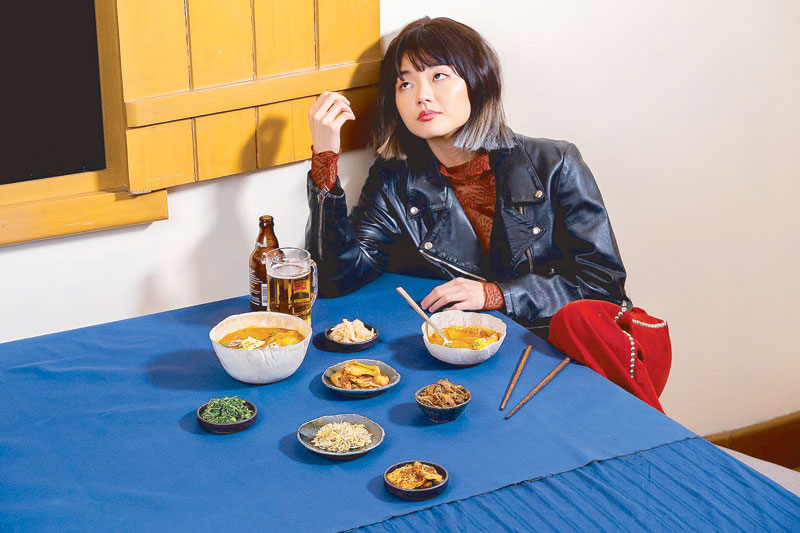 As Jo Yi-Seo with the Itaewon Class set.
Real life is less than K-drama perfect — it's more like the cuisine, a combination of sweet, hot, sour, salt and bitter; some flavors more than others on some days. But that's why it's so good. Fancying myself as the lead of my very own drama, I like to add kalbi chim to my order, a true Korea Garden classic, a warm hug in a bowl with fluffy hot rice.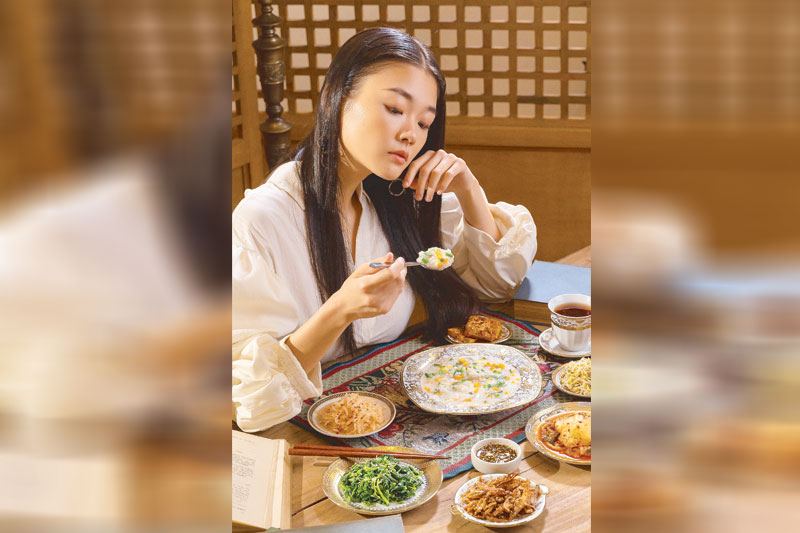 As Ko Moon-Young with the It's Okay To Not Be Okay set.
* * *
Korea Garden is open every day from 11:30 a.m. to 2:30 p.m. and 5 p.m. to 10 p.m. at 128 Jupiter St., Makati City. Call (02) 8895 5443 or (02) 8896 4361 for reservations. Order online at koreagardenph.com.
Photos by Renzo Navarro
Fashion styling by Andrea Ang, Jasmine Seale, and Carla Villanueva
Food and props styling by Chi Tullao
Set design by Carla Villanueva
Hair and makeup Sylvina Lopez
Model Selina Woo Bhang
***
Credit belongs to : www.philstar.com