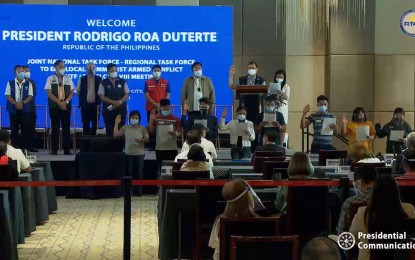 MANILA – Local insurgency has been hampering economic development in Eastern Visayas but the government has been making strides to end armed conflict in the region, Housing Secretary Eduardo del Rosario said on Wednesday.
Del Rosario, also the Cabinet Officer for Regional Development and Security, cited significant milestones of government efforts to address insurgency in various conflict-affected communities in the region.
"The existence of terrorist groups continues to hamper the development of the region. But with the concerted effort of this government, we are now seeing the fruits of adopting a whole-of-nation approach, in this case, on peace and order and community development," he said in a statement.
According to the Regional Task Force to End Local Communist Armed Conflict (RTF-ELCAC) 8 (Eastern Visayas), four out of 11 guerilla fronts of the communist rebels operating within the region have been dismantled.
Two additional guerilla fronts are expected to be dismantled this year, it added.
Based on the task force's 2020 accomplishment report, the provinces of Leyte, Southern Leyte, and Biliran have been declared insurgency-free since the end of 2019.
Del Rosario said the armed conflict in the region "is not just a military concern."
The regional task force must incorporate social interventions concerning economic and governance issues in the areas, he added.
Signed into law by President Rodrigo Duterte in December 2018, Executive Order 70 created the National Task Force – ELCAC that institutionalized a whole-of-nation approach in obtaining exclusive and sustainable peace, giving the government an effective solution against communist-terrorists.
Del Rosario cited the 12 Lines of Efforts (LOE) pushing ELCAC initiatives in conflict-afflicted areas through multi-sectoral programs and projects that were formulated at the national level.
These efforts include situational awareness and knowledge management, strategic communication, local government engagement, localized peace engagement, legal cooperation, peace, law enforcement, development support, basic services, poverty reduction, livelihood and employment, infrastructure and resource management, enhanced comprehensive local integration program (E-CLIP), international engagement, sectoral unification, capacity building, and empowerment.
"Under the LOEs, we have been addressing not just insurgency but also other localized development challenges to ensure that we create sustainable communities for the returnees and their families," he said.
Del Rosario added that the program would help former combatants rebuild their lives.
For the E-CLIP alone, the RTF-ELCAC-8 in 2020 distributed about PHP13.85 million worth of assistance to 296 former rebels, comprising members of the New People's Army (NPA) and Militia ng Bayan.
The program is aimed at assisting former combatants to establish communal gardens, house farm breeders, poultry houses, and slaughterhouses, as well as education facilities within their respective communities.
Some rebel returnees in Samar have received a total of PHP1.85 million in cash aid under the ELCAC's "Peace towards Prosperity Initiative."
"An integral part of rebuilding lives is providing decent shelters to our returnees. Hence, we also constructed halfway houses to serve as temporary homes for the FRs (former rebels) while they are being prepared for reintegration," del Rosario said.
He earlier pledged PHP75 million for the construction of houses for former communist rebels in Eastern Visayas.
The RTF-ELCAC-8 was created by the Regional Development Council 8 and Regional Peace and Order Council Eastern Visayas under the provisions of EO 70.
"The region has come a long way since the full implementation of EO 70. However, it still has 152 conflict barangays at present," del Rosario said.

"With the continued support of the government agencies, local government units, and the private sector, the RTF is hopeful that these initiatives and accomplishments will be sustained to finally end local communist armed conflict in the region and the entire country."
The NTF-ELCAC's Barangay Development Program is a counter-insurgency plan aimed at delivering various government programs in conflict-afflicted and geographically isolated villages that have been considered "cleared" of the influence of rebels. (PNA)
***
Credit belongs to : www.pna.gov.ph