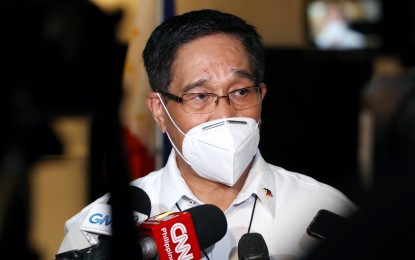 MANILA – President Rodrigo Duterte is scheduled to visit Region 8 (Eastern Visayas) this week to renew his administration's commitment to end insurgency and ensure justice for victims of mass purging of the communist rebels, National Security Adviser Hermogenes Esperon Jr. said on Wednesday.
"The President will also be visiting Region 8 to emphasize the government's longstanding commitment to bring justice to the grieving families of those who perished at the hands of the NPA during the Inopacan Massacre and internal purgings in Leyte," Esperon said in a statement.
Esperon issued the statement more than a week after he testified before the Manila Regional Trial Court Branch 32 against Communist Party of the Philippines (CPP) founding chairperson Jose Maria Sison and 37 others for their supposed involvement in the alleged bloody internal purges launched by communists' armed wing, the New People's Army (NPA).
"This is a demonstration of the government's desire to provide closure and justice to the victims and their families," Esperon said.
Sison, his wife, and 36 others are facing 15 counts of murder in connection with the so-called "Inopacan massacre."
Esperon was the Armed Forces of the Philippines' chief-of-staff when the mass graves of the massacre victims were discovered in Inopacan, Leyte on Aug. 31, 2006.
Duterte is set to fly to Tacloban City on Thursday afternoon to attend the joint meeting of national and regional task forces to End Local Communist Armed Conflict (ELCAC).
Esperon said Duterte would be briefed about several concerns of local officials from Eastern Visayas.
"Region 8 has historically been one of the poorest regions in the Philippines. One of the major contributory factors to this is the destructive and counterproductive presence of the NPA," he said.
Recipient of development programs
Esperon, citing a report from the National Economic Development Authority (NEDA), noted that poverty incidence in Eastern Visayas stood at 24.8 percent in 2020.
To address poverty in the region, Esperon said the National Task Force-ELCAC would implement several development projects, including the Barangay Development Program (BDP).
"Taking into consideration the deplorable poverty rate of Region 8, it is ideally suited to be a recipient of the NTF-ELCAC's development programs through the BDP and other development projects," he said.
BDP, the nationwide banner program of NTF-ELCAC, is a package of socio-economic development programs earmarked for areas cleared of NPA infestation. Farm-to-market roads, livelihood, irrigation, health stations, are the major programs under BDP.
Duterte, Esperon said, would make sure that human conditions in Eastern Visayas will improve "with all possible haste."
"As the BDP envisions insurgency-free communities through the influx of socio-economic development programs and projects, Region 8 stands to benefit greatly from this initiative," Esperon said.
Esperon said 200 villages in Eastern Visayas, after being declared cleared of NPA, would-be recipients of BDP.
"Projects earmarked for each barangay are PHP12 million for farm-to-market roads; PHP3 million for school buildings; PHP2 million for water and sanitation systems; PHP1.5 million for electrification; and PHP1.5 million for health stations," he said. (PNA)
***
Credit belongs to : www.pna.gov.ph