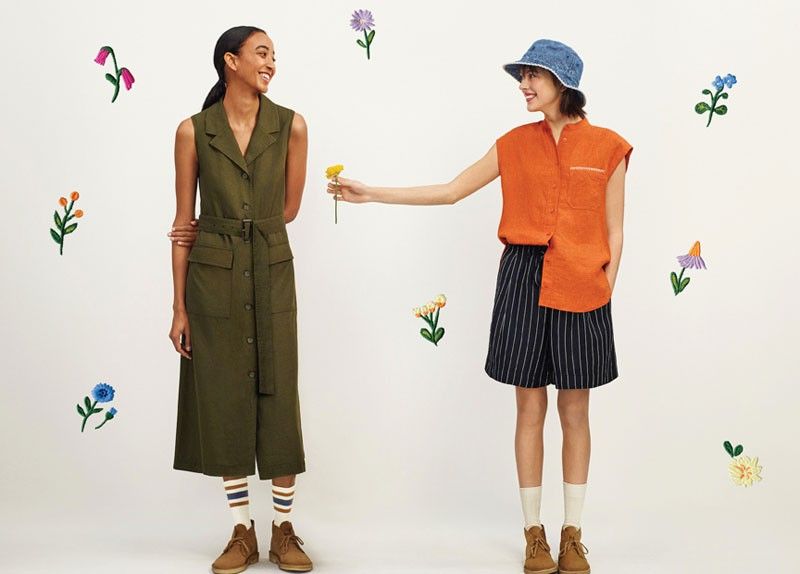 "Don't knit, stitch!" was Lady Olive Smith-Dorrien's battle cry during the Second World War. According to the principal of the Royal School of Needlework, embroidery is an essential wellbeing tool. Knitting can be done on autopilot, she would say; stitching requires you to concentrate, allowing the rest of your body and your mind to heal.
Giving embroidery my very first try along with Uniqlo's fans on Facebook and the guidance of fashion designer Gabbie Sarenas last night, recreating the wildflower embroidery accents found throughout the 2021 spring/summer collection with JW Anderson, I felt a renewed sense of purposefulness — as well as a touching sense of community in this pandemic.
Learning to embroider is a mind massage, as it is practical and useful. "Embroidery is a hobby that you can use anytime and anywhere, especially right now when we can mend and/or design our staple clothes, towels, linens, etc. It gives that satisfaction of 'I did that!' and gives a uniqueness with a nostalgia vibe to every piece," Gabbie tells YStyle. "I love customization — like making it completely yours. It's like storytelling, in a way — leaving your mark on a blank canvas. Immortalizing something of your own gives it personality and soul."
Gabbie has been drawn to everything handmade for as far as she can remember. "When I was in fashion school, works of the hand continued to fascinate me," shares Gabbie. "Eventually, I came to realize how hands are our culture." It is the hallmark of her namesake brand, focusing on Filipino flora.
Words of encouragement for first-timers? "When trying embroidery for the first time, one should be excited and patient at the same time. It's a rewarding hobby which anyone can learn," she says.
Still battling a pandemic over a year later, Jonathan has made mainstream a crafts trend last year, notably with his patchwork cardigan design for Loewe, gone viral thanks to the musician Harry Styles.
"I was really thinking of spring when I was working on this collection," Jonathan says about his newest collection with Uniqlo. "We were all staying inside and I was looking forward to when we could venture out again. I also wanted to incorporate a feeling of craft, as it's very important to me."
The lineup includes 15 items for women, 13 items for men and two goods items. Key colors of khaki, brown and ivory feature the homespun feels of cool linen blends and slub cotton. Signature JW Anderson craftsmanship shines through in the stitchwork, the embroidery, and simple silhouettes of a collection made both for relaxation and play — the very essence/fantasy of this new season.
I can just imagine incorporating something of my own into one of the plain pieces — something to remember these historical times with, or a nice little accent of something to look forward to once I've been vaccinated, giving it a new life, making it for keeps.
***
The 2021 Spring/Summer Uniqlo and JW Anderson collection launches in Uniqlo stores today
***
Credit belongs to : www.philstar.com