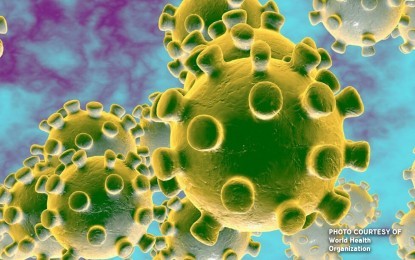 GENERAL SANTOS CITY – The city government confirmed on Tuesday night two more cases of the B.1.1.7 variant but noted that the patients were properly isolated and one of them has fully recovered.
In a public advisory, Mayor Ronnel Rivera said the two cases of the highly contagious variant first detected in the United Kingdom were close contacts of the city's first case that was confirmed last week by the University of the Philippines – Philippine Genome Center (UP-PGC).
The local government, through the City Health Office, earlier sent samples for genome sequencing from the patients, who came out positive of the coronavirus disease 2019 (Covid-19) in reverse transcription-polymerase chain reaction (RT-PCR) testing.
"Out of the two, one is declared recovered with a negative PCR (result) while the other one is currently in our community isolation unit with no symptoms," Rivera said.
He said the contact tracing for the newly confirmed cases of the variant has been completed by the CHO's epidemiology and surveillance unit, in coordination with the rural health units and barangay health emergency response teams.
These were conducted up to the identified fourth-generation close contacts of the two patients, he added.
Mandatory quarantine, monitoring, and testing measures were immediately provided based on the Department of Health's (DOH) guidelines for Covid-19 variants of concern, Rivera said.
The UP-PGC, through the DOH 12 (Soccsksargen), confirmed on April 12 the initial or index case of the B.1.1.7 variant in the city involving a 58-year-old male returning resident from Barangay San Isidro.
The patient was identified as a close contact of a Covid-19 case at his workplace in Calapan City and he was able to travel to the city being an authorized person outside of residence.
Dr. Rochelle Oco, acting CHO head, earlier said they continue to monitor possible new infections related to the first case of the B.1.1.7 variant.
Aside from the mandatory isolation and quarantine, Oco said they subjected all identified close contacts to another swab test.
The city's surveillance team had tagged the index case as a possible variant of concern after detecting 18 confirmed cases from among the patients' first- to fourth-level close contacts.
As of 6 p.m. Tuesday, the confirmed Covid-19 cases in the city since March last year stood at 2,326, with 89 related deaths and 2,146 recoveries.
The number of active cases has increased to 91 from just 69 on April 14 but the CHO said the majority of the patients are asymptomatic or have mild symptoms of the disease.
Oco said the priority areas of concern are barangays San Isidro, Lagao, Apopong, and Calumpang, the city's most populous areas.
She said the doubling time for new cases is currently at 35 days, slower than the rate during the initial surge from September to October last year. (PNA)
***
Credit belongs to : www.pna.gov.ph