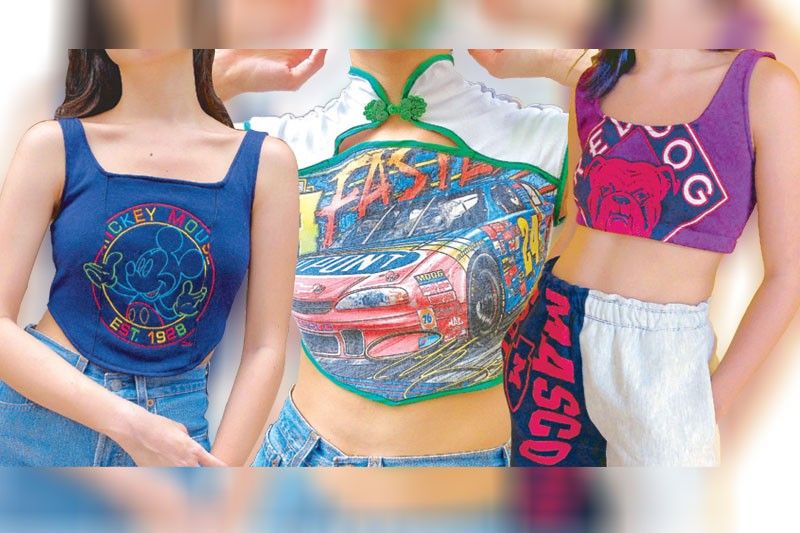 There is no greater rebellion in fashion than questioning its preoccupation with newness. For over a year now, It's Vintage has been Manila's bad boy purveyor of high-quality handpicked heritage jackets and limited-edition pop culture and college sweats and tees sourced from all over the globe. Like recognizes like; it's now the go-to for Manila's most stylish. On the last day of Earth Month, we're happy to share a first look at Rework, It's Vintage's playful, '00s-inspired foray into upcycling, before it launches tomorrow at 7 p.m.
Upcycling is hardly new. Notable is Martin Margiela, "the grandfather of recycling," whose work from the '80s to '90s juxtaposed contrasting aesthetics from different eras — and dress codes — in one look.
As we collectively think and act out solutions to beat the fact that 60 percent of clothes end up in landfills or an incinerator within a year of being produced, pieces from Rework are an exciting way about it. They're covetable not only because you want to consume wisely — there is that — but the cool factor is strong in each piece.
Rework takes statement tees and shirts like a rare Akira tee from the '80s and turns it into statement-making silhouettes. Someone who grew up/still dreams of the Nineties to early Aughts will recognize the non-restraining corsets, appreciative cheongsams, and forgiving bra tops as "going out" tops — the hero pieces in your closet that make you feel superiorly cool. The ones that make people stop and ask you where you got it. Rework has your bottoms covered in shorts. The fit is laidback with a wide garter waistband and ample pockets, but the prints more than balance it out as they come bold and oversized.
The best part is they are for everyone. "Everything in the line is technically genderless," says Fed Pua, founder and creative director. Think of one of his muses, Kurt Cobain, rocking a dress. "But we are releasing shorts which most guys (and girls) will enjoy. I see Rework as a line that's equally for men as it is for women as we continue to expand our product range."
Here's more about Rework from Fed himself.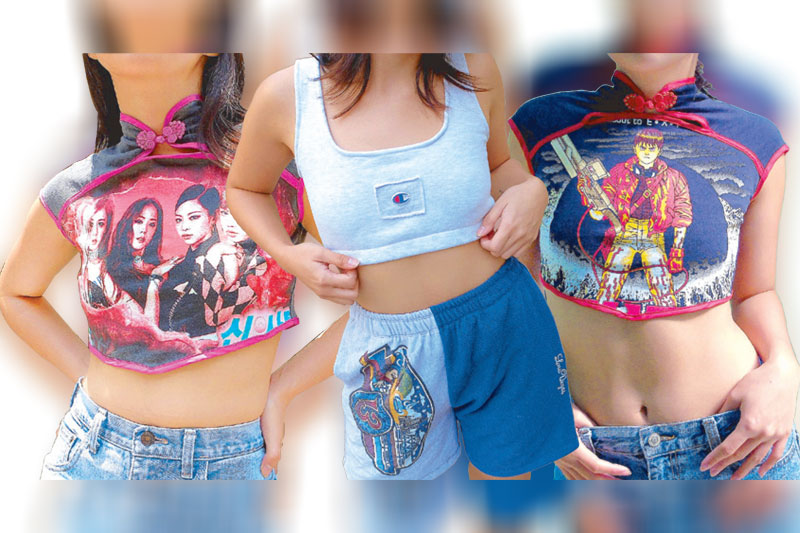 It's Vintage's Rework, a playful, '00s-inspired upcycled collection, launches tomorrow at 7 p.m.
YSTYLE: Why is upcycling the next step for It's Vintage?
Fed Pua: The idea of Rework first came to me when a couple of female customers were telling me about how they loved shopping for vintage, but always found it difficult to find flattering pieces because vintage usually runs in really large sizes. Rework was really born out of seeing vintage clothing in a new context.
Can you tell us about the special pieces that got transformed in this It's Vintage collection?
The first drop for our Rework line is a mix of some of my favorite vintage pieces from vintage band tees to college champion sweatshirts to some of our funkiest Hawaiian shirts. It's pieces we've always sold and are always crowd favorites in the shop (as well as my personal picks).
Was there a bit of heartbreak, cutting them up?
Not at all! I love seeing these pieces recontextualized in such a fresh way. At the end of the day, no matter how rare they are, they are still clothing that is meant to be enjoyed and worn out.
How did you narrow it down to four silhouettes? What was the process like to get to these final designs?
The team and I chose some of our favorite silhouettes for the first drops. Some more common than others. They're silhouettes that encapsulate the line: easy, cheeky, and fresh.
It was such an exciting and fulfilling process to get to the final designs. I think that, ever since we launched the store, we were focused on the curation and branding aspect of the store, but working on this line sparked our design side. It was really fun marrying our love for curation (of the vintage pieces) and our love for creation (when we were creating these pieces one-by-one).
Favorite vintage rework fashion moments? Who's on your moodboard for Rework?
Pop stars from the '00s, including Britney Spears, Destiny's Child, Avril Lavigne, Paris Hilton, Spice Girls; shows like Charlie's Angels, movies like In the Mood for Love, Almost Famous, Clueless and Sailor Moon; and style Icons like Kurt Cobain (in a dress), Kate Moss, Alexa Chung, RuPaul and Patti Smith.
How many pieces are in Rework's first drop? Every piece is a one-off. How often will you be releasing new ones and what are the price points?
We're dropping around 150 pieces for this first drop and we will release as often as we can. It's really tedious to design and produce one piece as each one is a custom one-off piece, but we're always designing and producing and rework will definitely be a staple of the It's Vintage brand! We try to keep it really accessible at P1,990 to P2,990.
* * *
It's Vintage's Rework is available at 7 p.m. tomorrow at It's Vintage's web store itsvintagevintage.com. Check out the brick-and-mortar shop on Tuesdays to Sundays from 11 a.m. to 6 p.m. at the second floor of 109 Esteban Street, Legazpi Village, Makati City. Follow @itsvintagevintage on Instagram for updates.
***
Credit belongs to : www.philstar.com