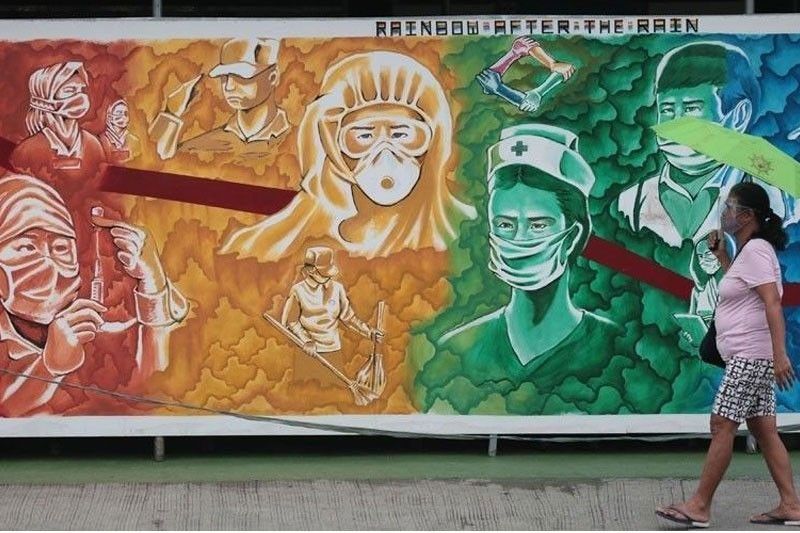 MANILA, Philippines — President Duterte marked Labor Day yesterday by paying tribute to Filipino workers, especially those in the frontlines keeping medical and essential services going as the nation continues to fight a deadly pandemic.
"On behalf of a grateful nation, I express my deepest gratitude to our hardworking health care workers and essential frontliners for their unwavering commitment in ensuring the unhampered delivery of goods and services that continue to sustain our communities and industries during these difficult times," Duterte said.
He also honored all workers who "toiled these past several months to ensure that our society will continue to function in the face of an unprecedented health crisis that crippled industries across the world."
The President committed to provide a better working environment and a government that stands for security of tenure and protection of workers' rights for all Filipinos employed here and abroad.
"Let me assure you that this administration will endeavor to work as vigorously as you have in creating an environment where security of tenure, statutory labor standards and workers' rights are not only upheld and protected, but also cherished as the foundation of a strong and thriving workforce," he said.
For his part, Presidential Communications Operations Office Secretary Martin Andanar cited the resilience of the Filipino labor force and their contribution to nation-building and the government's COVID-19 response.
"The Filipino labor force truly exemplify hard work, perseverance, ingenuity, resilience, grit and determination – traits that have become more apparent during this global health crisis," he said.
Andanar also counted people in media among the frontliners and thanked them for their delivery of "needed and life-saving information for us all."
Job recovery program
As part of the order of the day, Malacañang was set to re-launch the government's employment recovery program, highlighted by Duterte's signing of the executive order for the National Employment Recovery Strategy (NERS).
Under the NERS action plan, the government would spearhead an employment push from 2021 to 2022, anchored on the updated Philippine Development Plan 2017-2022 and the ReCharge PH through the expansion of the "Trabaho, Negosyo, Kabuhayan" (Jobs, Business, Livelihood) initiative.
The launch was to be marked by a message from the President, followed by a virtual job summit led by the Department of Labor and Employment (DOLE).
Also, DOLE Secretary Silvestre Bello III said 3,000 overseas Filipino workers (OFWs) and 2,000 minimum wage earners under the A4 priority list would be inoculated against COVID-19.
"This is a symbol of our love and concern to our workers, including our OFWs," Bello said.
Workers' welfare
Vice President Leni Robredo said the government should do more than just recognize the value of Filipino workers and called for concrete action to address their grievances like job security.
Robredo verbalized the litany of woes of workers as such: "The end of endo and contractualization. Ensuring that no Filipino worker is abused, here or abroad. And, in the face of a pandemic, ensuring adequate aid, support for those who lost their jobs, proper public transportation and safe workplaces."
In a separate statement, Sen. Bong Go said the government continues to do its best to promote the welfare of workers, but also urged employers to prioritize the wellbeing of their employees.
"I urge my colleagues in government and owners of various industries and businesses to continue to ensure that our workers are in good condition and that the places where they work are in order," Go said.
One of the main issues pushed by the labor movement was the declaration of COVID-19 as an "occupational disease," which Sen. Risa Hontiveros said has now been done.
"According to the Employees' Compensation Commission, COVID-19 is now included in the list of occupational diseases. This means that workers with COVID at work or on the way to work have stronger protections and benefits," she said
Sens. Ronald dela Rosa and Leila de Lima also issued statements in support of the wellbeing of workers.
"In addition to providing assistance, we seek to further increase opportunities for a secure livelihood and a life with dignity," De Lima said. "That is why we continue to push for bills and resolutions in the Senate such as providing discounts on job search costs and investigating wrong practices in the labor sector."
At the House of Representatives, Speaker Lord Allan Velasco vowed to honor the contributions of frontliners not just by words but, more importantly, through legislative actions.
"We need to protect our frontliners. We support policies that will expand their health and life insurance; provide them all-important protective equipment and access to the life-saving COVID-19 vaccine and guarantee their allowance, sick leave and hazard pay. These should serve as a token of our appreciation and gratitude for them for keeping the economy in motion and the rest of us healthy and safe," he said.
Solutions, please – CHR
Meanwhile, the Commission on Human Rights (CHR) highlighted the additional challenges faced by workers in different sectors and called for "adequate assistance" and "long-term solutions."
"Despite their important role and the risk posed by their profession, many doctors, nurses and other medical professionals are still not paid adequately," said CHR spokesperson Jacqueline de Guia, noting cases of delayed or lack of benefits, such as hazard pay.
"Other essential workers in the food and agricultural industries also do not have adequate protection, benefits or support to be protected in their work," she added.
De Guia also noted that many Filipinos who lost their jobs and still cannot work due to quarantine restrictions end up queueing at community pantries to address the hunger they experience.
There are also OFWs who had to return home after losing their jobs, she added. – Christina Mendez, Janvic Mateo, Cecille Suerte Felipe, Edu Punay
***
Credit belongs to : www.philstar.com