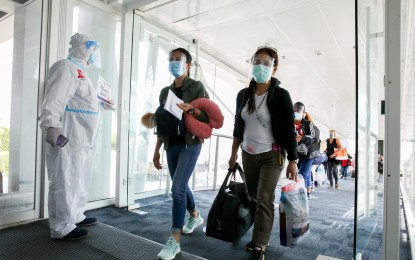 MANILA – President Rodrigo Duterte on Wednesday expressed apprehension over the proposal of the Department of Labor and Employment (DOLE) to shorten the mandated 14-day quarantine period for returning overseas Filipino workers (OFWs).
In a pre-recorded meeting with his Cabinet and medical experts, Duterte said he is "uncomfortable" with the proposed relaxation of quarantine protocols for returning OFWs.
"Unless also there is something more than just what I am hearing now and previously, I must also be convinced that it is really, medyo ano ako (I am somehow), I am not quite comfortable with the relaxation that's being brought about now," Duterte said.
During the meeting with Duterte, Labor Secretary Silvestre Bello III vented frustration over the "heavy burden" caused by the current quarantine rules imposed on returning OFWs.
Bello then proposed to impose the "original" rule that allows OFWs to be transported to their "final destination" without completing the 14-day mandatory quarantine, so long as they test negative for the coronavirus disease 2019 (Covid-19).
"Gusto ko pong iparating ang kalagayan ng ating OFWs. Talagang hirap na hirap po sila (I just want to give an update on the OFWs' situation. They are really struggling). They are crying," he said.
In an April 17 public advisory posted by the Department of Foreign Affairs, all returning OFWs are reminded that they are required to undergo a 14-day quarantine in isolation facilities upon the arrival in the country.
Medical experts who attended the virtual meeting told Duterte that it would be ideal to shorten the OFWs' quarantine period from the current 14 days to 10 days, provided that they remain asymptomatic.
Duterte said he understands Bello's misgivings because the government's funds for OFWs are already depleting.
"Maliit na yung pera (We no longer have enough funds). He (Bello) is raising the alarm. He's raising the alarm of possibility of having no more funds to take care of this kind of situation that we have now)," he said.
Duterte, however, agreed with the medical experts' suggestion, saying he is "not ready" to compromise Filipinos' health.
"I cannot compromise. There is no compromise. Hindi ako magko-compromise (I will not compromise). It's just an off-the-cuff statement before I make the final decision. I'm not ready for a compromise, lalo na ngayon (especially now)," he said.
The Overseas Workers Welfare Administration (OWWA) earlier sought an additional PHP9.8 billion to cover its mounting expenses to provide quarantine accommodations for returning OFWs due to a new testing protocol.
In a virtual presser held Wednesday, OWWA Administrator Hans Leo Cacdac noted that around 6,500 overseas Filipino workers who returned home are still staying in around 125 hotels to complete their quarantine. (PNA)
***
Credit belongs to : www.pna.gov.ph