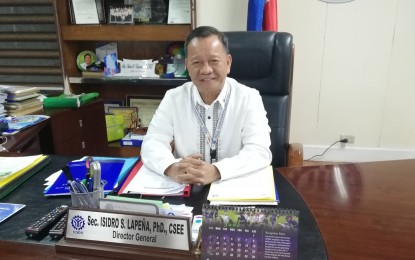 MANILA
– Technical Education and Skills Development Authority (TESDA) chief Isidro Lapeña on Saturday said a whole of society effort is vital to overcome the socio-economic impact of the coronavirus disease 2019 (Covid-19) pandemic.
Speaking at the National Employment Recovery Strategy (NERS) Summit, Lapeña said the task group on economic recovery rallied various government agencies, business and labor groups, civil society, as well as international development partners.
"This is an evidence of the much-needed unity and multi-sectoral collaboration towards a safe recovery, where businesses thrive, where no Filipino worker is left behind," he said.
Lapeña acknowledged that the Covid-19 pandemic has brought challenges and uncertainties to various sectors.
The workers, for instance, became vulnerable to losing their jobs. Businesses faced challenges on operational capacity and productivity.
"The escalated transition to digitalization brought even more obstacles as processes adapt to the demands of the pandemic. Hence, we cannot overemphasize the value of social dialogue, synergy, commitment of all stakeholders in the country's road to a resilient economy," he said.
In a Viber message to the Philippine News Agency, Lapeña said while the government has to protect both the health and livelihood of citizens, the government cannot do this alone, and needs everyone's support.
"It will only be through the cooperation and collaboration of the government and private sector that we can solidify our plans and objectives," he said.
"The private sector has proven itself to be a reliable partner, acting as the bridge between the government and the civil society as we work towards the safe reopening of the economy," he said.
The TESDA chief said the public, especially the vulnerable sectors, can expect upskilling and retooling programs from the agency.
This includes scholarship training programs that would provide additional skills to the workers.
Together with the Department of Transportation, TESDA will relaunch the "Tsuper Iskolar" program for the stakeholders in the transportation sector, Lapeña said. (PNA)
***
Credit belongs to : www.pna.gov.ph