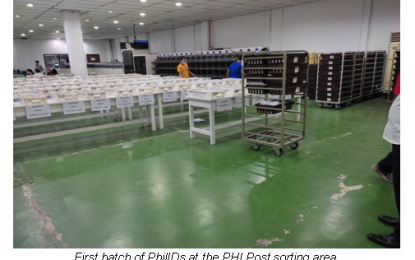 DAVAO CITY – At least 956 PhilID cards are on their way for delivery to various parts of the country, the Philippine Statistics Authority (PSA) reported on May 3, 2021 on its official Facebook Page.
The deliveries represent the first batch of PhilIDs that will be handed over starting within the week to individuals who have completed Step 1 and 2 registration for the Philippine Identification System (PhilSys) in various provinces and cities in the country.
These places include Metro Manila, La Union, Ilocos Sur, Nueva Ecija, Bulacan, Pampanga, Rizal, Cavite, Iloilo, Bacolod, Albay, Bohol, Masbate, Capiz, Negros Oriental, Cebu, and Davao, among others, PSA said.
"We are pleased to have commenced this major milestone in the implementation of the PhilSys. This exercise showed us what can be improved in our card production and personalization machines and processes. Our next step is to ensure that the machines are running in good condition for us to determine the volume of the next batch of PhilIDs to be produced, personalized, and delivered," Undersecretary Dennis S. Mapa, PSA National Statistician and Civil Registrar General, said.
Mapa said the first batch of PhilID cards printed by Bangko Sentral ng Pilipinas was picked up by PHLPost on May 1 for delivery this week to said cities and provinces.
PHLPost is the official delivery partner of PhilSys.
The PhilID cards are placed in an envelope with a letter that contains the PhilSys Number (PSN) and the PhilSys Card Number (PCN).
PSA has advised PhilID holders to safe keep the letter and use the PCN found in the PhilID when transacting with government and private entities.
PSA said Undersecretary Mapa, Assistant National Statistician Edgar M. Fajutagana of PSA, Director Rogel Joseph Del Rosario of BSP, and Assistant Postmaster General Joel L. Zamudio, Corporate Officer-in-Charge of PHLPost, witnessed the loading and unloading of the PhilIDs to delivery vehicles, automated sorting through the use of letter sorting machines in PHLPost distribution centers, troubleshooting of rejected PhilIDs, and printing of proof of delivery slips, among others.
National Economic Development Authority (NEDA) Secretary Karl Kendrick Chua has reported to President Duterte Monday night during the IATF meeting that they are optimistic to meet their target to register 70 million Filipinos this year.
As of May 3, a total of 33.4 million individuals have already completed Step 1 registration and as mentioned above, of this number 6.4 million have already completed Step 2, Chua said.
Signed into law by President Rodrigo R. Duterte in August 2018, Republic Act 11055, or the Philippine Identification System Act, aims to establish a single national ID for all Filipinos and resident aliens.
The national ID shall be a valid proof of identity that shall be a means of simplifying public and private transactions, enrollment in schools, and the opening of bank accounts. (PNA)
***
Credit belongs to : www.pna.gov.ph