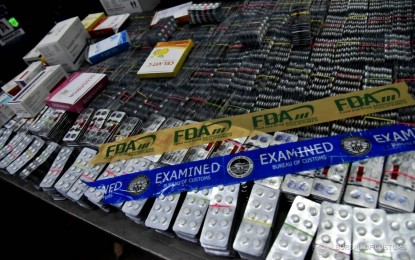 MANILA – As the government regulators prepare to conduct clinical trials for the use of ivermectin to treat Covid-19, the Bureau of Customs (BOC) intercepted 20,000 underdeclared capsules of ivermectin and other regulated drugs at the Ninoy Aquino International Airport (NAIA) in Pasay City.
In a statement on Thursday, the BOC-Port of NAIA said the drug shipment with an estimated value of PHP1.13 million was apprehended at the Paircargo warehouse on May 4.
The shipment, imported by Finstad Inc. from New Delhi, India, was declared as "food supplements, multivitamins and multi-mineral capsules".
The BOC said the undeclared drugs were discovered after the shipment was subjected to 100 percent physical examination.
Jesusa Joyce Cirunay, director of Center for Drug Regulation and Research of the Food and Drug Administration (FDA), said ivermectin is still under compassionate use in Specialized Institutions authorized by FDA through the issuance of a compassionate special permit (CSP).
"In case ivermectin has been granted authorization, a valid License to Operate (LTO) as Drug Importer and Emergency Use Authorization (EUA) or Certificate of Product Registration (CPR) shall be presented," she added.
In a pre-recorded talk to the people in Malacañang on Wednesday night, President Rodrigo Roa Duterte expressed hope that local clinical trials of ivermectin would show that they are safe and effective for human use against Covid-19.
Duterte said he believes that "there has to be some truth" to the effectiveness of ivermectin because some physicians are willing to risk their integrity to allow its use among their patients.
He also expressed hope that experts give weight to some doctors' strong belief that the drug can cure Covid-19 patients.
"I hope they would also place a little bit of an importance to those doctors who really I said who went out to proclaim the efficacy of itong si (this) ivermectin," Duterte said.
Duterte earlier ordered the Department of Science and Technology (DOST), Department of Health (DOH), and FDA to hold local trials for the use of ivermectin.
On Tuesday, Philippine Council for Health Research and Development (PCHRD) executive director Jaime Montoya said the DOST will proceed with clinical trials of ivermectin for human use against Covid-19.
FDA Director-General Eric Domingo said he expects local clinical trials to be completed within six to eight months while international clinical trials may be completed in the next one to two months.
Domingo said it is best to wait for "clearer evidence" that the antiparasitic drug can benefit Covid-19 patients. (PNA)
***
Credit belongs to : www.pna.gov.ph