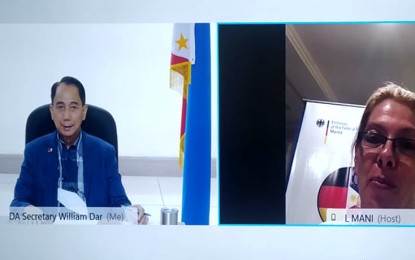 MANILA
– Agriculture Secretary William Dar is looking to expand the country's agricultural imports, particularly coconut products, to Germany.
In a virtual meeting on Wednesday, Dar met with German Ambassador to the Philippines Anke Reiffenstuel to discuss agricultural cooperation and trade between the Philippines and Germany on the latter's food import situation.
"Balance of trade is in favor of the Philippines, with tuna, banana chips, pineapples and desiccated coconut as the Philippines' top four agri exports to Germany," Dar said.
The agri chief encouraged Germany to expand its importation of Philippine agricultural products, specifically mentioning coco sugar, ready-to-drink coco milk, coco water, and organic extra virgin coconut oil.
This, as the Department of Agriculture (DA) has revived the Philippine Coconut Authority board of directors. The new set of directors lays out the coconut development plan to help boost the economy.
Germany, he said, is one of the country's leading partners in agricultural exports.
In a January 2020 report of the Philippine Statistics Authority, Germany is next to the Netherlands as the major trading partner in export among the European Union (EU) member countries.
Exports of agricultural goods to EU member countries in the third quarter of 2019 amounted to USD265.39 million or a share of 12.5 percent to the country's total exports which was USD5.06 billion.
Among the EU member countries, Netherlands was the country's top buyer of agricultural commodities. Germany followed with exports value of USD30.07 million and UK and Northern Ireland with USD25.14 million.
Dar likewise expressed his gratitude to Germany for continuing trade relations with the Philippines despite the ongoing pandemic.
Apart from coconut products and by-products, the DA chief also mentioned heirloom rice, pili oil (for cosmetic use), pili nut, pineapple concentrate, and cashew nuts as potential export champions.
He also requested Germany's support on the country's application to export pili nut to the EU as a novel food.
In previous reports, the EU has categorized Bicol's pili nut as traditional food, per the European Food Safety Authority regulations, and as such, should undergo market access application. (PNA)
***
Credit belongs to : www.pna.gov.ph