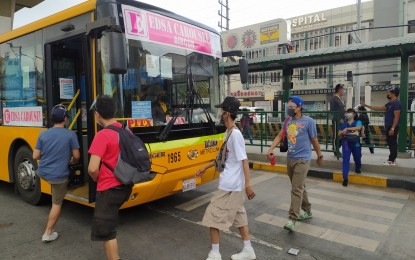 MANILA – There will be more buses providing free rides to passengers along the Epifanio Delos Santos Avenue (EDSA) Busway, according to a group of bus operators.
In a statement on Tuesday evening, the Mega Manila Consortium Corporation (MMCC) clarified that the long lines of passengers at the route are caused by an increase in passengers looking to avail of the free service.
"The long lines of passengers are brought about by the limited passenger capacity on deployed buses as mandated by health protocols to stem the spread of Covid-19 (coronavirus disease 2019), and because many MRT-3 passengers would rather wait in line to avail of our free bus rides," the MMCC said.
It said that the free bus rides along the EDSA Busway are meant to augment the limited passenger capacity operations of the MRT-3.
"We have assurances from our member operators on the EDSA Carousel that they will be deploying more buses to serve the public especially during peak hours," the MMCC said.
It clarified that reports of limited operations because of non-payment by the Land Transportation Franchising and Regulatory Board (LTFRB) were "misleading".
"Our bus units are operating to provide free rides on the EDSA Busway are being paid weekly by the LTFRB," the MMCC said.
It said that the LTFRB has also created an information center that bus operators can check on the status of their payouts.
Sanctions for collecting fares during free bus rides
Meanwhile, it said bus conductors who collected fares during free bus ride operations have received "grave sanctions" from the LTFRB.
"Erring bus crews have already been excluded from participating in the free ride service along EDSA," the MMCC said.
In addition, the MMCC joined the LTFRB in launching a campaign to suspend the licenses of bus conductors who were found guilty of collecting fares from passengers.
It noted that all issues relating to the free bus ride operations on the EDSA Busway are taken "very seriously".
"We are fully supportive of this endeavor of the DOTr as this will be for the benefit and convenience of the public at this time in the pandemic," the MMCC said.
Since the previous declaration of an enhanced community quarantine over Metro Manila, buses on the EDSA Busway began providing free bus rides through the LTFRB's Service Contracting Program.
Recently, long lines have been reported in EDSA Busway stations with some passengers seen neglecting minimum health protocols such as social distancing, and properly wearing of face masks and face shields. (PNA)
***
Credit belongs to : www.pna.gov.ph