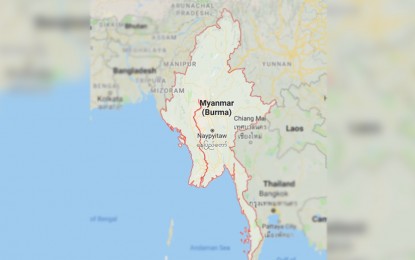 MANILA – The Philippines is consistent in calling for an end of violence in Myanmar, Malacañang said on Thursday.
This, after the Catholic Bishops' Conference of the Philippines (CBCP) set May 30 as a day of prayer for the people of Myanmar amid the escalation of violence between the military and protesters in the Southeast Asian country.
"Ang posisyon po natin (Our position) has been consistent, we want an end to the violence and we want a return to democratic institutions," Presidential Spokesperson Harry Roque said in a virtual press briefing.
CBCP president and Davao Archbishop Romulo Valles, in a circular released on Wednesday, called on churches across the country to dedicate a special prayer on May 30 "for the suffering people of Myanmar."
Valles said it is "very sad" that Myanmar is experiencing "violence and misery."
"I am making this appeal for all of us that on May 30, next Sunday, the Solemnity of the Most Holy Trinity, and also designated as Basic Ecclesial Community Sunday, we include in all our Masses in our cathedrals and parishes, a special prayer for the suffering people of Myanmar and in particular, for the Church in Myanmar," he said.
The Myanmar military on Feb. 1 staged a coup overthrowing civilian leader Aung San Suu Kyi's elected government.
Suu Kyi and members of her National League for Democracy are among over 4,000 people detained since the military coup.
She is facing several charges, which include illegal possession of walkie-talkie radios to violation of state secrets law.
On Monday, Suu Kyi made her first public appearance after being detained when she attended a court hearing.
Member-countries of the Association of Southeast Asian Nations (Asean), including the Philippines, have called for an "immediate cessation of violence" in Myanmar.
Asean members have also sought the appointment of a special envoy who will encourage dialogue between the Myanmar military and its opponents.
Myanmar's ruling military, however, rejected Friday the possible visit of an Asean envoy until security and stability are established in the region. (PNA)
***
Credit belongs to : www.pna.gov.ph