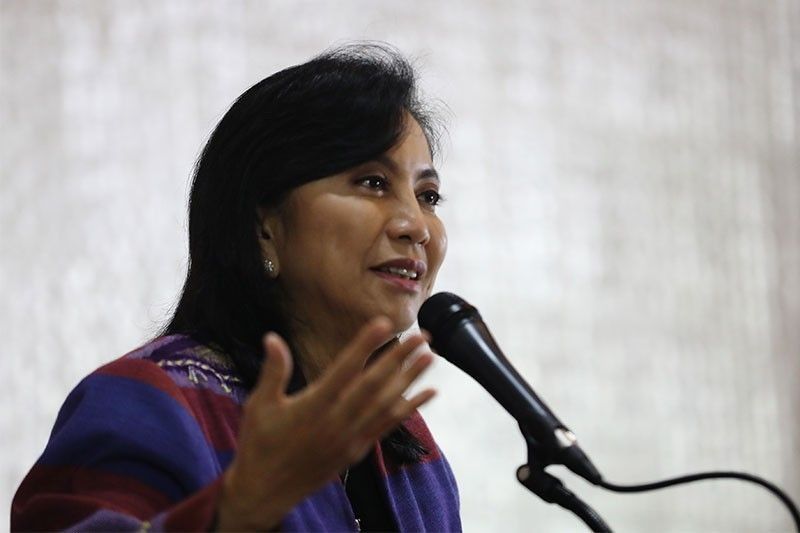 MANILA, Philippines — Vice President Leni Robredo on Sunday warned that using COVID-19 vaccines without emergency use approval only undermine local regulators, after President Rodrigo Duterte was inoculated with Sinopharm last week.
The president stirred controversy anew after receiving his first dose of the Chinese-made jab on May 3. The Food and Drug Administration has cleared six vaccines, but Sinopharm has yet to be included in the list.
Related Stories
Philippines to return Sinopharm vaccines to China after Duterte apologizes for getting jab
Over radio DZXL, Robredo said using jabs without EUA could harm efforts by the FDA, whose experts are tasked to check that vaccines coming in to the country undergo rigorous assessment.
"We have to be careful," she said in Filipino. "In a way, you are promoting the vaccine administered to you and that's difficult if it has no EUA. It makes a mockery of our existing regulatory agencies."
The country's No. 2 added that she would get a vaccine as soon as it is available. But she said she would wait for her turn to ensure that those who urgently need it would get it first.
"If we don't use vaccines with EUA, then it is as if the FDA has no purpose, right?" Robredo added.
This marks the second controversy involving Sinopharm in the Philippines. To date, no one has been held accountable over its illegal inoculation to the Presidential Security Group last year.
In January, Robredo said the smuggled vaccines could hurt efforts to build public trust on the jabs as she called for transparency on its investigation.
The president has since ordered the return of the 1,000 doses of Sinopharm to China after drawing criticism. But he also sought to qualify his decision as saying it was his doctor's choice, and "all things said, this is my life." — Christian Deiparine
As It Happens
LATEST UPDATE: May 7, 2021 – 6:46pm
The national government has so far secured two official deals for COVID-19 vaccine supplies in the Philippines, one with Chinese pharmaceutical company Sinovac and another with the Serum Institute of India.
Watch this space for bite-sized developments on the vaccines in the Philippines. (Main image by Markus Spiske via Unsplash)
May 7, 2021 – 6:46pm
The Department of Health announces the resumption of the use of AstraZeneca jab for all eligible population following the recommendation of the Food and Drug Administration and the DOH All Experts Group on Vaccines.
The health department urges the public to get their second dose of COVID-19 vaccine.
"The benefits of additional protection against COVID-19 could only be achieved by completing both doses of the vaccine," the DOH says in a statement.
May 7, 2021 – 10:53am
The regional health minister of the Bangsamoro Autonomous Region in Muslim Mindanao said there is no basis for insinuations that COVID-19 vaccines are forbidden in Islam.
Medical workers from the Integrated Provincial Health Office-Maguindanao gave Bangsamoro Health Minister Bashary Latiph a Sinovac anti-coronavirus jab Thursday.
Latiph reiterated his appeal to residents in all cities and provinces in BARMM to ignore fallacies and assertions on Facebook by skeptics and pessimists who are not even medical practitioners that vaccines can do more harm than good.
"Listen only to BARMM's Health Ministry, to the Department of Health and to health workers in provinces and in cities in the Bangsamoro region," Latiph told reporters after he got an anti-COVID-19 shot. — The STAR/John Unson
May 5, 2021 – 9:51am
The Philippines approves the application of Moderna's COVID-19 vaccine for emergency use.
Food and Drug Administration Director general Eric Domingo says it only took nine days to review the emergency use authority application.
"The known and potential benefits of Moderna, when used to prevent COVID-19, outweigh the known and potential risks of the said vaccine," Domingo says during the Kapihan sa Manila Bay forum.
May 3, 2021 – 7:14pm
President Rodrigo Duterte has been vaccinated against COVID-19, reportedly with the Sinopharm vaccine.
May 3, 2021 – 10:24am
A total of 1,510 tourism frontline workers have received their first dose of COVID-19 vaccine as of April 30, Tourism Secretary Bernadette Romulo-Puyat says.
Workers from DOT-accredited and LGU-licensed quarantine/isolation facilities and non-quarantine DOT accredited accommodation establishments are included in the A4 Priority Group.
"We have also received word that LGUs who have already covered the majority of those in the A1 to A3 classification will also begin vaccinating those in the A4 group," Romulo-Puyat says in a statement.
***
Credit belongs to : www.philstar.com